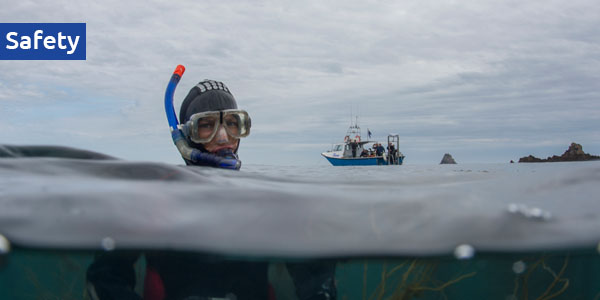 Good Snorkel Dive Management is a key feature of safe snorkelling. The Snorkel Dive Manager (SDM) course has been completely revised and is available now as part of its pilot process.
Throughout 2019 the course is offered in the revised format and the previous undocumented course has been withdrawn with immediate effect. A full set of detailed Instructor Resources in support of the Snorkel Dive Manager programme can be downloaded from the BSAC website from the same location as the other Snorkel training resources.
The course aims to teach experienced Advance Snorkel Divers the relevant:
theory knowledge required to safely organise, manage and supervise group snorkelling activities and manage incidents;
practical skills required to safely organise, manage and supervise group snorkelling activities and manage incidents.
And to encourage Advanced Snorkel Divers to develop their snorkel diving experience in a range of sites and conditions.
I am sure we will all find the revised SDM material relevant and helpful as we plan and engage in our snorkelling activities this summer and in the future.
Marg Baldwin
Snorkel Instructor Trainer
What are the prerequisites for doing SDM?
To attend this course, students need to meet the following:
Be a current BSAC member.
Confirm that they are medically fit to dive
Hold Advanced Snorkel Diver qualification
Hold the Advanced Snorkel Lifesaver Award.
Be in possession of the course pack.
During the pilot period Students will be able to register for the course and receive an electronic Student Guide direct from BSAC HQ by providing evidence of meeting the course pre-requisites.
Opportunity to contribute feedback on SDM course content
SDM course is being offered as a pilot course for the remainder of 2019. Instructors, students and branch members will be able to provide feedback on the course content, materials and resources during that period. Feedback should not just criticise but provide constructive suggestions about how an element might be improved, with worked examples as necessary.It is recognised that not all the photographs currently used in the materials illustrate precisely the point being made. If feedback on photographs and/or illustrations is provided it should be accompanied by alternatives that could be used as replacements.
Jim Watson
BSAC Safety and Development manager