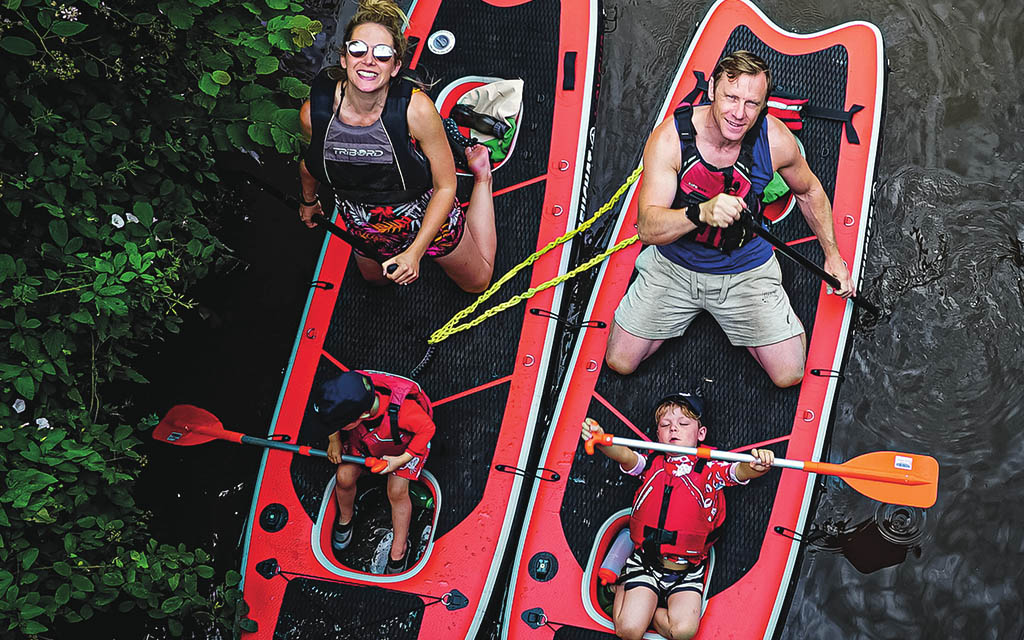 Andy Torbet returns to one of his favourite themes, combining his love of sea kayaking with snorkel expeditions
It's been a decade since I last wrote about the idea of snorkelling from a kayak. To be honest not a lot has changed in the worlds of snorkelling or kayaking since then. But perspectives do change, new members come along and in these difficult times, self-propelled transport is all the rage. I'd also like to remind those who've been with me from day one (thank you!) that snorkelling by kayak really is a rather good idea. This time around, I've decided to take a closer look at the choice of craft.
With spring upon us and the promise of our first unrestricted dive season in two years (probably… promising anything these days is a bold move), perhaps it's time to consider something a bit more adventurous.
I only began sea-kayaking as a way to access snorkel sites that would otherwise require the hire of a dive boat. However, I soon grew to enjoy kayaking for its own sake. I paddled around the Devon and Cornwall coast; made trips out to Lundy; around the Isle of Wight and wild camping among the Scottish Islands. However, the primary role of the kayak in my life is to serve as a vehicle in which to go diving or snorkelling.
Free floating
Beyond the choice of your boat, think about the weather, boat traffic and tides when planning a trip. I carry a marine VHF radio and flares with me, certainly on bigger trips. I also throw in a very small anchor to stop my boat floating away when I'm snorkelling, although in calm waters without wind this can be unnecessary, and it conveniently doubles as a rather impressive SMB.
Kayak-snorkelling has allowed me to see parts of Britain, both above and below the water, I would never have discovered. The extra room has allowed me to pack camping gear and spend weeks at a time paddling, snorkelling and sleeping wild – a highlight of the diving season. With the restrictions on movement we've experienced over the last two years kayak-snorkelling is the ultimate expression of freedom to explore our coast.
There are various considerations I've learned over the years for choosing your ideal craft. Fundamentally, there are four basic types:
Classic kayak
The most efficient to paddle and best in bad weather, so if you're planning a longer trip this is the best option. However, the closed cockpit (you climb into the craft through a small hole) takes a bit of practice and balance to get out and in on the water. So this option requires at least some tuition to use safely. It is, however, my personal choice as I already have one of these for my sea-kayaking activities. However, if I ever got another it'd be....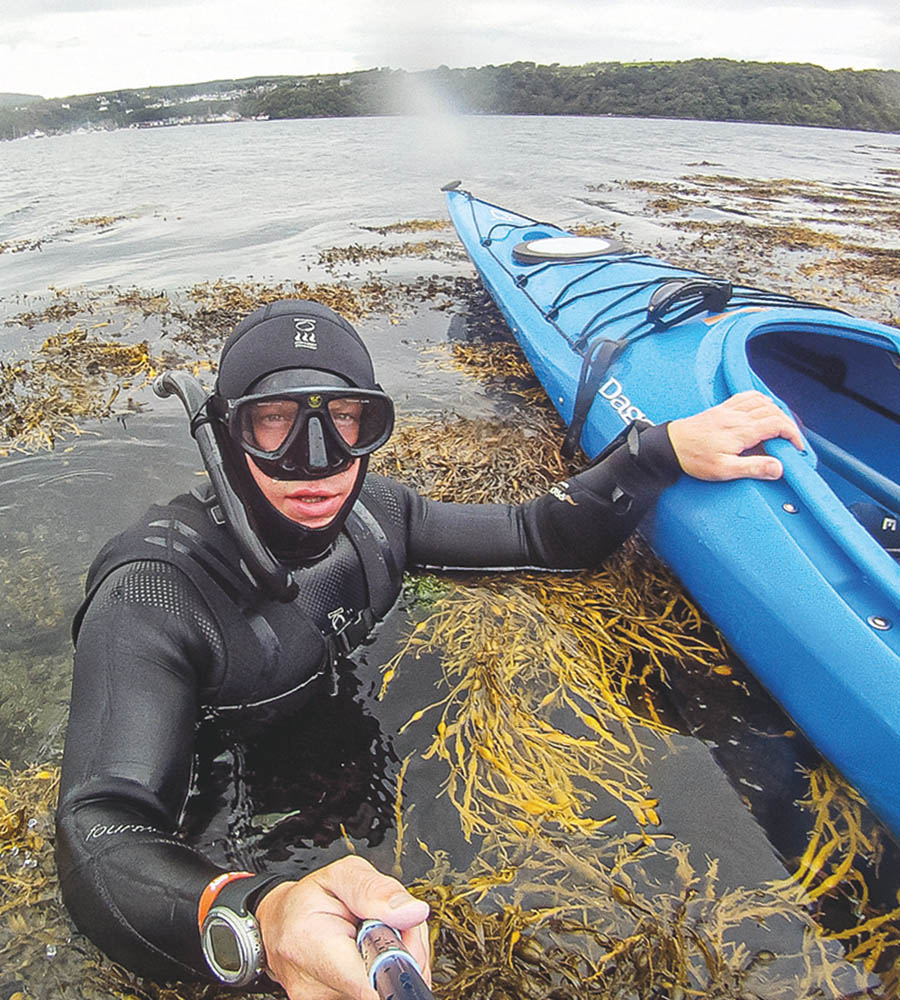 A closed cockpit kayak is great for longer trips and bigger seas
Sit-on-top (SOT)
Simply put, this is a kayak you sit on rather than inside (see above). These tend to be broader, making them slower and harder to handle in bigger seas but an excellent option for most snorkelling trips, as they are very stable and thus easier to enter/ exit the water. The choice of my friend and photographer Dan Bolt, who does more snorkel-kayaking than anyone I know.
Stand-up-paddleboard (SUP)
Imagine a big surfboard. These can offer the cheapest options and the inflatable models can be transported without a roof-rack. Easy to use, you can sit, kneel or stand on them, and they are great platforms to snorkel from. Probably the slowest and hardest to use in choppier waters, but plenty of people have done long trips on them.
Canoe
An open boat (think of a craft based on a dug-out tree trunk), often used on rivers and lakes. Can carry multiple people and lots of kit, but the high sides are awkward at first. Getting in and out on the water without capsizing can be tough going. An excellent choice on rivers and lakes, where you can beach the boat and shore dive.
Find out more about snorkel training.
BSAC promote and develop the 'best practice' in snorkelling safety for snorkellers in the UK.
If any of you have any suggestions, I'd love to hear them. Drop a note to me through the editor's email at SCUBA or on my social media below:
Facebook: OfficialAndyTorbet
Instagram: @andy_torbet
Twitter: @andytorbet
Article by Andy Torbet for SCUBA magazine, Issue 125, May 2022. For more membership benefits, visit bsac.com/benefits.
Images in this online version may have been substituted from the original images in SCUBA magazine due to usage rights.

Find out more about learning to snorkel or discover snorkelling in the UK.