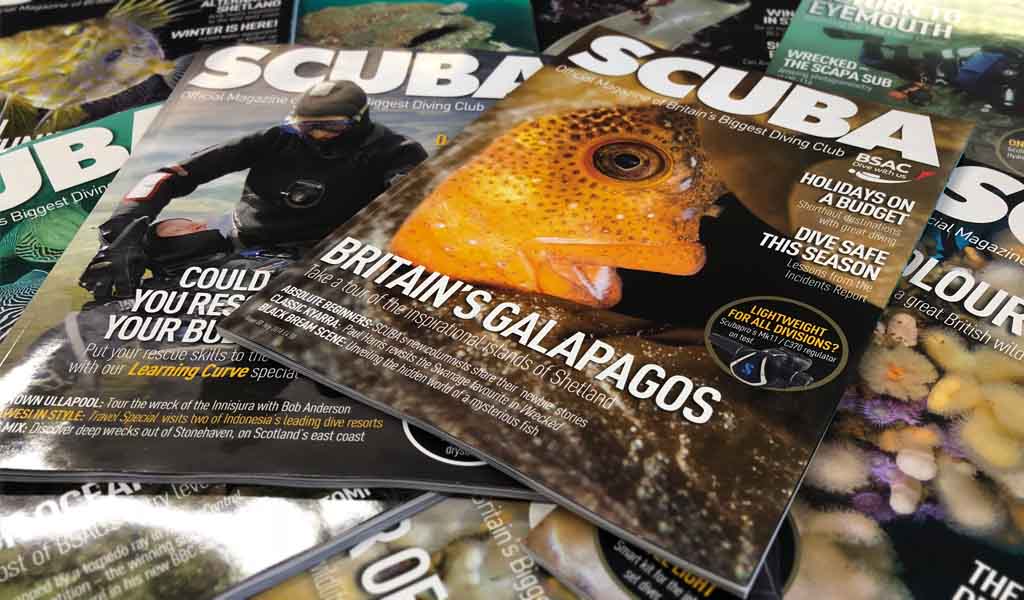 As you may know, the past three issues of BSAC's member magazine, SCUBA, have been digital-only with the printed version placed on temporary hold. This decision was made so SCUBA could weather the current Covid situation and subsequent drop in advertising revenue experienced across the diving sector. We'd like to thank you for your continuing support for the magazine during this time.
Unfortunately, SCUBA's publisher, TRMG has now made the very difficult decision to close, after 40 years in the publishing industry. This is deeply saddening news as the TRMG team brought a wealth of knowledge, expertise and creativity to the magazine, and have been instrumental in the success of SCUBA from the very beginning.
As a result, BSAC will be moving the production of the digital format iSCUBA to a new publishing house, In2, which has been established by one of TRMG's former directors. This move will enable us to maintain SCUBA's high editorial standards and ensure a continuity of service, for our members and our advertisers.
Simon Rogerson, SCUBA's editor, will remain at the helm of the magazine. Simon is an exceptionally talented editor and diving journalist and will continue to produce the high quality BSAC and diving news and features the magazine is renowned for.
SCUBA going forward
iSCUBA has proved successful during this challenging period; with a circulation of around 22,000 per issue, there have been 34,000 downloads for the last issue alone. However, we do know from feedback that many members are keen for SCUBA to return to its printed form as soon as is possible.
We have already initiated a strategic review to ensure the best longer-term solution for the club, and we will consult with our members during this review process. Meanwhile, we anticipate SCUBA will remain in its current iSCUBA digital format for the remainder of 2020.
I hope you continue to enjoy the digital experience of iSCUBA and thank you for your patience and understanding.
Very best wishes,
Mary Tetley
BSAC CEO