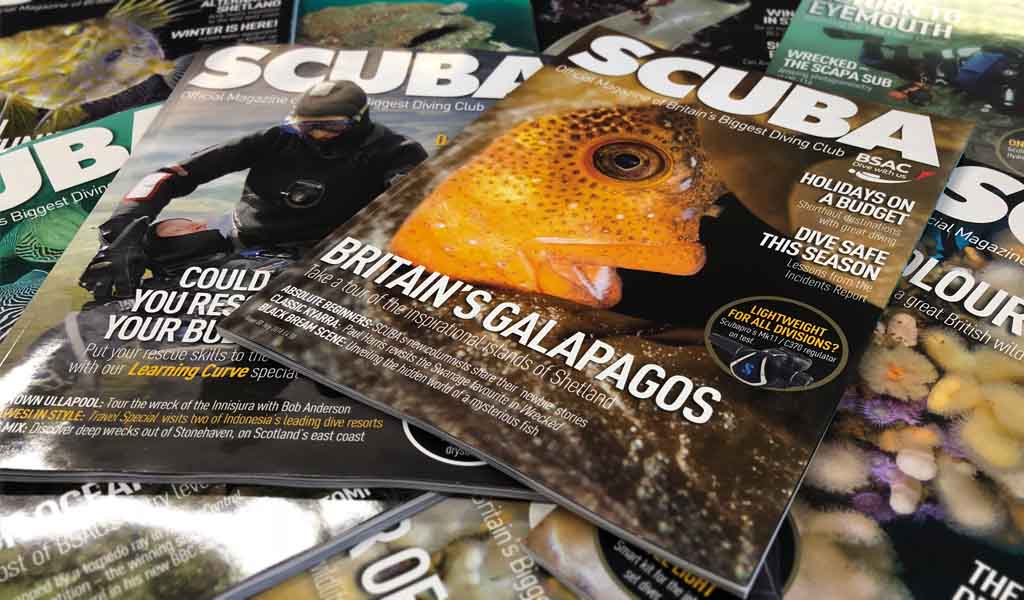 From August 2018 (September issue) SCUBA magazine will be posted out packaging free unless members opt-in for a bioplastic wrapper.
As part of BSAC's drive to reduce single-use plastic across the organisation, SCUBA will be delivered with an address label on the back cover and no protective packaging, starting with the September 2018 issue, out mid-August.
SCUBA magazine goes naked to reduce single-use plastic
BSAC Chief Executive Mary Tetley said the response to the decision to move to packaging-free posting of SCUBA, which was announced back in May, has been overwhelmingly positive.
As an organisation, we cannot overlook the environmental impact of polythene wrappers, and so the move to no packaging for SCUBA is an important step to help protect the marine environment we all love.
How do I recycle the bioplastic wrapper if I opt-in?
The bioplastic wrapper is 100% biodegradable and home compostable. It can be disposed of in your home compost, council food waste or garden compost waste bins and is completely compostable. All local councils have different recycling policies so please check the services in your area.
Bioplastic takes up to 180 days to degrade.
How do I opt-in to the bioplastic wrapper?
If you would like to retain a wrapper for your monthly issue of SCUBA, you will need to opt-in. Do this by "opting in" to bioplastic via your 'My preferences' section in your MyBSAC account. Update your preferences here > www.bsac.com/mybsac/preferences-scuba - on this page you can also select to receive the digital version, iSCUBA, instead).
What happens if I don't update my SCUBA magazine preferences?
If you don't opt to get either iSCUBA or SCUBA in a bioplastic wrapper, you will automatically receive your magazine in the new 'no wrapper' postal format. You can opt to change your SCUBA mailing preferences at any time. Update your preferences here > www.bsac.com/mybsac/preferences-scuba
*Overseas members will still be sent their magazine in a wrapper due to international postage.
Join BSAC today to make the most of all the member benefits.
Join a scuba club - Send your postcode to membership@bsac.com and we'll help you find the right scuba club for you. Or if you fancy a chat call us 0151 350 6226 (Mon - Fri, 9 - 5:30).
Or, join as a BSAC direct member - join BSAC Direct online today.