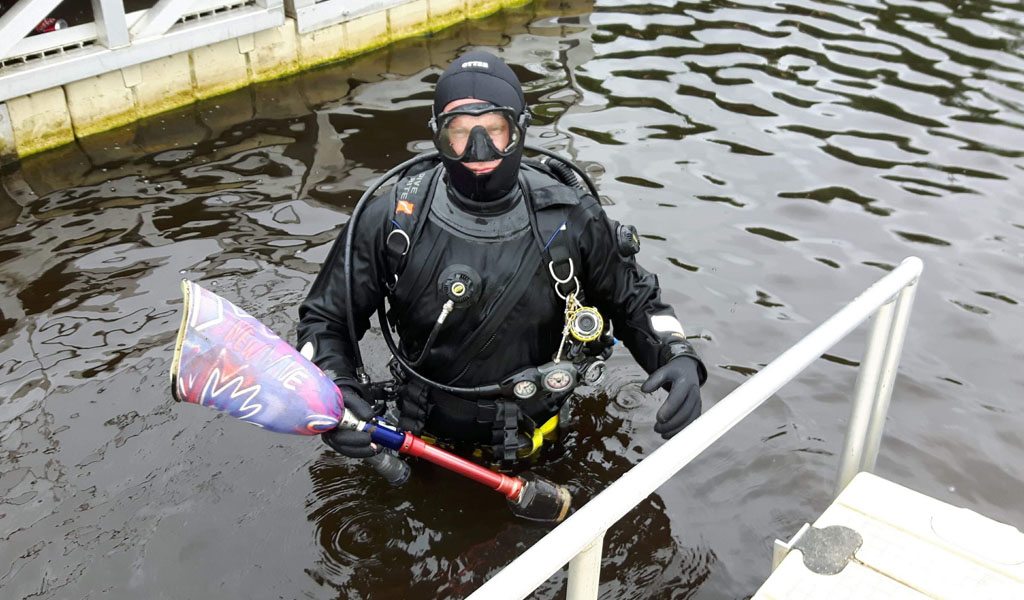 An open water swimmer whose prosthetic leg was stolen while she enjoyed a dip in the River Tees, has thanked the BSAC diver who reunited her with the lost limb.
Kate Sunley, from Stockton-on-Tees, discovered her prosthetic leg – nicknamed 'Pogo' – was missing when she returned to collect her belongings after a swim. With it nowhere in sight, she faced the prospect of waiting six weeks for a replacement, so posted her plight on Facebook, which was picked up by BSAC First Class Diver Neil Richmond.

Bishop Auckland SAC member Neil, who is also BSAC's North East Regional Coach, felt he had to do something to help. With the possibility that the leg had been thrown into the water, he travelled up to meet Kate, five weeks after it went missing.
I found out from Kate where she last saw the leg and then persuaded the local park authority to allow us to take a vehicle to the water's edge to conduct the search. The water was about 5-6m deep, with lots of debris around the jetty. This was probably the least glamorous, yet most rewarding dive that I have ever undertaken!
Amazingly, the leg was found underwater about 10ft away from where Kate had left it.
It's not often you meet complete strangers who are willing to help, especially when we didn't even know if it was down there! I can't thank Neil enough – Pogo and I have shared a lot of adventures!
- Kate Sunley
If you need help finding a club please email membership@bsac.com and we'll send you your three nearest scuba clubs. Or if you fancy a chat call us 0151 350 6226 (Mon - Fri, 9 - 5:30).