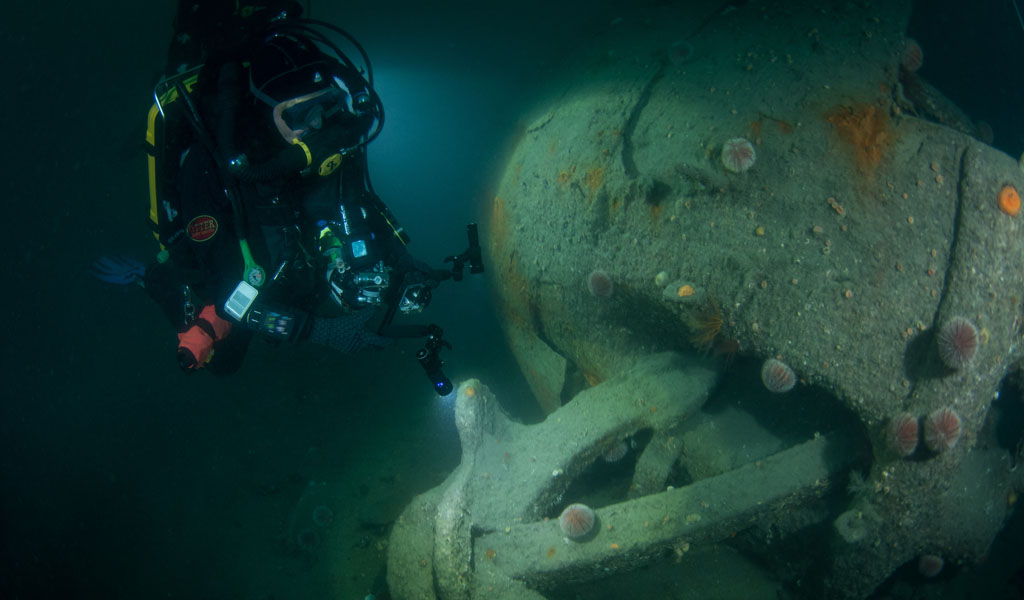 The Scapa 100 initiative is counting down to summer 2019, which marks the 100th anniversary of the sinking of the German High Fleet on Friday, 21 June.
Bringing together a host of collaborators, from Scapa dive boat skippers to scientists, divers and photographers, Scapa 100 covers a cluster of projects to commemorate, map, protect, explore and tell the story of the scuttling of the German fleet 100 years ago.
Here's a round-up of some of the latest projects and how you can get involved
BSAC Scapa 100 expedition
BSAC is inviting its members to sign up to Scapa 100 expedition - encouraging clubs to visit and dive the Flow throughout the 2019 season and contribute to the wider Scapa 100 project.

The BSAC Exped team's original two hardboat slots, chartered for the anniversary in June are now full, but the team is considering booking an extra day boat for the week of 7th June if there is sufficient interest.
Clubs can also bring their own RIBs or charter their own hardboat this season and help the Scapa 100 project to collate information for an online virtual database of the scuttled ships. Members can also directly contribute to the image recording of BSAC's sponsored Scapa wreck, the Cöln.


More info on BSAC's Scapa 100 Exped Register your clubs interest


Visit Stromness Museum
If you are visiting Scapa this year, plan a visit to the Stromness Museum, which will have late night opening to accommodate the diving community. Their summer exhibition is all about Scapa Flow with some never seen before artefacts on display. The Orkney Museum in Kirkwall will also have a Scapa Flow themed exhibition.
The Centenary, save the date – 21 June
The Centenary falls on Friday, 21 June, which will see a busy programme of free events over the surrounding two weeks including gallery openings, virtual reality experiences, hyperbaric chamber tours, theatre performances and talks.
The official council-led commemorative events will focus on 21 June, which organisers are hoping will have both a Royal Navy and German Navy presence.

There will also be a Scapa 100 Hub venue where divers and non-divers can congregate, share a drink and a story or two and maybe try the new Scuttled Gin from the Deerness Distillery in Orkney, specially produced to mark the Centenary.
Keep up to date via the Scapa 100 Facebook page and website and a full programme of events will be published soon.


Scapa Flow – permits for club boats
BSAC clubs looking to take their RIBs to Scapa Flow for the centenary of the scuttling will need to apply for a dive permit to ensure they comply with Orkney Harbour Authority's regulations.

Diving without a permit in the Scapa Flow Harbour area is prohibited. If you are diving with a local hardboat operator, this is taken care of by the operator.
For club RIBs, Orkney Harbours will consider issuing dive permits only to clubs and members who will dive inside the Flow respectfully (ie not removing artefacts) and operate their vessels responsibly and in accordance with local bylaws and Vessel Traffic Service (VTS) requirements.

BSAC attended a meeting chaired by the Harbour Master attended by Orkney Harbour officials, hardboat skippers, Historic Environment Scotland and Orkney Marinas to discuss management of diving activities, particularly during the week of the centenary. Consequently, the dive permit application and conditions are being updated accordingly to help ensure diving is managed safely and in line with changes to legislation.

The dive permit application form is expected to be updated by the end of March in time for the Scapa Flow dive season. More information on Scapa dive permits for RIBs.
If you need help finding a club please email hello@bsac.com and we'll send you your three nearest scuba clubs. Or if you fancy a chat call us 0151 350 6226 (Mon - Fri, 9 - 5:30).