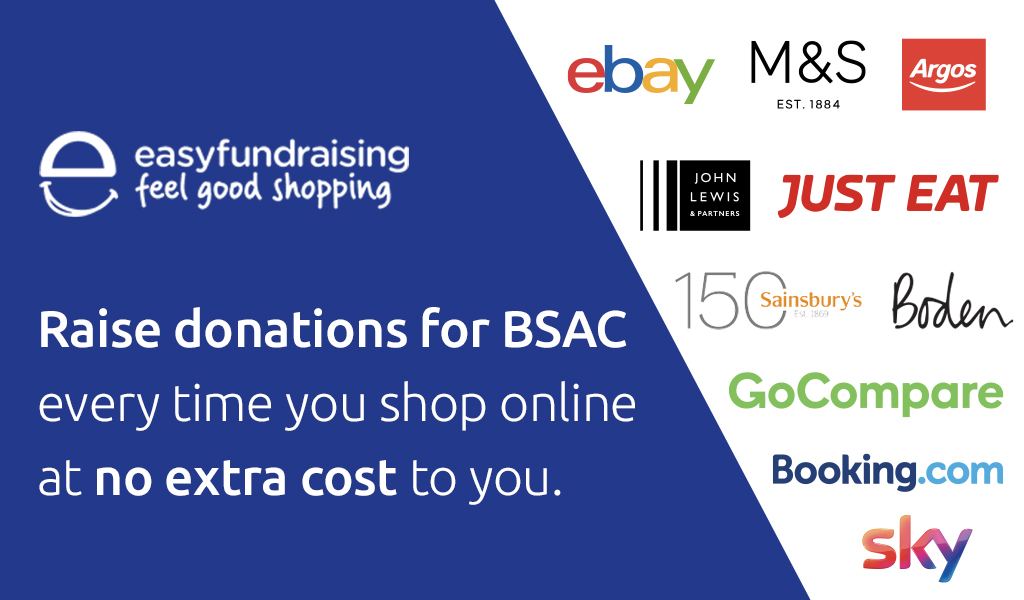 BSAC members can now make their online shopping work for the Club by signing up to the Easy Fundraising scheme for free.
The largest charity shopping fundraising site in the UK, Easy Fundraising will donate a percentage of sales to BSAC for every pound spent through their network of high street and online retailers. Funds raised through the scheme will go directly into BSAC's active projects. New member recruitment and marine conservation are the main focus areas for this funding.
After setting up an account via easyfundraising.org.uk, members can choose from over 4,000 online retailers, including travel, electrical, energy suppliers, fashion and homeware. Just some of the big names who are signed up to the fundraising scheme include Marks and Spencer, Amazon, Expedia and John Lewis, as well as some of the big-name utilities, such as Sky, BT and USwitch.
Easy Fundraising is free for members to join and for each online sale, the retailer will donate a percentage to BSAC. To date, the scheme has raised over £31m for charities and community organisations.
BSAC's Mary Tetley said Easy Fundraising was a great way to raise funds to support the Club's growth and development, and advance marine conservation projects.
More and more of us are choosing to shop online and with Easy Fundraising, members' online purchases can now help BSAC to invest in a range of membership projects, including new member recruitment and marine conservation initiatives.

And, with a wide range of everyday retailers and services to choose from, the beauty of the scheme is there is no cost to the shopper as it is totally free for members to take part.
BSAC is now inviting members to get on board and sign up to the Easy Fundraising scheme as well as promote it to their club members, friends and family. Your account will show how much you are raising for BSAC every time you shop.
"The more people we can get shopping through the Easy Fundraising site, the more we can raise for projects that will directly benefit our clubs, our members and our underwater environment," Mary added.
Members will need to create an Easy Fundraising account and select BSAC as their chosen charity before they start shopping online. For more information on the Easy Fundraising scheme, check out our FAQs.
To sign up on behalf of BSAC to Easy Fundraising go to easyfundraising.org.uk.
Are you a member and like what you're reading?
Go to your MyBSAC page and click 'Email options' to check you're signed up to receive emails.