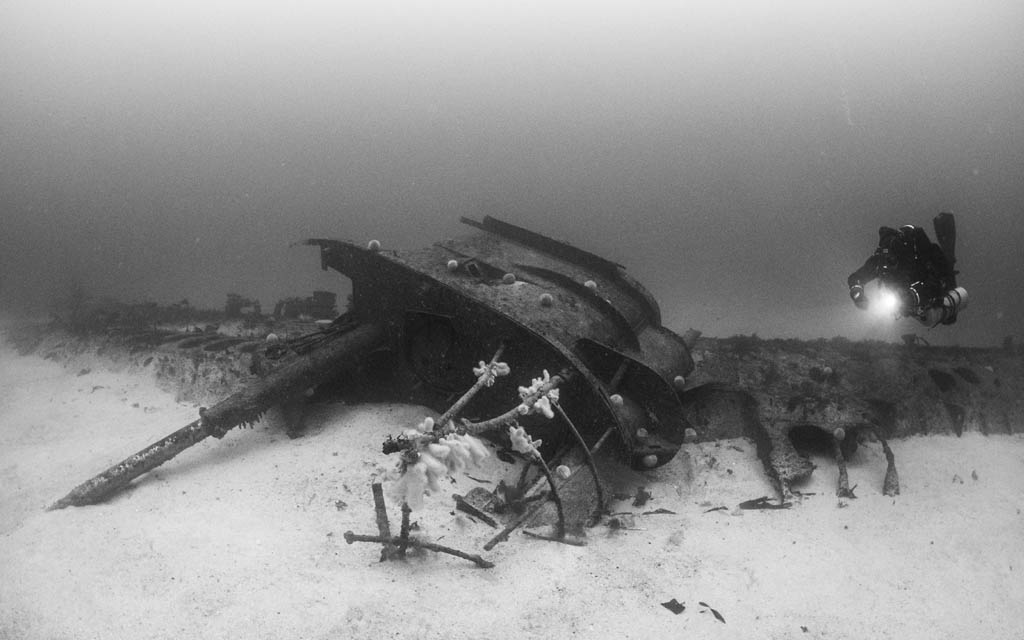 Kirsty Andrews has been spending time in Shetland and Orkney, where the sense of maritime history is palpable.
Had I not become a diver, I fear that my knowledge of British wartime history would never have risen above the fairly vague general awareness I formed at school. It's not that I wasn't interested, but just that there are so many other things to be curious about. Yet here I am, not only a diver but a diver in the UK, perfectly placed to appreciate the remnants of military might that have landed, or rather sunk, so close to my home shores.
I often joke to my dive buddies that I like diving wrecks because they make a pleasant artificial reef. This is certainly true but is not the full story. I want to know what happened; did the sunken vessel have a gloriously eventful or sadly short-lived career; what were the circumstances of the sinking: was it a ferocious battle, a cunningly targeted attack, even an unfortunate accident? What happened to the captain and crew on that last fateful voyage?
I recently had the privilege of spending some time in Shetland and Orkney. In the few days between dive trips, I sought out opportunities to better inform myself about the key role played by these small but mighty isles in both World Wars. Stories are everywhere, from subtly placed memorials and plaques to full-blown museums and impressively-stocked bookshops detailing local history. Throughout my time on the islands I felt a permanent lump in my throat, imagining the hardships and sacrifices of so many whose lives were subsumed by these immense conflicts.
Radar stations at Samburgh Head
Just as underwater I can appreciate both the squidgy plumose anemones that inhabit a wreck as well as the historical significance of the underlying metalwork, so on land, multiple enticements are on offer. I visited Sumburgh Head in Shetland in part to coo at the cute nesting puffins, like many tourists, but then was also awed to visit the radar stations set up there in 1939. I learned of their vital interventions in April 1940 to track and enable the defeat of air attacks on Scapa Flow. This latter location will of course be familiar to all wreck-loving BSAC divers.
Had I not been attracted to Shetland by the world-class diving on offer there, I might never have heard details of these heroics. Crossing the Churchill Barriers in Orkney, I considered the snorkelling possibilities of the remains of sunken blockships there but was also wowed to read in the local Heritage Centre of the Herculean efforts made to speedily realise Sir Winston Churchill's vision and prevent another tragedy such as the sinking of HMS Royal Oak.
Wreck of the British submarine E49
Perhaps my most memorable dive in Shetland waters was the wreck of the British submarine E49, which hit a German mine in March 1917 in Balta Sound off Unst, one of the most northerly parts of our country. All 31 crew were lost. The dive is visually spectacular by any measure, but it is in learning the tale, in contemplating what it must have been like to serve on a submarine over 100 years ago, and in respecting the sacrifice of those who lie there beneath the waves, that makes the experience unforgettable.
We are lucky that countless divers and historians both amateur and professional have done the research and filled in the blanks before us. I am particularly grateful to the incredibly knowledgeable local dive skippers who take the time to impart some of this information to us before each dive, allowing us a small insight into the past and bringing colour and context to our wreck diving experiences.
The BSAC network is working together to keep people connected to the sport. With online training, special interest webinars, competitions, support to clubs and the trade, and much more...we'd love you to join us.
This column was originally published in SCUBA magazine, Issue 119, October 2021. For more membership benefits, visit bsac.com/benefits.
Images in this online version may have been substituted from the original images in SCUBA magazine due to usage rights.