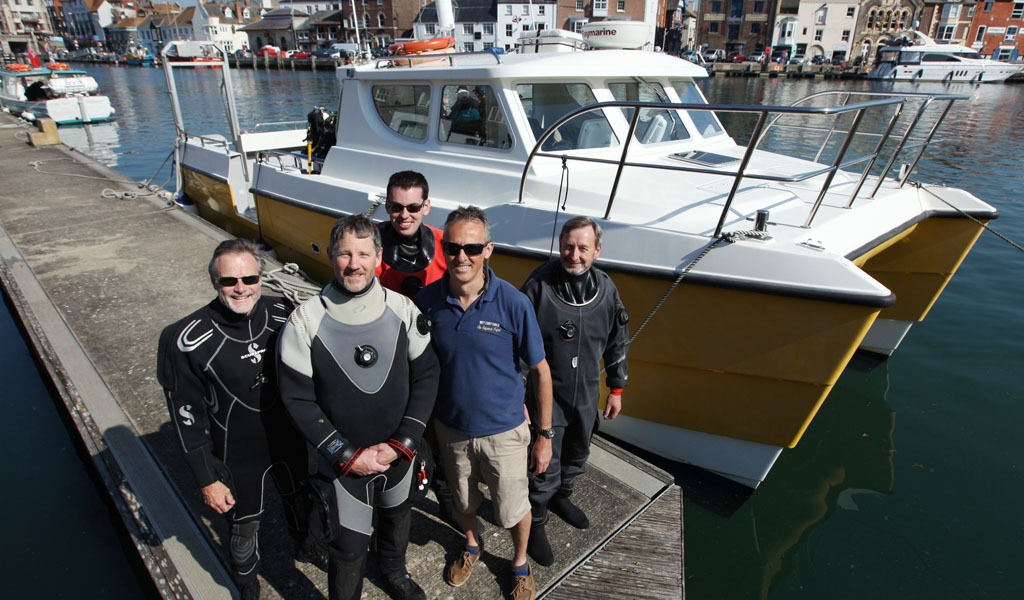 Scuba divers on a mission to solve a centuries-old shipwreck mystery off the coast of Dorset are backing a campaign to support the UK Charter Boat industry.
A team of 13 divers from Aldershot SAC, Richmond SAC, iDive and East Cheshire SAC are using metal detectors to help map the remains of two ships thought to have sunk in the 18th and 19th centuries in Lyme Bay, close to Portland Bill.

The project is being run with the help of Weymouth-based charter boat, Wey Chieftain IV, skippered by Richard Bright- Paul, also a BSAC diver. Richard has spent years researching the seabed, mapping the locations of scores of shipwrecks in and around Portland Bill and the Chesil Beach bay area.
The project would not be possible without the knowledge and support of skipper Richard,
says project leader and Aldershot SAC's Diving Offi cer Cameron Cromwell, who is backing BSAC's new Save our Skippers campaign to encourage more divers to use charter boats to support their club diving around the UK.

Cameron and Richard came up with the plan to dive the Weymouth cannon sites as part of Cameron's work to qualify as First Class Diver. Cameron said:
These two sites have been known about for a while, but no-one knows what they are. We don't yet know how old they are, but they could date back as far as the 18th century. A lot of what is down there is buried just below the sand, which is why we are using metal detectors to try to get a fuller picture and hopefully identify the wrecks.

It's immensely satisfying to work on a project that brings lots of divers together from all over the country to dive with a purpose.
If you need help finding a club please email membership@bsac.com and we'll send you your three nearest scuba clubs. Or if you fancy a chat call us 0151 350 6226 (Mon - Fri, 9 - 5:30).
In feature image: Aldershot SAC members (L-to-R) Julian Gill, Cameron Cromwell, John Taylor, Wey Chieftain IV skipper Richard Bright-Paul and Mark Saxby.