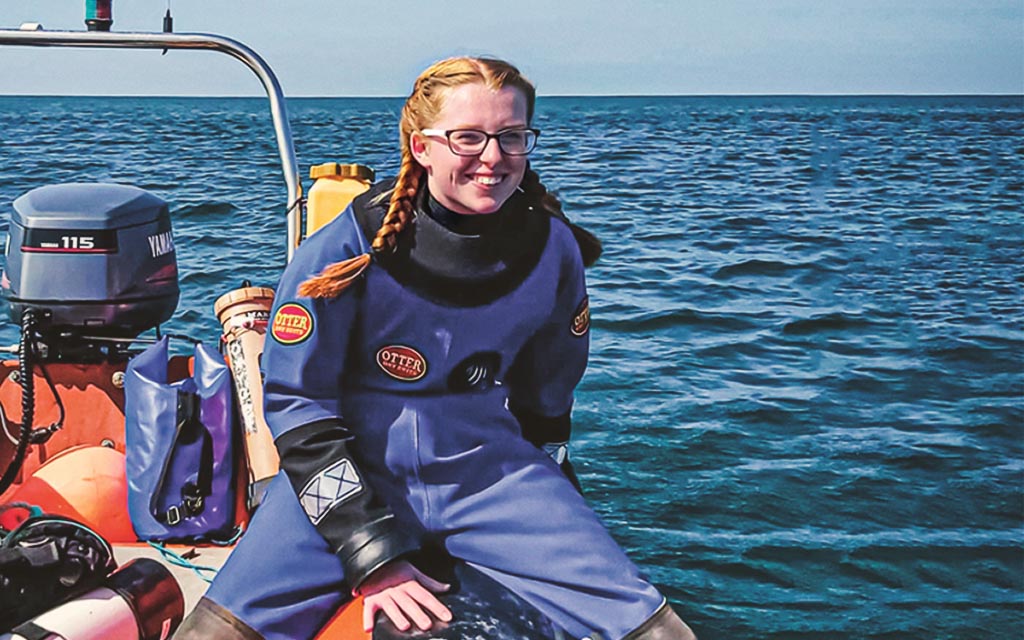 Meet Amelia Prescott, a teenager with a love of water and a determination to beat her ear problems as she learns to scuba dive with Sub-C Divers.
I've always had an interest in the ocean... well, any type of water to be honest. From muddy puddles and paddling in the sea to spending most of my free time in the swimming pools training and competing. When my Grandma surprised me in early September 2020 with a Scuba Diving Try Dive Session as an early 13th birthday gift I was thrilled and so excited.
On the night of my Try Dive, we met with a few members of Sub-C Divers and Mike Rickard, the Diving Officer, for an introductory briefing. Ian was my instructor for the try dive and the whole session was brilliant. Not too technical, just a quick introduction to all the equipment, geared up and into the pool.
Once in the pool, we learned to actually breathe underwater with the regulators, how to inflate and deflate our BCD jackets, and how to move about. I learned about tuck and rolls and also how to clear a mask while wearing it underwater. I loved it! I signed up for the next available Ocean Diver course.
Learning to dive with Sub-C
Ken Hilton, Sub-C's Ocean Diver Training Officer, kept in touch, advising us of all the requirements for both BSAC and Sub-C Divers.
We began the pool training in October 2020 and managed to attend two practical pool lessons before a further Covid-19 lockdown was announced. Sadly, we couldn't continue the practical pool dives, but the club adapted and we continued the theory on Zoom meetings. I had a different instructor each week presenting each topic. We used the BSAC handbooks and chatted throughout. These theory sessions on Zoom continued right up until Christmas.
It was another six months before the leisure centre was able to reopen its doors to the club, and in June 2021 I finally managed to get back into the pool to continue the practical lessons.
During this time, I had a few different instructors: Ian Gardener, Adam Chase, Nick Worthington, Stella Evison and Derek Ratcliffe. Each of them taught specific skills for the week. I even found myself a training buddy, Mike Foster, as we were regularly paired together.
Another new friend I made was John Hughes – the equipment officer. John made sure all my equipment was correct and available whenever I needed it. I also found his stash of biscuits. Yum!
Once I finished all the pool sessions, it was time to move to actual open water. We went to Capernwray on 11 July for my first open water dive. I was very, very nervous. I was so nervous that I couldn't even talk. I thought I was going to be sick with nerves. My instructor, Stella talked to me about what we were going to do. Meanwhile, I was overheating in my drysuit and there was a lot to take in.
We got all kitted-up and headed for my first ever open water dive. I was amazed at how much there was to see. Stella is an amazing instructor and once in the water, everything we had talked about started to make sense. We saw fish such as sturgeon and trout, two small sunken boats – which was amazing – and two metal horses. I sat on one which was so fun, but I ended up tumbling forward! I think I also got a little too excited and used up far too much air.
My second dive didn't go as well, because I couldn't equalise my ears. I was annoyed at myself. However, it did teach me early on that not all dives are going to be as successful as you'd hope. As a consolation prize at the end of the day Stella and I ran and jumped off the edge of the docks, which was awesome and put the smile back on my face!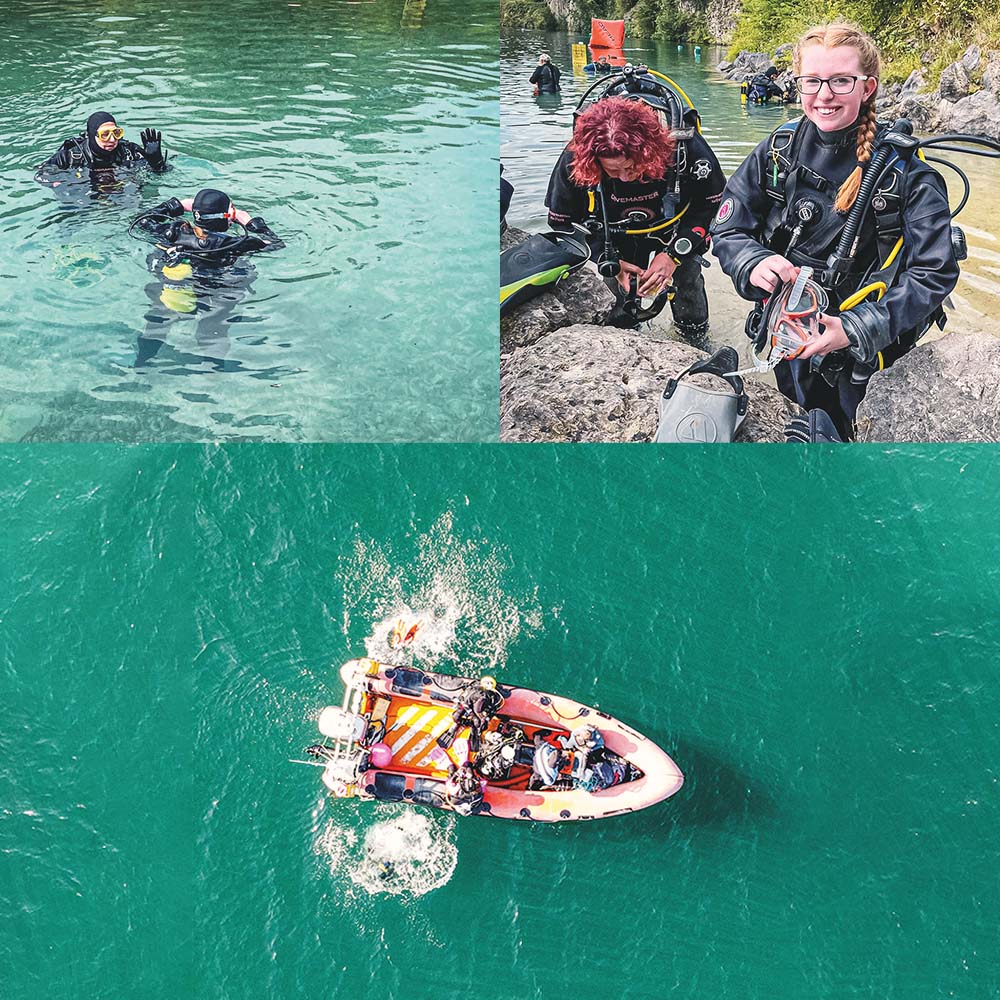 Top: Stella and Amelia at Capernwray; Bottom: Amelia and Stella perform backward rolls at Porthdarfarch
First open water dives
Just two weeks later I was on my way to go and do an actual ocean dive off a RIB in Anglesey! Once again, my nerves kicked in as I had absolutely no idea what to expect. Thankfully my buddy Ian was fantastic. He reassured me that I could do it. Ian talked me through our dive site, the wreck of the Kimya, and what I should expect.
Ian promised not to take his eyes off me for a second (which reassured my mum!) and advised there were no expectations of me, that we would just practise the skills I had already learned in the pool and Capernwray but in the ocean.
Once I was on the RIB the nerves just turned into excitement - I was diving in the sea! However, the dive didn't go very well because I couldn't get my ears to equalise. Also, if I am being totally honest – I did kind of freak out. I looked down and I couldn't see anything in this unknown environment, knowing that once I let go of the rope that was it – anything could happen. After a few more minutes we decided to call it and got back on to the boat. I was gutted and really doubting myself at this point – was this something I could actually do again?
On the way back to shore I was allowed to drive the RIB, which was fantastic! I wasn't controlling anything – just steering under a lot of supervision, but it was still fabulous and really helped to pick up my mood after the disappointment.
Once we got back to shore Ian and I did a shallow shore dive. This was amazing. It really did build my confidence back up, that despite the unsuccessful RIB dive, ocean diving could still be a possibility for me. We saw sooooo much sea life: crabs, fish, seaweed and a huge jellyfish. Thank you to Ian for turning the day around. It was an awesome experience!
In August 2021, I did four more amazing open water dives in Capernwray. With my instructor Nick, I had my most controlled dive yet. I seemed to be getting to grips with the buoyancy and had no problem equalising my ears. We achieved maximum planned depths of 15m on both dives. Nick even let me plan our second dive (with guidance of course). I had been wanting to go through the plane and that's what we did. This was the first time I needed to use a torch, as it gets very dark.
I needed just one more open water dive to complete my practical training and Stella volunteered to be my instructor the very next weekend. Thanks!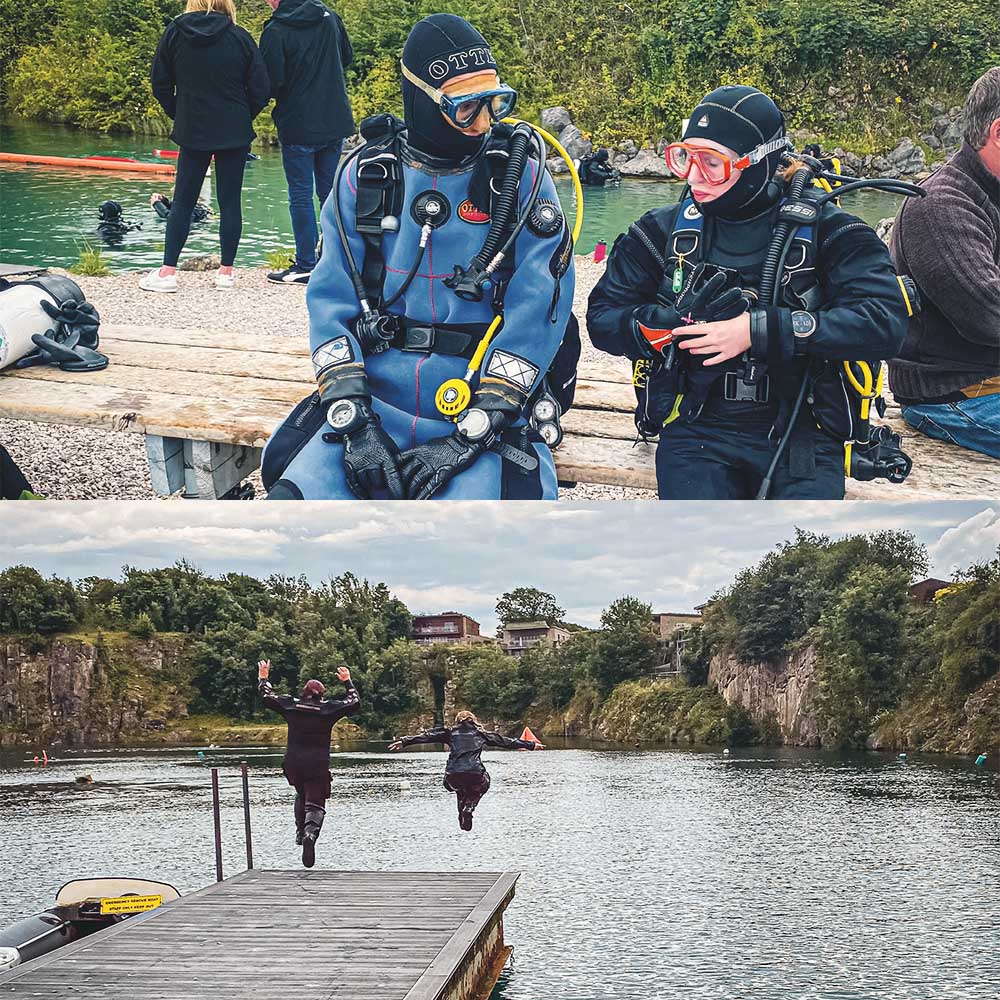 Top: Training session with Nick at Capernwray; Bottom: Post-dive jetty fun with Stella
Qualifying as an Ocean Diver
Woohoo – all my practical sessions were now signed off. This just left my theory exam, which I was dreading. It was such a long time since the Zoom sessions. I studied and studied and still managed to fail! It was only on the second try that I passed and then I became a qualified Ocean Diver. I was so proud of myself since I was still 13 when I qualified. What a journey – good and bad dives but overall an amazing experience.
Shortly after, the club was hosting its annual Summer Sizzler. I was so excited. I thought that it would boost my confidence and it really did. I managed to do not one, but two successful RIB dives and I can't even describe how proud of myself I was, I just couldn't believe I did it. The first RIB dive we dived the Missouri wreck and – I'm not joking – it was phenomenal! It was probably one of my best dives ever, I equalised my ears and got down to 12 metres. The wreck wasn't in one piece, but that just made it even more exciting because you had to search and figure out which bit of the wreck was which. I found loads of cool shells and saw loads of crabs and fish. I somehow managed to use 130 bar (probably because I saw a huge crab.)
On the safety stop, I tried to play rock, paper, scissors with Stella, but I don't think she realised what I was doing and just thought I had gone a bit strange. I'd best let her know beforehand next time.
The second RIB dive didn't go quite as well as the first, but was still incredible. I mean, rolling backwards from the back of the boat is still the best thing ever. I don't think the novelty will ever wear off! Later I did a shore dive and it was one of my longest dives ever. A full 58 mins. These dives really boosted my confidence. It was an amazing weekend and I can't wait for next year's event.
An unforgettable experience
I had been on a fantastic journey, but a certain day was going to stay with me forever. It was my birthday and I got to go scuba diving! Ian pulled out all the stops for the day and got a team together – Chris Heywood, Gary Williams, Derek and Mike F – for a diving day. It was back in Anglesey, this time at Penryhn Bay and it was just unbelievable.
First of all, the RIB ride was absolutely phenomenal. The waves were so choppy, it felt like I was actually flying! Once we got to our dive site at Lamb Island, everyone was starting to get a bit hungry so Ian and myself decided to let everyone else eat and we went exploring.
It was an amazing dive! I was so happy I had managed to equalise my ears and managed to get down to 11m. Having finished our dive, we flung ourselves back onto the RIB – it's not the most graceful thing in the world.
Next, we crawled off the RIB and onto an old coastguard ramp and jumped off it into the water. It surprises me just how buoyant drysuits are since I just hit the water and didn't even sink! I just bobbed about for a bit, fascinated at being held up in the water with no need to move. I didn't even have to move to stay on top of the water, I could just lie on my back and float away!
I got back onto the RIB, ate my dinner and gave out some birthday cinnamon rolls. It was then time to head back, but on the way home, we took a detour to stop off at the Skerries. To my delight, there were lots of seals surrounding the island. I wanted to stay on the RIB to enjoy the seals but I decided to go and explore.
It was full of daisies and it looked so beautiful, even though there was loads of bird poo. It felt so unreal. I just couldn't believe I was there, standing in a drysuit watching the seals next to this huge lighthouse on this little island. After about 15 mins we headed back home, avoiding the breaking white waves (sadly). After the sea calmed down a bit, I drove the RIB under the usual supervision, and this time controlled the steering and the speed. It was so fun. Overall, I can't even begin to describe how amazing and unforgettable this day was.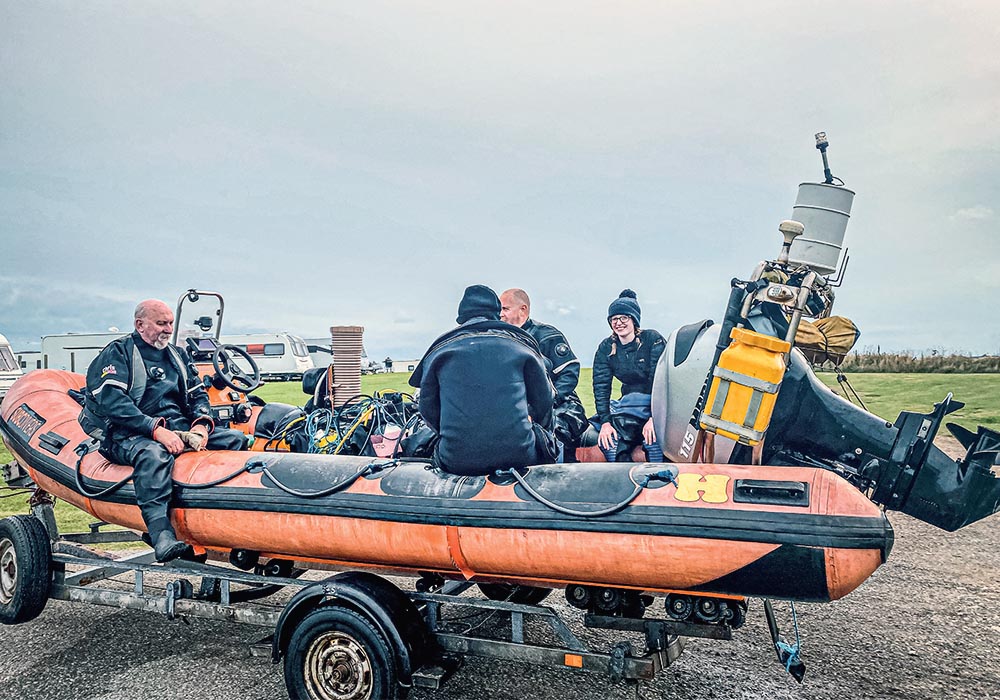 The team contemplates an amazing day at Llanfwrog.
These dives have been amazing and I am so proud of them all even if some didn't go to plan. I can't even describe how amazing these experiences have been. Sorry, it's been a long read, but I had a full 12 months to cover!
I'm absolutely looking forward to doing the Sports Diver Course.... and Boat Handling.
I'm interested in learning to dive, how do I get started?
You can either do a Try Dive taster session (Covid restrictions permitting) with a local BSAC club or a BSAC Diver Training Centre first or get started straight away from the comfort of your own home with BSAC eLearning! If you'd like to talk through your options, call us on 0151 350 6201 (Mon-Fri, 09:00-17:00) for a chat!
This Learning Curve article was originally published in SCUBA magazine, Issue 123, March 2022. For more membership benefits, visit bsac.com/benefits.
Images in this online version may have been substituted from the original images in SCUBA magazine due to usage rights.