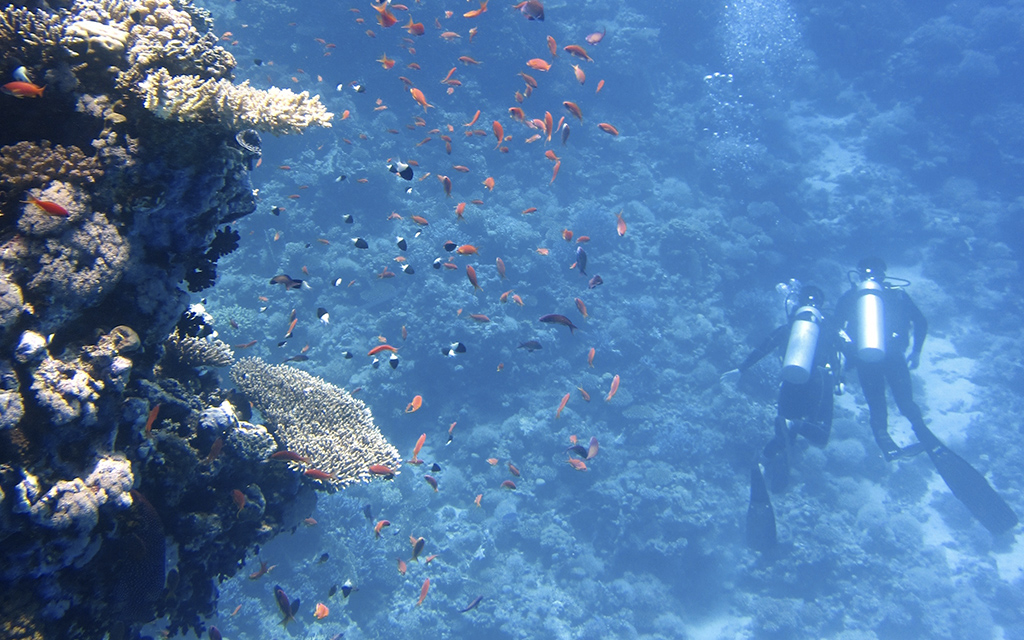 Many of us might not travel overseas until the second half of 2021, and even a vaccine won't mean an immediate return to normality. However, that doesn't mean we can't dream and plan now!
While 2021 is unlikely to look like any recent year in history, it will hopefully be remembered as one in which life slowly began to return to normal after one of the worst pandemics of the modern age.
When and where we travel will continue to be a very personal decision, but travel will now be back on the agenda for many of us and the industry is gearing for a big year.
For BSAC, while overseas travel has been off the cards for most, there has been a real opportunity to grow and celebrate UK diving. That is great, but nothing beats a cracking dive holiday to boost the spirits! So, it's good to see that travel will be making a comeback in 2021, and that it seems sustainability will be high on the agenda for the travel industry.
A new era of responsible travel
Interestingly, it's thought that 2021 will usher in a new era of responsible travel. Travellers are increasingly demanding that the travel industry is to be rebuilt sustainably, from refillable toiletries in hotel rooms to low-carbon sustainable aviation fuel. Here are a few things for you to consider to help reduce your environmental impact when planning your next holiday.
Partake in eco-tourism
Many bucket-list-worthy eco-tourism trips are available, especially for divers. Often these options offer a chance to see incredible wildlife whilst supporting conservation research and efforts. Blue O Two is a BSAC Travel Partner who considers the environment throughout their activity by supporting projects including Bite Back Conservation, Project Aware and Red Sea Sharks.
Take fewer trips, and stay longer
Air travel is one of the most carbon-intensive activities an individual can make. One way to significantly reduce this impact is to take fewer flights. If your commitments allow, consider booking a longer stay. This will not only give you more time to dive but collectively help reduce the number of flights required to serve the tourism industry. Have a look at the overseas BSAC Centres to get your ideas flowing.
Demand better from aviation companies
Another way to reduce your impact is to consider the efforts of your flight provider. Some aviation companies have made the switch to low-carbon fuel, whilst others have banned the shipment of shark fins and other wildlife trade.
Choose local
Support the local community you are visiting by choosing to eat, buy and stay locally. This is not only likely to reduce your environmental impact whilst overseas but support the local economy and livelihoods who rely upon the tourism industry. It is also a great way to experience the local culture.
Stay in hotels that are more environmentally aware
Consider conducting a little research on your accommodation provider before booking your stay. Try to choose hotels that are locally owned, support the local community and are transparent about their environmental initiatives and impacts alike.
Consider a staycation
As BSAC divers, we probably don't need to convince you of the appeal to UK waters, so your travel doesn't need to take you to a far-flung overseas destination. Consider taking time to explore a part of the UK you haven't dived before and finally tick off that must-dive site everyone has been talking about.
BSAC Travel Partners
If the New Year is the right time for you to start to plan an overseas diving holiday, then check out the savings you can make with BSAC's Travel Partners.
BSAC members can save at least 5% on their next dive holiday if booked through the BSAC Travel partners scheme. Exclusive scuba travel discounts are available to members (and their immediate family members) with our fantastic four dive holiday operators - blue o two, Diverse, Regaldive and Scuba Travel.
Check out the latest exclusive offers for BSAC members on the BSAC Travel Partners page.
BSAC members save £££s every year using BSAC benefits.
Join BSAC today and start saving on everything from scuba gear, diving holidays and diver insurance, to everyday purchases on food, online shopping and retail with BSAC Plus. Click to join BSAC today.