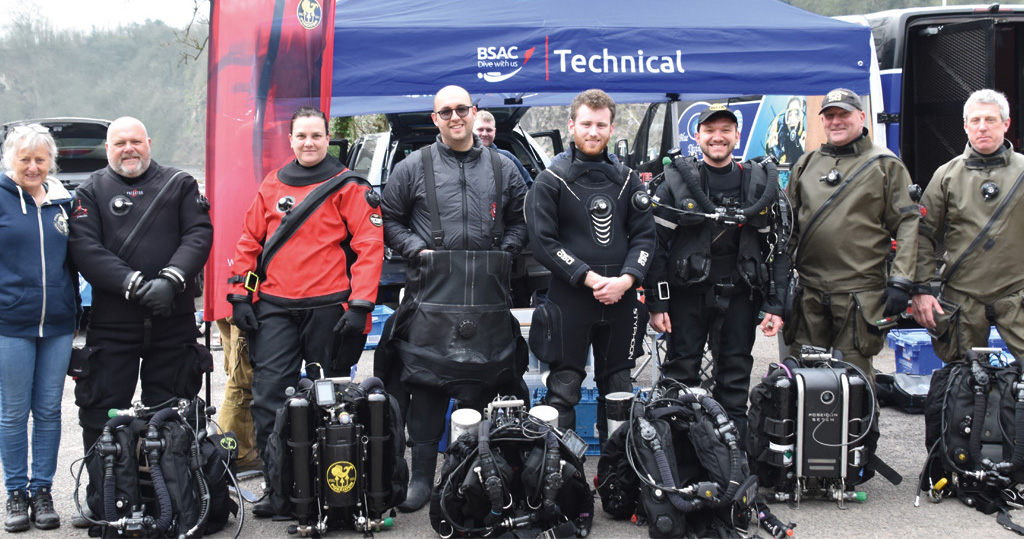 Curious about rebreather diving? Join the team at the BSAC Poseidon Se7en Try Dive event at Cromhall Quarry on 25 June 2023 and let them share with you a more efficient (and quiet) way to enjoy diving!
The joint BSAC/Poseidon weekend will offer divers the chance to try out CCR diving for the first time with 'have a go' sessions on Poseidon Se7en rebreather units. The event is open to Sports Divers (or equivalent) and above.
Places are limited so interested members should book their place online to be sure of a place.
Interested non-BSAC members can email the BSAC Diver Resources Team to book or call 0151 350 6261.
Technical Instructor Gary Fell shares his thoughts on why you should book your place...
Join the BSAC Poseidon Se7en Try Dive event to discover something a little more efficient, well 96% efficient to be more precise. Would you buy a car with 4% efficiency? Probably not, although when it comes to scuba we are quite happy with inefficiency, not to mention noisy.
We know what you are thinking, "rebreather is not for me", "I don't dive deep", "it is too complicated", "I have enough to deal with having my camera", or the biggest concern - safety.
We fully understand a rebreather isn't the best choice for every dive or every diver, but it is a great choice for most…
For underwater photographers
As most divers now have underwater cameras and with today's digital technology producing some great pictures, we are taking up the activity of underwater photography as our purpose to dive to achieve that amazing shot.
We know that a great picture comes with patience. The duration of a dive on a Poseidon Se7en is generally much longer giving you that underwater time to achieve your photographic goal, which means you can stay under longer or do several dives without the hassle of refilling your cylinders.
This is due to the efficiency of the rebreather system, you will not use up your gas as fast as you would on open-circuit because you are reusing the whole time making the Poseidon Se7en 96% efficient.
For better marine life encounters
A rebreather is less noisy than a traditional open-circuit, making interaction with marine life more intense and up close. You will find marine life more acceptable to you being in their world.
Greater no decompression time
Whilst gas saving is a positive bonus your no decompression time is far greater on the Poseidon Se7en, due to the fact it is making your gas optimal for every depth you are during your dive, therefore minimising the uptake of nitrogen and accelerating how quickly it leaves your body.
Exiting the water chilled and dry mouth on open-circuit, could also be a thing of the past, the Poseidon Se7en will give you moist and warm gas which is more comfortable to breathe whilst diving. There is no need for that deep breathing because the rebreather becomes an extension of your lungs. This means your buoyancy will not be altered by the way you breathe.
Check it out for yourself!
Come and see us at Cromhall Quarry (Gloucestershire) and you will notice that the world of diving is changing.
Advanced ease of use and safety features
Safety in the Poseidon Se7en is technology that allows you as the diver to enjoy your dive without worrying about the system integrity. Automated pre-dive and in-dive checks ensure the rebreather is performing as it should be with very little intervention from you. This coupled with the latest Solid State Digital Sensors differentiates the Poseidon Se7en+ from other rebreathers on the market.
All rebreathers use oxygen and a diluent (air or trimix), a breathing loop, counter lungs and a mouthpiece to breath from along with a scrubber that removes carbon dioxide. That's the easy part. The Poseidon Se7en will maintain PO2 in the loop, no need to change setpoints.
Throughout your dive, the Poseidon technology is monitoring the oxygen sensors to ensure they are working perfectly. Gas levels within the system and your cylinders are monitored ensuring you have sufficient diluent and oxygen gas.
A three-level alarm system is there to alert you and your buddy if something is not going to plan. Alarms are delivered visually on your wrist display, mouthpiece display and smart battery and physically, via the patented vibrating mouthpiece.
There is so much more safety technology in the Poseidon that we would love to show you in person so if you want to know more, then please come along to Cromhall on 25 June and have chat with the BSAC Poseidon Instructors. Or, if you would like to book a Try Dive on the Poseidon, click the button below.
BSAC members save £££s every year using BSAC benefits.
Join BSAC today and start saving on everything from scuba gear, diving holidays and diver insurance, to everyday purchases on food, online shopping and retail with BSAC Plus. Click to join BSAC today.