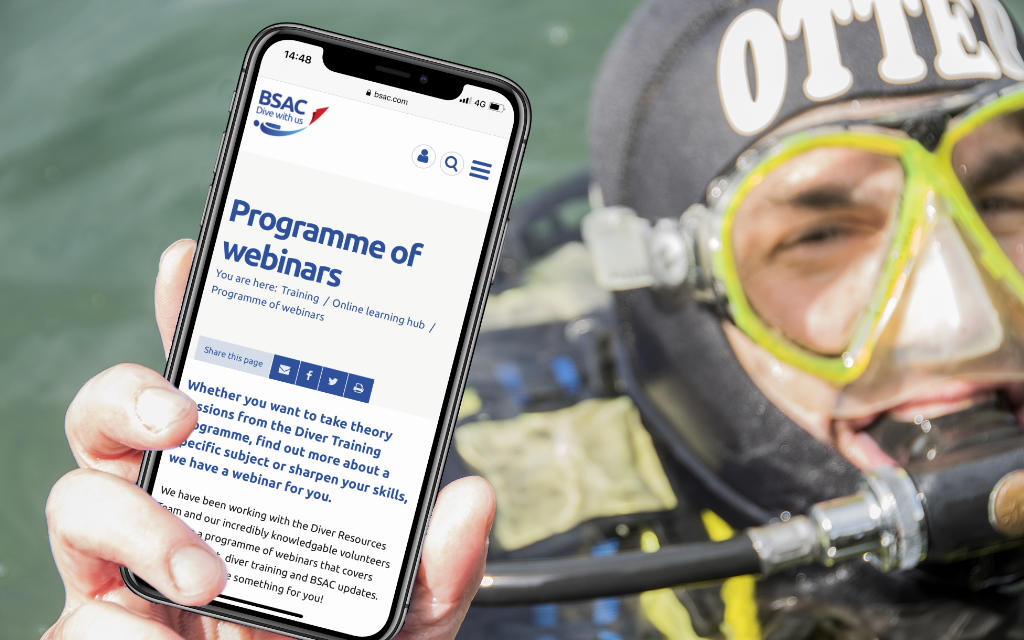 There's a large selection of webinars available online for members. Here's the low-down on how to safely book onto them.
One of the silver linings of lockdown has been the number of webinars BSAC has been able to organise (thanks to our wonderful volunteers!). They cover a huge range of topics, from training to wrecks and marine biology to diving physiology. In fact, this month alone (March) we've got a webinar taking place roughly once every other day, and the webinars themselves regularly have in excess of 100 attendees.
A learning process
The way we run these webinars has evolved as we've learnt from our first forays and we now have a much more reliable system - although there is still always room for improvement.
Whilst many of our webinars are free we still require booking to manage numbers, maintain security and help manage the whole process.
We've also increased the webinar attendee limit to 200 after the popularity of the webinars was proven. This means that occasionally really popular webinars do become fully booked, but members can usually watch them at a later date at bsac.com/catchup.
Booking via the webinar page
To book onto a webinar:
Head to bsac.com/webinars to see the full list of upcoming ones in chronological order, with the soonest appearing first.
Click the button that says 'Member booking' next to the webinar you like the sound of.
You'll be redirected to the event page with some additional details.
Click the 'Book now' button.
If not already logged in you'll be asked to log in to your MyBSAC account so you can complete the booking process quickly and simply.
We do reserve a few spaces per webinar for non-members - if this is you then email drt@bsac.com and they'll see if there's room for you.
Booking for events during the week usually closes by the day of the event so it's important to book before then, or by Friday for events at the weekend.
Once you have booked:
You'll receive a confirmation email.
The link to the webinar will be emailed separately to you on the day of the webinar. Simply click it 10 minutes before the scheduled time.
Important: If you haven't received the link to the webinar and the scheduled time is approaching, make sure you check your email's junk folder and then get in touch with us and we'll be able to sort you out with the correct link.
Most of our webinars are free, but some, such as those currently offered by The Historical Diving Society have a small fee to support the charity. If you're booking onto a Diver Training Programme webinar then you will need to purchase the relevant digital or physical pack from the BSAC shop to have the module count towards your diver grade training.
Important notes about Facebook
Facebook Events
We publicise all of our webinars on Facebook as Facebook Events as this helps us reach many thousands of people. Clicking 'Going' on Facebook does not mean you have booked onto the webinar. You'll still need to go to the BSAC website to do that. There's a 'Go to link' button on the Facebook Event page that will take you straight to the webinars page – bsac.com/webinars.
Beware of links posted on Facebook by others
Unfortunately, like many providers of online webinars, BSAC has been the focus of an attack by a group of spammers who create fake accounts and comment on BSAC posts with fake links to our webinars which then sometimes ask for card details. Whilst we try to delete these spam comments and links in a timely manner, they often come in their hundreds and at times when we might not be monitoring the Facebook page, so we may occasionally miss some. It's therefore really important that you don't click on any links that seem suspicious - if you come across one then please report it to Facebook and to ourselves and we'll take the appropriate steps. The safest thing to do is to only click on links shared by the official BSAC page and if in doubt visit the BSAC website and follow the links there.


Missing diving? Feed your passion and build your diving knowledge by watching a special interest or training webinar. We've got a great selection scheduled, check them out.