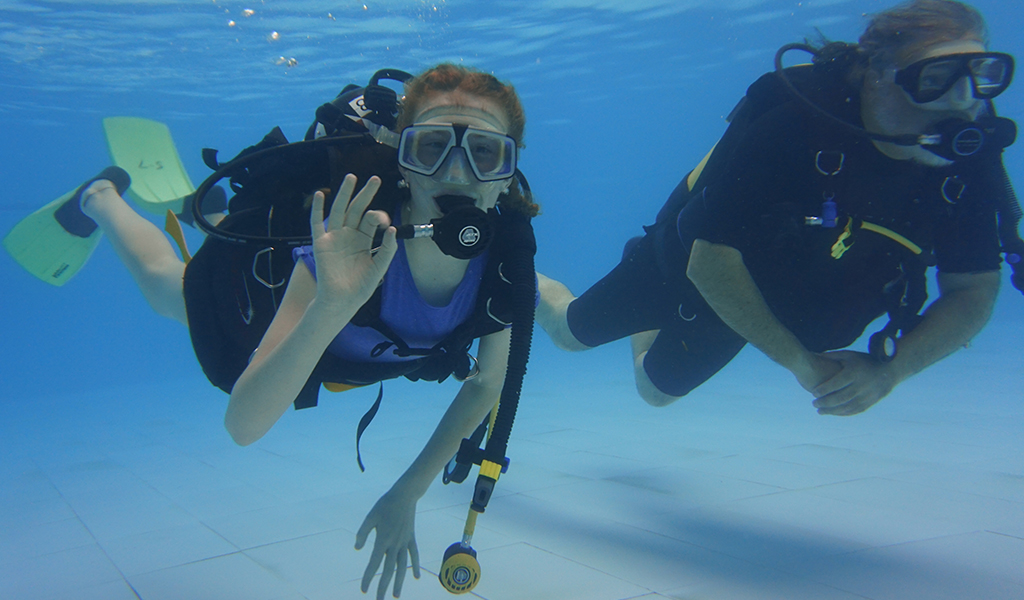 As autumn progresses, we approach a key time of year for many clubs and especially university clubs… Try Dive season. Safety and Development Manager Jim Watson offers some guidance to clubs and centres on how to run these safely.
The focus on attracting and signing up new members is an essential part of club viability as without new members clubs cannot grow, or even simply sustain themselves.
Try Dives are an essential recruitment tool for clubs and centres alike. Try Dive students, however, are often less disciplined than club members and in short 'don't know what they don't know'. Likewise, their recent medical status is less likely to be known and they may be less appreciative of the additional risks Covid-19 may present to divers or may be concerned about the use of scuba equipment.
The most important consideration in offering Try Dives is that the scuba equipment used MUST ONLY be used by a single student during a session and not used by anyone else. Once used, the equipment must be cleaned, disinfected, and thoroughly dried following use as detailed in the Equipment guidance document. The concern is that the internal parts of the mouthpiece are subject to contamination from the exhalations of the user and the internal components are difficult to reliably clean and rinse so the industry standard at this time is to disinfect, rinse and allow to thoroughly dry, before allowing it to be used by another person.
Because of this limitation, it is essential to establish the limits to the number of Try Dives you can offer at any one time. It is better to arrange a small number of potential students on a regular basis, rather than risk infection.
Group size
The recommended instructor to trainee ratio for Try Dives is 1:1 and so there should be no issues with indoor activities such as Try Dives giving concern with present government restrictions. The direct interaction is between instructor and student and although there may be multiple such training groups they should not interact and for the most part, will be fully immersed in the [treated] pool water.
Facility rules
Clubs should be conscious that the swimming pool management may well be overly cautious during the reopening of their facilities, and working with them will help to reassure that you both have due consideration for the health and wellbeing of all concerned. Such concerns may extend to preventing the use of unspecified cleaning agents in proximity to the swimming pool.
We have advised previously for clubs to maintain open discussion channels with the facilities management and remain sympathetic to any concerns raised. Where a club has already established clear protocols for diver training with the facility management, it is important to recognise that people attending for a Try Dive will be less disciplined than existing members already familiar with those protocols. Consequently, clubs should develop a dedicated Risk Assessment and associated briefing for Try Dive students attending.
Further reassurance for the facilities management can be provided by using the Local Authority pool letter to advise them appropriately of the national governing body (NGB) advice.
Pool session manager and oversight
The role of the Pool Manager (Marshall) during the current situation should be extended to include the role of oversight and maintenance of compliance for Covid-19 secure measures.
Instructors and students will be focussed on their specific activities and when this occurs social distancing and other measures may be forgotten. This will be especially the case on surfacing after a Try Dive when the enthusiasm and excitement of the experience may result in lots of chattering in close proximity.
In such circumstances, a gentle reminder from someone with an overview of the situation will help continued safety for all concerned. Such oversight will also help reassure the facility management that a safe system is in place.
Track and trace
Unlike your club members, you will not necessarily have full contact details for those attending Try Dives. An important aspect of controlling the spread of the virus is the ability to identify anyone who may have been in contact with anyone who tests positive for the virus. If infection occurred during a Try Dive session it is important to be able to trace anyone who may have been affected. It is possible that the facility management may have already collected this, but it is in the interests of the club offering the Try Dive to ensure they also keep a record for the required period of time. Some university clubs may be able to make use of any track and trace system being used by their university.
Keeping up to date
Following changes in government restrictions, in order to control the spread of Covid-19, BSAC will continue to review and update its guidance. The guidance in this post was correct as of going to press (24 September 2020), but if you are reading this some time later, please check the currency of the information. The latest safety information is in the Safe Return to diving web section.
Further support
Please do get in touch if you have any questions regarding running Try Dives during this time. You can email the Diver Resources Team (DRT) or call them on 0151 350 6203. You may find the following links useful: