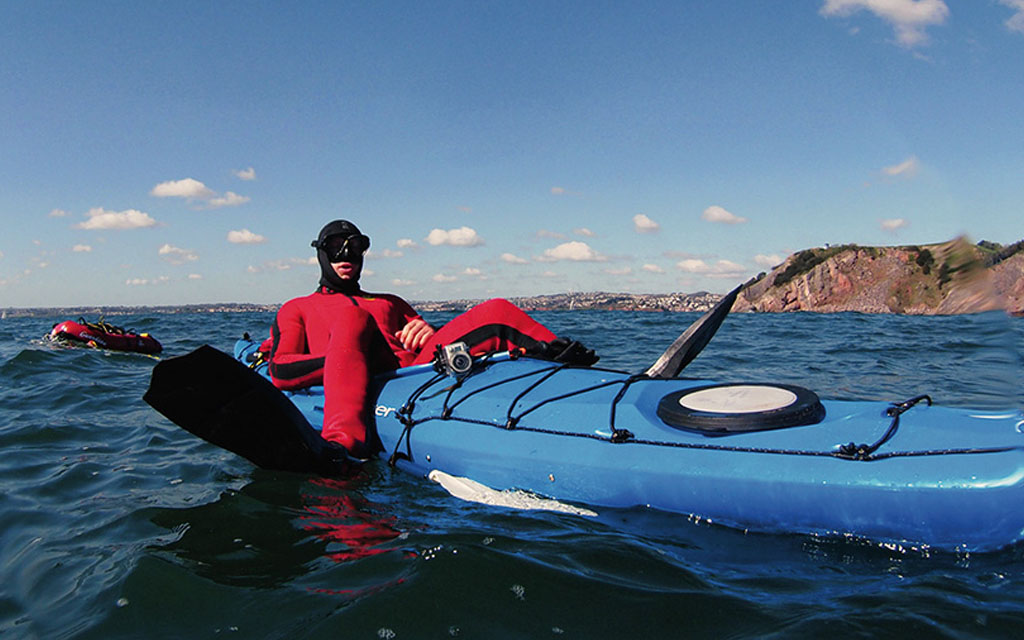 Mistakes, he's made a few... Andy Torbet 'fesses-up to his many faux pas while snorkelling, that we may learn from his errors
Around this time last year, I wrote about some serious lessons I've learned through mistakes and mishaps over the years of snorkelling. But rather than repeating similarly sage advice, I thought it would be a useful exercise to track back and confess to the details of those hard-earned lessons.
Mask-up
Due to the simple, minimal nature of snorkelling kit I have, in the past, taken a more laissez faire, approach to pre-dive checks. I performed them, but not always with the rigour they deserve. I once stepped off the back of a boat in Malta, having previously ensured I was indeed wearing all the necessary kit... or so I thought. I only needed the basics and could feel my fins cupping my feet and the sensation of a strap around my head and glass before my eyes. I was good to go... or so I thought.
As the Mediterranean swallowed me up, I flailed in an attempt to grab the mask which had clearly come off my face. I knew this had occurred, thanks to the watery sensation around my eyes and my inability to see anything but blur. As I surfaced, I saw, through the tinted lenses of my sunglasses, my buddy standing on the dive deck with my mask in his hand and a grin across his face.
Tight fit
I'll admit to owning a fair number of wetsuits, which I use for snorkelling, diving, cave diving, freediving and even caving from the Arctic to the tropics. However, I once arranged a photo day with photographer Dan Bolt in a new wetsuit I'd been sent to try out. The wetsuit looked very cool… but it turned out to be made for someone much smaller than I. Specifically, a lady. It wouldn't have been a problem, but I only discovered the situation while on a beach in Devon, having committed to the snorkel session. To be fair, there was little flushing and the suit was warm enough. But only because I was vacuum-sealed with neoprene, and barely able to inhale. Lesson learned, these days I try stuff on before I leave home.
Fins for the memory
There is great debate as to where snorkelling ends and freediving begins; I'd imagine many would put the 16-metre depth of this next story firmly within the realms of the latter. However, my intention that day was not to go to such depths. I was even wearing half-pocketed, heel-strapped diving fins... and that's where things went wrong. I never noticed the strap go, but felt the fin slip off just in time to not be able to do anything about it. As I drifted beyond the illumination provided by the shafts of sunlight. I realised I was also not wearing a weight belt. Thankfully my suit was only 3mm. Although I doubt few of you have been stupid enough to consider attempting such a thing, nor had the need to, I can recommend not trying to duck dive to that depth while positively buoyant and with only one fin.
Disaster on the Dee
Finally, I'll take you to the Linn of Dee. I'd first snorkelled here during my Britain by Snorkel trip in 2011, but returned in 2013 to film for the BBC. On the return trip the weather had not been as kind and days of deluge had forced the water 'up', making the bubbling surface impossible to gaze through.
However, the pressure of filming was such that I made the call to get in. All was well but, as is always the case with telly, it's retake after retake and I began to get tired. Rather than the powerful giant stride with which I'd started the day, I now collapsed into the water on 'action'. And that's how I discovered a small, protruding ledge... with my knee-cap. I was meant to swim downstream, surface in an eddy by Camera Two and deliver my lines about how great all this was. I was not meant to (this film being intended for a tea-time broadcast) surface swearing and blaspheming. But I did. And I continued to as I limped back upstream for yet another take.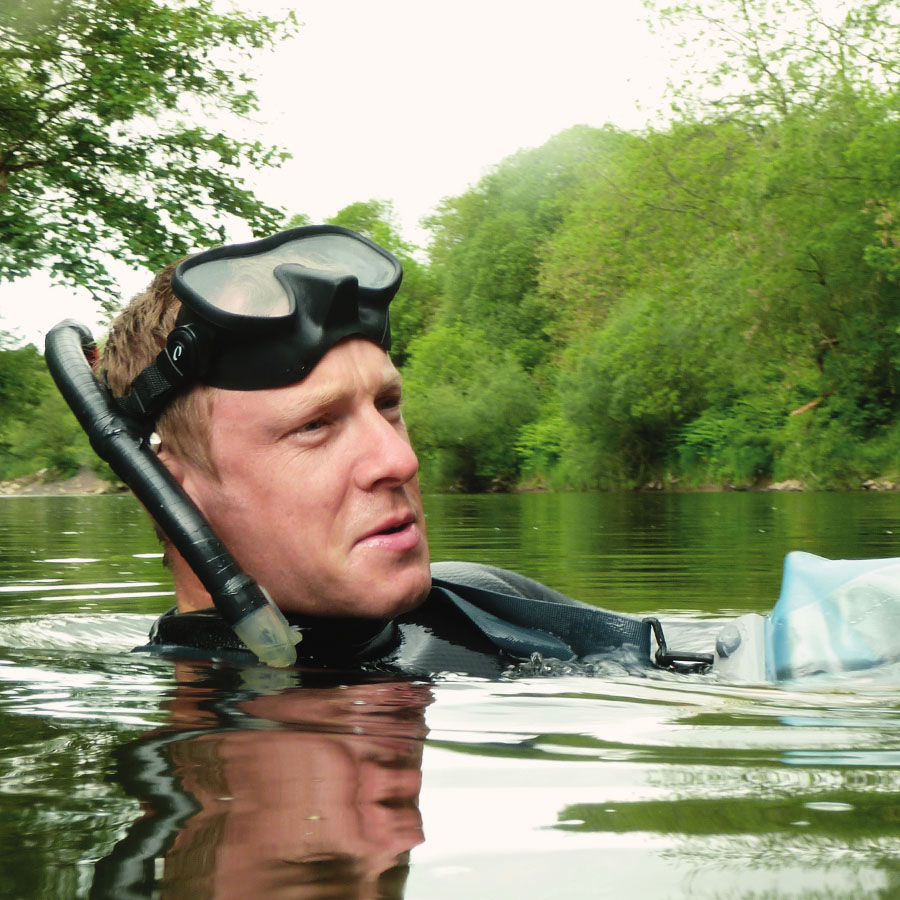 Andy checks a sore kneecap after an ill-fated 'leap-before-look' entry.
Find out more about snorkel training.
BSAC promote and develop the 'best practice' in snorkelling safety for snorkellers in the UK.
If any of you have any suggestions, I'd love to hear them. Drop a note to me through the editor's email at SCUBA or on my social media below:
Facebook: OfficialAndyTorbet
Instagram: @andy_torbet
Twitter: @andytorbet
Article by Andy Torbet for SCUBA magazine, Issue 124, April 2022. For more membership benefits, visit bsac.com/benefits.
Images in this online version may have been substituted from the original images in SCUBA magazine due to usage rights.

Find out more about learning to snorkel or discover snorkelling in the UK.