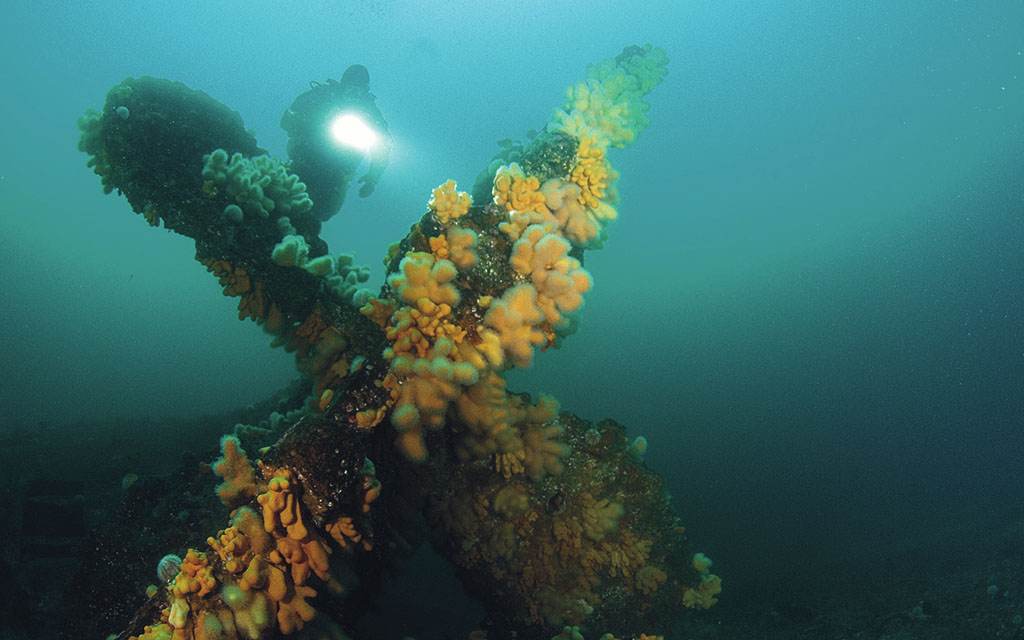 Jane Maddocks has a few tips for how to develop your wreck skills, at the same time enhancing your club and project diving
Learning to dive means that you acquire a skill that is complex, exciting, and possibly means buying lots of shiny equipment using the justification, if one is needed, that it is for life support. For many divers, however, simply the act of going for a dive is what it's all about.
The kit preparation, getting to the site, meeting up with friends, the dive and the post-dive chat and refreshment justify all the training and equipment because it is fun. If that sums up your diving, then all power to your fin strokes.
I meet quite a few divers for whom heaven is diving in their local quarry. It is their happy place, and why they trained in the first place.
However, there are divers out there who enjoyed the training, but have a wish to do something more. When I started, I loved my branch diving, lived for Sunday dives and it was only that moment going down the shot line on to the Mary Rose that I had a sharp intake of breath. I knew at the moment the bronze gun came into view that I wanted more than the Sunday RIB dive followed by the rush to the pub.
As a BSAC member I decided to do all the Skill Development Courses (SDCs) on offer. I would still say to any new BSAC diver that the SDCs are a brilliant way to sharpen your skills and develop your diving. I also recommend that you spend time looking at the webinars on the BSAC website.
There is a moment of transition where your diving skills become a marvellous tool that allows you to get involved in projects as a volunteer.
Operation Oyster
BSAC's Operation Oyster project should be well under way in a couple of months. If you want to get involved, then go to bsac.com/operationoyster. Getting involved does not mean every dive looking for oysters – just once or twice on a dive look out for our native oyster, Ostrea edulis. It is important to start finding out where they are, and how many. Empty shells are also important. Britain used to be famous for its oysters, but they are a vanishing species.
Nautical Archaeology Society project
The next big project is different. Northern Scotland has some Royal Navy wrecks protected at Control level. This means that you cannot dive them without a licence issued by the Ministry of Defence. The Nautical Archaeology Society (NAS) is applying for a licence to dive one of those wrecks to produce a condition report.
The focus is to report on unexploded ordnance, the security of its fuel bunkers and a report on the general condition of the hull. The Royal Navy needs this information, and it looks like recreational divers with extra qualifications in how to do these assessments are well placed to be involved.
This project is about to be announced by the Nautical Archaeology Society (NAS) and will be something just a bit special. Currently, it is open to NAS members only; but what a great reason to join the NAS. If you are an NAS member and this appeals, then keep an eye on the website.
To take part, you should be a member of the Nautical Archaeology Society, have done your NAS Foundation Qualification and done the new course on 'Identifying Environmental and Explosive hazards on Wrecks.'
Currently we are looking at opportunities for BSAC members to do some of their further training during the project. We have Nationally Qualified Instructors on the project team, including several Advanced Instructors. For more information email projects@nauticalarchaeologysoc.org
I hope this type of project may run for several years. It will be an exciting way of expanding diving horizons. It will give so many opportunities for using the skills you have acquired through BSAC, and will certainly make your branch diving just that little bit more exciting and may end up with you running projects of your own.
The BSAC network is working together to keep people connected to the sport. With online training, special interest webinars, competitions, support to clubs and the trade, and much more...we'd love you to join us.
This column was originally published in SCUBA magazine, Issue 124, April 2022. For more membership benefits, visit bsac.com/benefits.
Images in this online version may have been substituted from the original images in SCUBA magazine due to usage rights.