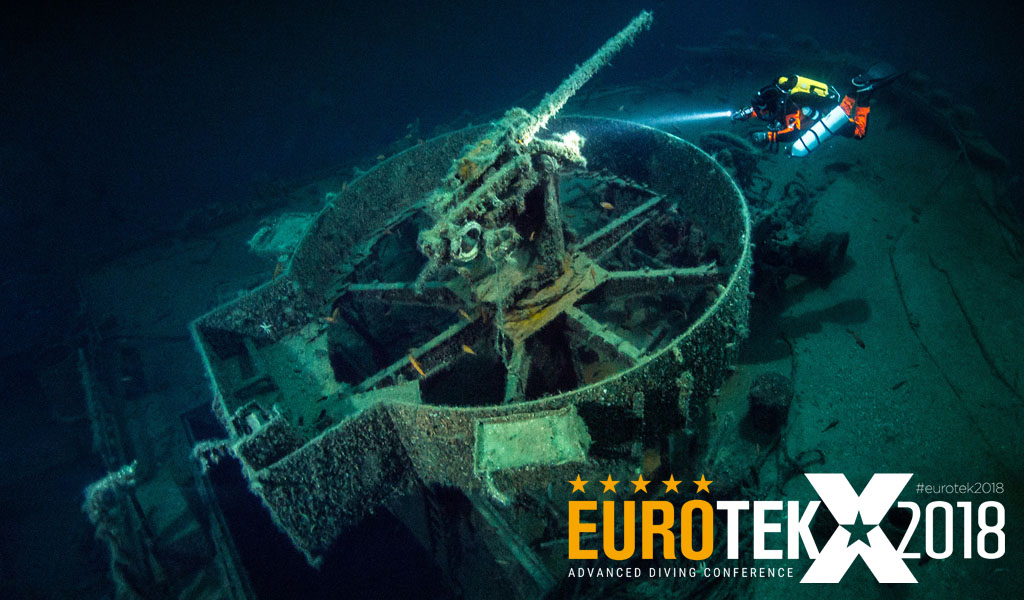 The BSAC Tech Team will be joining the exhibitors at this year's two-day advanced diving conference, EUROTEK over the weekend of 1-2 December.
With the conference marking its 10th anniversary, EUROTEK organisers have laid on two packed days of all things adventure and tech diving. The BSAC team will also be on hand to talk to visitors interested in extending their diving experience, alongside over 35 other tech industry exhibitors.
Why attend EUROTEK 2018?
EUROTEK 2018 offers more than 30 talks and seminars showcasing the best in adventurous diving.
One of the highlights of this year's conference will be a not to be missed presentation from the UK divers at the heart of this summer's extraordinary Thai cave rescue

.

Plus, BSAC's Nick Jewson will be speaking about

how technical diving can open up adventurous diving opportunities

to a wider range of divers.

Meanwhile,

BSAC Diving for All Ambassador and full-time wheelchair user Tom Hughes will talk about his own experience of becoming a technical diver post-injury.

But what if I'm not a technical diver?
You don't need to be a deep or technical diver to attend EUROTEK. The event is pitched at any diver with an appetite for adventure and to expand their diving knowledge. EUROTEK co-founder Rosemary Lunn added:
You don't need to be a cave diver to appreciate listening to the core dive team behind history's greatest cave rescue tell their story first hand.
EUROTEK is being held at its new venue in Birmingham's Repertory Theatre and tickets start at £45.

More information about EUROTEK 2018 and tickets.
Exclusive BSAC prize draw for BSAC members
Enter your BSAC membership number when you buy tickets and you will be entered in an exclusive BSAC prize draw to win your ticket money back plus a EUROTEK beanie and limited-edition t-shirt.
Interested in technical diving?
Click here to discover more about BSAC technical diving courses today.
If you need help finding a 'tech-friendly' club please email hello@bsac.com and we'll help you find the right club for you.