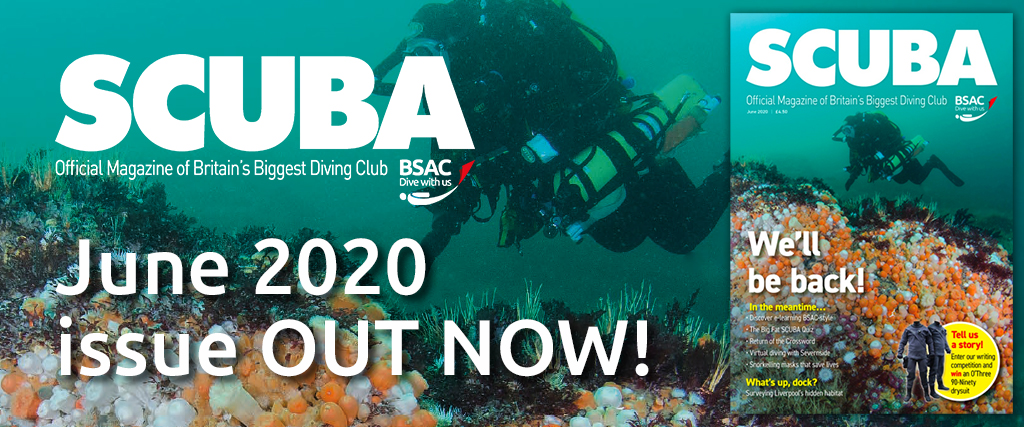 BSAC's monthly magazine SCUBA has gone exclusively digital. For the time being anyway. The latest issue is out now, so get yourself a cuppa and dive in…
June issue highlights
Diving and Covid-19
Read a paper on Covid-19 and its implications for diving by Dr Chris Edge and other diving doctors. Complemented by a statement from BSAC on the current position – pages 46-49
Severnside Sub-Aqua Club's virtual dive trip – page 38
Charles Wheeldon's crossword (welcome back Charles) – page 48
The Big Fat SCUBA Quiz to occupy our grey cells – pages 42-43
Columnists Michelle Haywood, Kirsty Andrews and Yo-Han Cha share their lockdown thoughts on life-saving snorkel masks, staying positive and confronting fears – pages 17-19


A few words from SCUBA Editor Simon Rogerson:
I hope those of you who are new to this format get to grips with the page-turner – in my experience, the bigger your screen, the better the reading experience. My friends at BSAC have already set out their reasoning for this temporary change [also, below]; let's hope we can get back to the paper magazine as soon as events allow. Aside from the digital format, this is a different sort of SCUBA. You'll find some of our regular features have been tweaked or are on hiatus, and we have introduced alternative content more appropriate to the current circumstances.
Why has the magazine gone exclusively digital?
You may have noticed that there was a lot less advertising in the latest issue of SCUBA magazine. Many businesses have reduced their advertising budgets and the diving industry is no different. Sadly, without this advertising, it is no longer possible for our publishers to produce printed copies of SCUBA without a very significant price increase. We have, therefore, taken the difficult decision to go digital, at least for the next few months. We believe this is also the socially responsible thing to do, as it helps ensure that only essential post is distributed by the Royal Mail.
iSCUBA will be emailed out to everyone monthly around the same date as you received your hard copy of SCUBA. By taking this decision, we can ensure that you will receive the magazine regularly and safely. You will also be able to access and read back issues of iSCUBA via this link, which you should find useful.
How to access iSCUBA
Please check that you are signed up to receive emails from BSAC. Go to your MyBSAC page and click on 'Email preferences' to manage your emails from BSAC. You will be able to view iSCUBA online (by clicking on the main link in the email), or you could download a PDF version (also a link in the email), or, all members can now access all copies of iSCUBA via their MyBSAC page.
If you have any problems accessing iSCUBA, please do let us know at marketing@bsac.com.