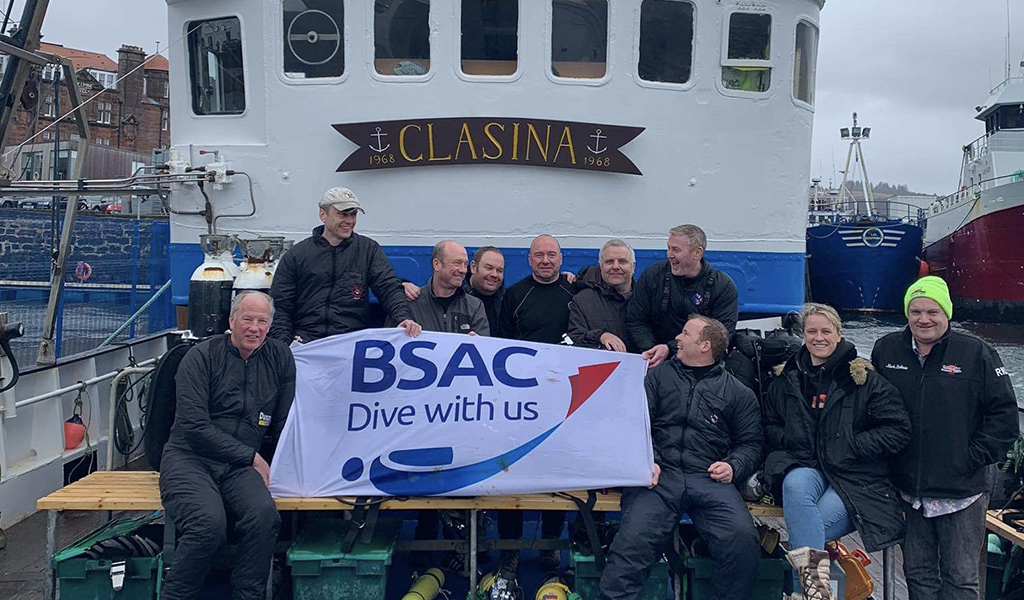 The first BSAC Expeditions Scheme event for 2020 took place over the last weekend in February aboard MV Clasina in Oban and the Sound of Mull.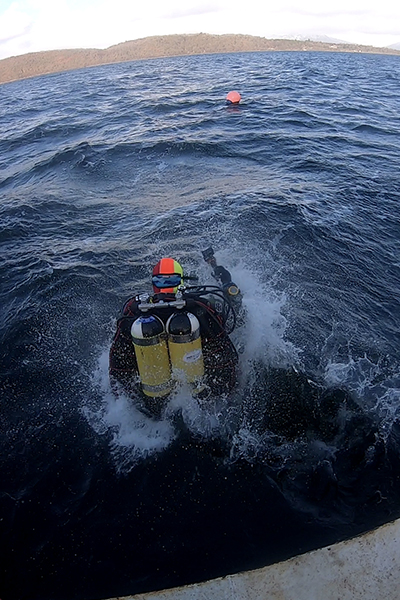 The aims of the expedition were to undertake some Advanced Diver training on the back of some great diving. Over the action-packed weekend, students completed Advanced Diver lectures AT1 to AT4, the Expedition Planning lesson (AP1), some dive management and four of the required experience dives (such as no clear surface, unknown sites, navigation dives etc.).
Many of the students had not visited Sound of Mull before and were treated to dives on wrecks, such as the SS Shuna, SS Breda and SS Hispania, in what could best be best described as inclement weather conditions, amidst the latest winter storm to hit the UK.
Fortunately, the expedition platform was the MV Clasina, Halton Charters' new boat and the dive team were very pleased to be on the maiden dive voyage for this new vessel as it proved to be a very sturdy dive platform in the challenging conditions that we faced. It comfortably cruised through the horizontal rain, sleet and snow up to our turnaround point at Tobermory before we headed back to Oban.
Although all had wished for clear skies and calm weather, on reflection, the challenging conditions actually made for a better course as it allowed students to witness and be involved in the planning and critical decision-making process needed to get some great diving in with challenging conditions.
Andy Hunt

Training expeditions are designed to help sign off hard-to-complete modules of the Diver Training Programme
The very first training expedition was for the Advanced Diver course and ran in February 2020 to Oban and the Sound of Mull.
BSAC Expeditions Lead, Andy Hunt, is hoping to plan more of these events moving forward, so keep your eyes out for the announcement and on the events pages.
Murdo MacKenzie, Ellon Sub Aqua Club
I had a great weekend ... I learned a lot… learning how to cost and run an expedition was awesome, and to get the theory lessons in as well was superb.
Rob West, Thrapston & District Branch
The concept is fantastic. For our club, courses like this are great, both because of our location in the centre of the country and the lack of higher-level instructors in our club. Hopefully, courses like this will help us to build up higher levels of knowledge and experience… I found the course to be a full-on experience of a very high order!
Share your scuba (or snorkel) story!
We want to hear from YOU. Tell us your scuba (or snorkel) story - how you got into the sport and what brought you to BSAC. Whether you were already trained with another agency, started as a young snorkel diver or found us later in life. Email your story to imogeng@bsac.com with the subject 'My scuba/snorkel story' and some pictures and yours might be the next story we share!