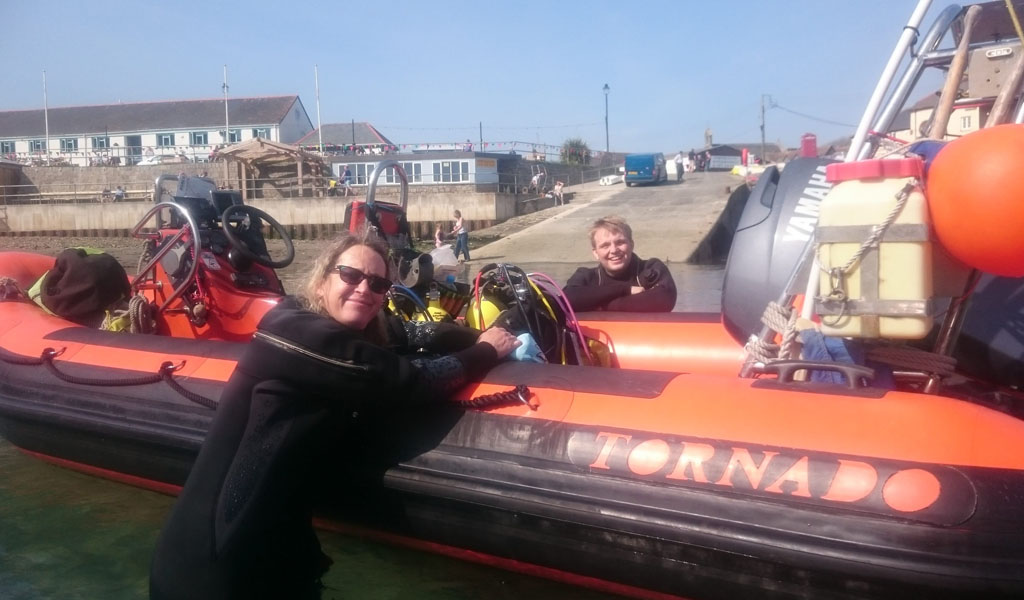 We recently sat down to talk with Reading BSAC - with a Sport England grant and a talented team devoted to the diving club, they remain optimistic about their future after the challenges of lockdown.
Reading Diving Club was set up in 1953, in the early days of our sport. In 1955, it became BSAC branch number 28. Many happy years of diving from the shore and small inflatable boats followed as the sport developed. Club members have been involved in a wide range of diving projects over the years. A club-owned inflatable boat came on the scene in 1972 and by the 1980s the club had negotiated a lease on a building. Reading BSAC is still well resourced with: a clubhouse, bar, and training room, two six-metre RIBs that usually take five and seven divers; two compressors (one a membrane compressor for Nitrox), some 20 sets of diving equipment for training, and a club-owned 4x4 double-cab pickup towing vehicle.

During the recent UK lockdown, the club started with zoom club nights, but quickly realised that to keep everyone's interest they needed to include special guests, so they arranged for guest speakers, including our own SCUBA editor Simon Rogerson, to join in virtually.

Covid-19 also meant a pause in training; stopping a planned Ocean Diver course before it started. When thinking about getting back to diving after the UK lockdown for Covid-19, the committee agreed on a set of diving guidelines, informed by BSAC's return to diving information. The aim was to keep trips as affordable as possible, within government guidelines. A trip away to West Bay in July was a success, albeit with fewer than normal divers joining for various days to avoid all staying together, and a trip to Plymouth was in the planning when we spoke.
The club's first boat, circa 1972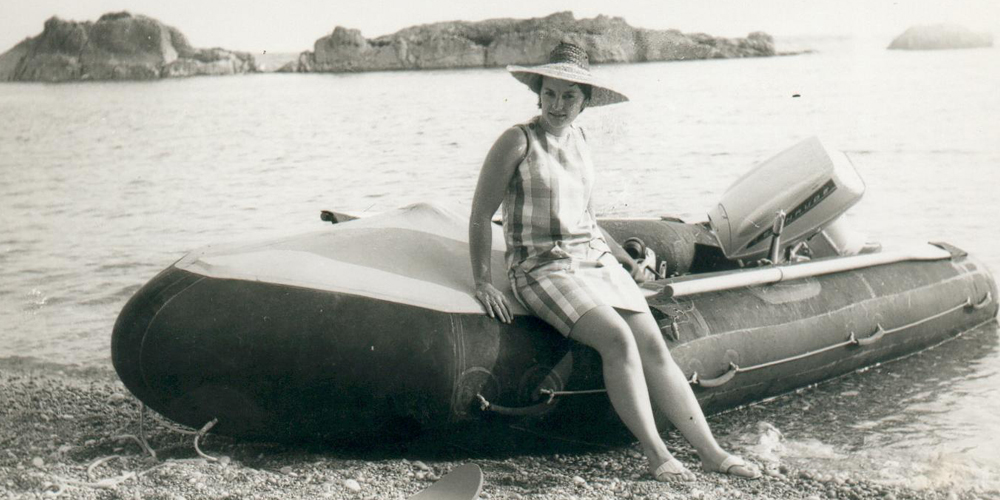 Let's find out what keeps this club active
Where are you based?
Palmer Park in central Reading, Berkshire; an English county that has the Thames river flowing through it. And yes, we do dive in the river sometimes (more so in the early days). In 1971, club member Fred Clark found a sword there, which can now be seen in Reading Museum.
How many members does the club have?
Membership has been fairly stable for the last few years at around 70 members. 20 have been with the club for more than 20 years, nine have been members for 30+ years.
How experienced are your divers?
This year we have: a trainee, 15 Ocean Divers, 22 Sports Divers, 10 Dive Leaders, 19 Advanced Divers, and a First Class Diver. Last year, we had four trainees. The age range of members is quite wide: we have 16 under 30, 16 aged 31 to 50, 33 aged 51 to 70, and four aged 70+.
How does the club raise funds?
From membership fees, income from our bar and air fills. Also, we charge £10 per day per person to use the club RIBs.
What is the club planning for the next few years?
We have just won a Sport England grant of £10,000 to improve our training equipment and facilities. We want to grow our membership.
Fantastic… was it difficult to win the money?
We researched grants for sporting bodies, settling on Sport England. We contacted other clubs regarding their successful bids to give us a better idea of what was required. We also discussed our application with BSAC's dedicated grants advice officer. It took us a couple of years overall, after a false start. The actual application only took a couple of months to put together, with a lot of different people's input. The decision-making takes around three months.
What exactly did you apply for?
Our focus was to increase participation from younger divers and women. We asked for funds to equip ourselves better for Try Dives and ongoing training as our existing kit collection lacked smaller sizes. The grant will also enable us to improve our open-water equipment, meaning trainees don't have to buy expensive kit early on, so the sport becomes more affordable. We also included an Automated External Defibrillator (AED), convertible for training purposes, so that we can maintain a fully qualified group of users and make it part of our emergency kit for all trips.
What training do you do?
At present we have two Sports Diver trainees, four Dive Leader trainees; and four Advanced Diver trainees. An Ocean Diver course at the end of 2019 was postponed due to a lack of interest and then was unable to start in 2020 due to Covid-19. We also run Skill Development Courses to refresh members' key skills.
Why was the training postponed?
We see our biggest problem as the need to compete with PADI schools. Their courses cost more but are run every month (or even twice a month). We run Ocean and Sports Diver courses once a year, so prospective students must wait.
Who are your instructors?
We have three Assistant Diving Instructors, six Open Water Instructors, two Advanced Instructors and a National Instructor.
You haven't mentioned a regular pool session?
No, there is a shortage of pool time in the Reading area, so we hire a local school pool, block booking for a few weeks when we need to. It is simply not cost-effective to spend £70 a week on a pool with one or two people training in it. But we are concerned that schools will not allow external groups to use their pool post-Covid. When we spoke to SCUBA for this interview in July, the club had no plans yet to restart training.
How much diving do you do?
We are a fairly active club, this year excluded obviously. Last year 60 individuals logged 1,181 dives. We ran 30 different trips, from days at the National Diving and Activity Centre, near Chepstow, to week-long trips to the Isle of Man, Croatia, Kinlochbervie (in the far north-west of Scotland) and the Isles of Scilly. We ran weekend trips to Portland/West Bay, Dartmouth, Plymouth and Falmouth. The club has also ventured further afield in recent years with trips to Newfoundland, Chuuk, Mexico and the Red Sea.
How has diving been affected by Covid-19?
In October 2019, we had 15 trips on the board for 2020. Most of these were full at the end of our Trip Sign Up night; we were going to West Bay, Portland, Cornwall, Mull (twice, a hardboat and a RIB trip), Isle of Man, Plymouth, Dartmouth, Pembroke, Ilfracombe, and the Medes Isles.
We may manage to salvage some day trips, but all the week-long events have had to be cancelled due to the challenges of accommodation for non-family groups and restrictions on groups making the costs prohibitive. We cancelled a Practical Rescue Management course and a Boat-Handling course weekend, although we might salvage the latter in September. We started to run some RIB day diving in July to practice protocols to deal with Covid-19 on our own boats.
How does the annual Trip Sign Up Night work?
Every Autumn, organisers get together to plan a list of trips for the next season. Then, on an Autumn club night, we hold a booking session. Each member gets a raffle number. If you can't attend you can send a proxy. We pull a number out of the hat; they get to join their first-choice trip. We repeat the process until the hat is empty. Then, if there are spaces to fill, we begin again. Using the same order, people can join a second trip, and so on. So everyone has a fair chance to dive.
What types of diving do members like?
The diving on offer is varied with scenic reefs, wrecks and some SeaSearch-recording dives every year. We use our two club RIBs, towed by the club vehicle, or charter hard boats. The vast majority of the diving is open-circuit scuba in the normal recreational depth range. We have a few photographers in the club who try to keep our website and Facebook page up to date. We also have several members active in nautical archaeology, who have received awards for their work on wrecks.
So what did they win?
Members have been among the runners-up for the annual Duke of Edinburgh's Prize in: 2010 (Moorsands project), 2011 (HMS Venerable Project), 2012 (Dartmouth Cannon site) and 2016 (Start Point project). In 2014, members were on the winning team for the Bigbury Bay project. A project that evolved out of efforts to locate the remains of an Armada hospital ship reported to have been lost in Bigbury Bay, South Devon. This project involved using electronic equipment to locate iron objects on the seabed as well as searching the relevant beaches with metal detectors.
Finally, can you sum up your years of success…
We have a committed core of longstanding experienced divers and a team of willing instructors. Among our members, we can count on a wide range of skills, for anything from managing our premises to mending our boats and trailers. And best of all, we have a membership that is eager to go diving. We are making a real push to grow our membership and increase the diversity within the club as much as possible.
The Jubilee Trust
For those readers who don't know, the Duke of Edinburgh prize was created by Prince Phillip when he was BSAC's President. It was awarded to the best underwater scientific project carried out by BSAC members. The Jubilee Trust (the official charity of BSAC) judged submissions and awarded the prize. The winners and two runners-up were always invited to the Palace for a formal presentation by the Duke himself.

Now that the Duke has retired as President and been succeeded by his grandson, the Duke of Cambridge, the prize has been replaced with the Duke of Cambridge's Prize, awarded for outstanding achievement in research in the field of scuba diving. The trust is always happy to receive applications. More info.
HMS Venerable Project divers at Buckingham Palace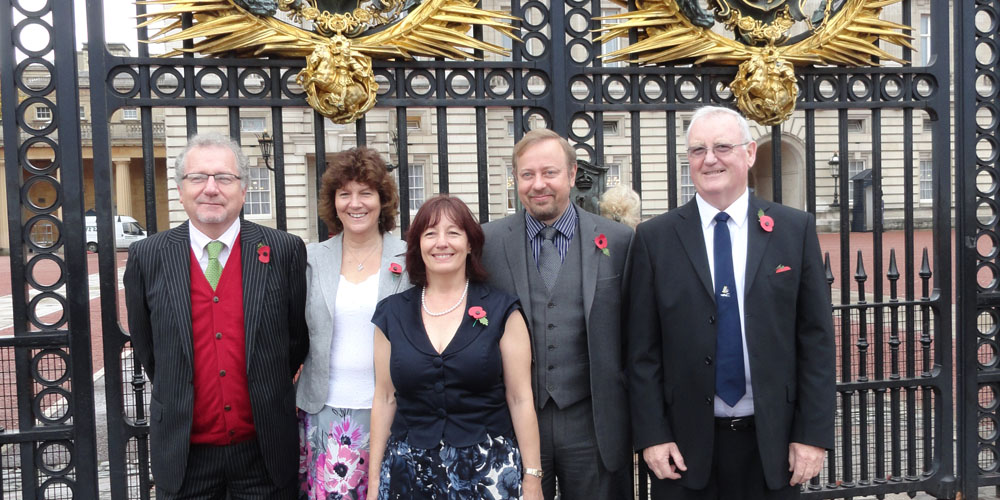 The BSAC network is working together to keep people connected to the sport. With online training, special interest webinars, competitions, support to clubs and the trade, and much more...we'd love you to join us.
This Club Focus was originally published in SCUBA magazine, Issue 107 October 2020. For more membership benefits, visit bsac.com/benefits.
Want to know more about diving with Reading BSAC? Please contact the club using the details below:
Email: rbsacinfo@gmail.com
Website: rbsac.org.uk
Facebook: Reading BSAC
Feature image: Emma Harris and Ben Holland on the annual Easter trip
Images in this online version may have been substituted from the original images in SCUBA magazine due to usage rights.