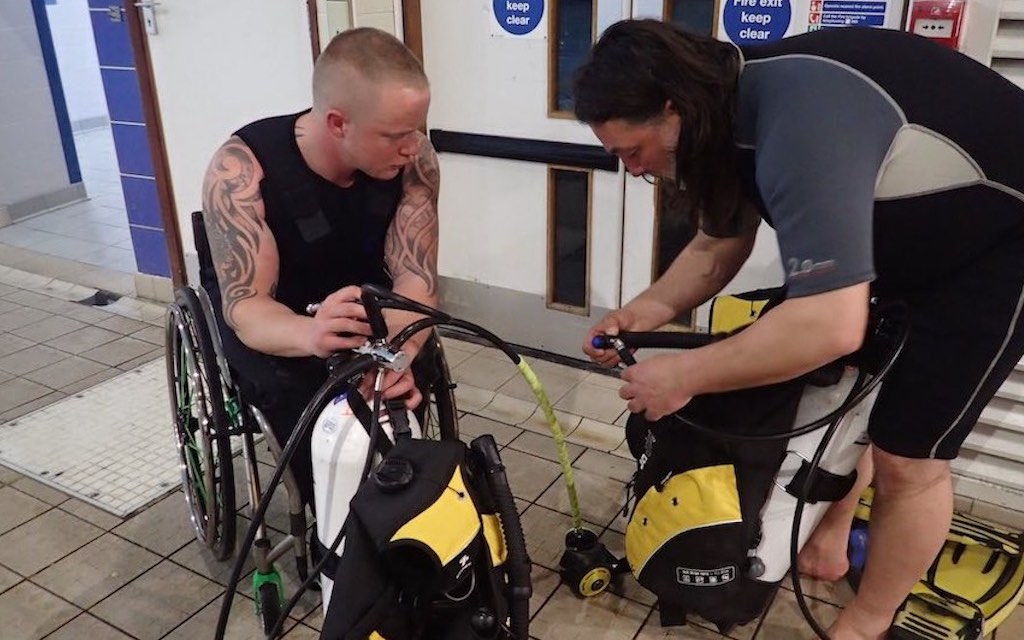 Bingham SAC was a go-getting club right from its early days. While membership and personalities ebb and flow, the same ethos prevails today.
Back in Bingham's early days, the emphasis was on wrecks and collecting brass, and there were a lot of boat owners in the club. Latterly, the focus has been on training and there are some top quality instructors among its members. There is also an increasing interest in marine conservation, but the distance from Bingham to the coast means it is hard to make this a part of everyday life.

The expedition spirit still lives on and the current challenge is to develop the confidence of newer members to carry this forward. Some members are keen Seasearch divers – they organise diving in some pretty remote places and that helps to bring together both worlds. It gives members plenty to talk about at the many social events, including the annual awards dinner, summer BBQ and New Year fancy dress pub crawl.
When was the club formed?
Prompted by the opening of the new Leisure Centre in Bingham, five Bingham-based members of Nottingham Sub Aqua Club started up a new club in 1970.
Where is Bingham?
Bingham is in Nottinghamshire, part of the East Midlands Region. It is about as far from the sea as you can get but is within an hour of inland diving at Stoney Cove.
Who are your members?
We have 68 members, primarily locals from Nottingham to Grantham although we have retained a number of members who have moved as far away as Devon and the Orkney Islands but still participate in club activities where possible. Ages range from 13 to 70+, and people come from across all trades and professions.
At present we have 11 trainees; nine Ocean Divers; 17 Sports Divers; 14 Dive Leaders; 15 Advanced Divers; and two First Class Divers. We have seven youth members under the age of 18.
What drives the club's activities?
We want to find the time and opportunity to get to the coast and go diving more. We also want to focus on being inclusive.
Inclusive…how?
We have two very active members who are wheelchair-bound, and who have reached Sports Diver. This has been an interesting journey for the club, with instructors and buddies all learning to adapt and do things differently. Having these guys with us on training events and trips has injected real enthusiasm and a lot of team spirit back into the club. We would really encourage other clubs to do the same.
You were in the news for another inclusivity drive, weren't you?
Yes, in 2017, the year that we won the Heinke Trophy for the best BSAC club, we took part in the This Girl Can campaign to get more women to participate in sport. Bingham's aim was to get 100 women to complete Try Dives in one afternoon in our pool, using an all-girl team. With support from female divers and other members' non-diving partners – from across the East Midlands and further afield – we got about 90 done. This was girl power at its best, involving non-divers too.
What did the club achieve last year?
As a result of a website redesign, we converted more Try Divers to trainees than usual last year. We trained four Ocean Divers; five Sports Divers; a Dive Leader; and three Diver Cox'ns. Two members qualified as Assistant Instructors; one as an Open Water Instructor; and another as an Assistant Instructor Trainer.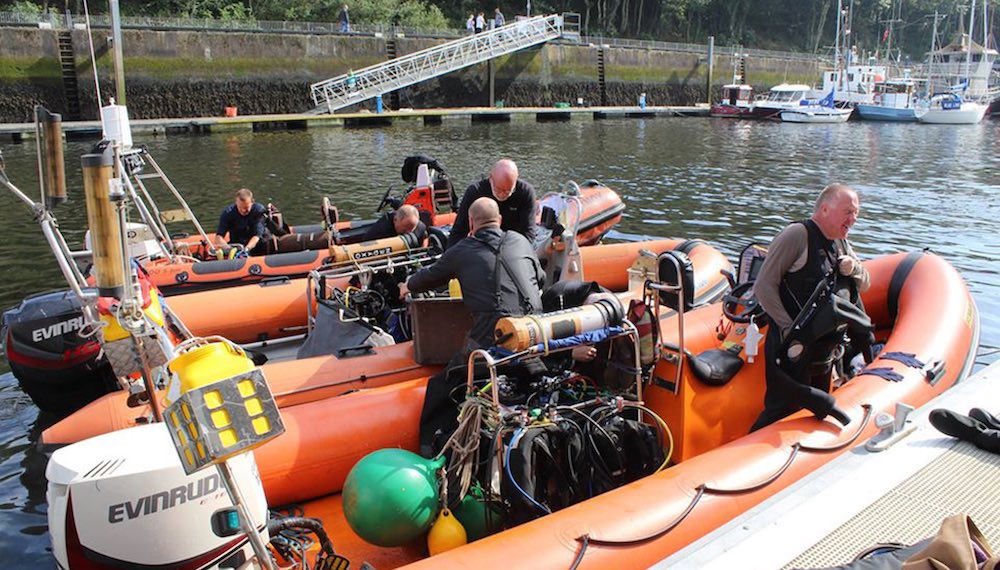 Two rigid-hulled inflatable boats (RIBs) and 22 divers took part in the Scapa 100 project and our diving-away trips included an eight-diver, four-day trip to Eyemouth, Berwickshire, in August, and a six-diver, nine-day Seasearch trip to Carna, north-west Scotland, in early September.
What was the club planning for 2020?
Already, April's trip to Tobermory has been postponed. 2020 is the club's 50th anniversary year, but due to the coronavirus outbreak plans to celebrate are on hold until it is safe to make arrangements for an event. We would like to celebrate our connection with the wreck of the Avalanche – after which our current RIB is named – with a dive to the 50+ metre site, off Portland in Dorset. Some members back in the 1980s were involved in the search for various artefacts from Avalanche. These included the bell and the anchor, which sits outside the memorial church on Portland Beach to honour those lost on the wreck in 1877. We also want to raise enough funds to replace the hull of the club boat. And we intend to train our first two Diving for All Dive Leaders.
Tell us about the club boat
Avalanche is a six-metre Humber with an Evinrude 150hp engine and a Garmin plotter with side-scan sonar. We also have two Coltri compressors, one of which is petrol-driven so we can take it on expeditions. We keep the RIB at the local boatyard, beside the river Trent, which we use for training. We are passionate about using our own boat whenever possible and up-skilling our members so that they can learn to use and care for it. The boat requires the most attention and money of all our assets, followed by dive kit and compressor maintenance.

What training is going on this year?
A large group of 11 did Ocean Diver theory at the end of last year. Dive Leader training is being undertaken by eight members at present, run through a WhatsApp group. Like all clubs, due to the Covid-19 outbreak training has to be done remotely.
We are encouraging our members to access the fantastic array of online lectures put on by HQ and some of our instructors are delivering online sessions. Two members are doing Sports Diver training.
What instructors do you have?
We have two National Instructors; three Advanced Instructors; nine Open Water Instructors and 10 Assistant Diving Instructors. We also have two Snorkel Instructors.
As we mentioned, we have a handful of members who have really embraced the Diving for All (DfA) philosophy and we encourage disabled people to join us.
What has been your experience of DfA so far?
We have been involved with four DfA divers doing try dives, Ocean and Sports Diver qualifications. One travels quite a distance, driving for more than an hour each way to be part of our club; another is determined to become an instructor. Dan Metcalfe-Hall, who is now our kit officer, says: "It's all about being an inclusive sport and how it's a YES WE CAN club attitude." Advanced Instructor Helena Robertshaw worked closely with Dan from the start and is not sure who learned more during the training, her or Dan. It certainly paved the way forward and now a core of instructors, buddies and trainees dive together safely and have a lot of fun.
How much diving do you do?
Sadly, so far this year we have been limited to a total of 56 dives, and most of these were either early season warm-up dives or training dives. Needless to say, Covid-19 has had an impact on our plans. During 2019 we recorded just over 90 hours of diving in 185 dives, which shows our diving activities were less than normal, as we centred our efforts on the exceptional number of new trainees rather than trips away.
What type of diving goes on?
Most club diving is wreck diving to recreational depths on open-circuit kit. But there has been a growing interest in conservation and the Seasearch programme. For the past four years, members have been recording species and habitat data around Carna Island, near the mouth of Loch Sunart in the Highlands of Scotland, with the help of the local Seasearch coordinator. We first went to locate and monitor flame shell reefs, and have been reporting ever since.
What other dive sites do you visit?
Last year we went to the Isle of Lewis for four days, and Carna and Scapa Flow for five days each. In previous years, we have visited the Outer Hebrides, Harris, Southern Ireland, Milford Haven and the Scillies, all with our RIB. There are occasional midwinter trips to the Red Sea or Malta. Our task now is to share our experience with newer members.
These are certainly strange times…
We have undertaken many adventurous dive trips over the years, thriving on doing it under our own steam with our own boat(s) where possible. And we will be back, rebuilding our reputation for adventurous diving in exciting places around the UK. In the meantime, the response to the Covid-19 lockdown and provision of so much support, online material/ webinars and training so quickly from HQ and other clubs has been excellent. Thank you BSAC!


The BSAC network is working together to keep people connected to the sport. With online training, special interest webinars, competitions, support to clubs and the trade, and much more...we'd love you to join us.
This Club Focus was originally published in SCUBA magazine, Issue 105 August 2020. For more membership benefits, visit bsac.com/benefits.
Want to know more about the diving club Bingham Sub Aqua Club? Please contact the club using the details below:

Call Sue Shipley, Membership Secretary: 07931 302615
Website: binghamsac.co.uk

Images in this online version may have been substituted from the original images in SCUBA magazine due to usage rights.