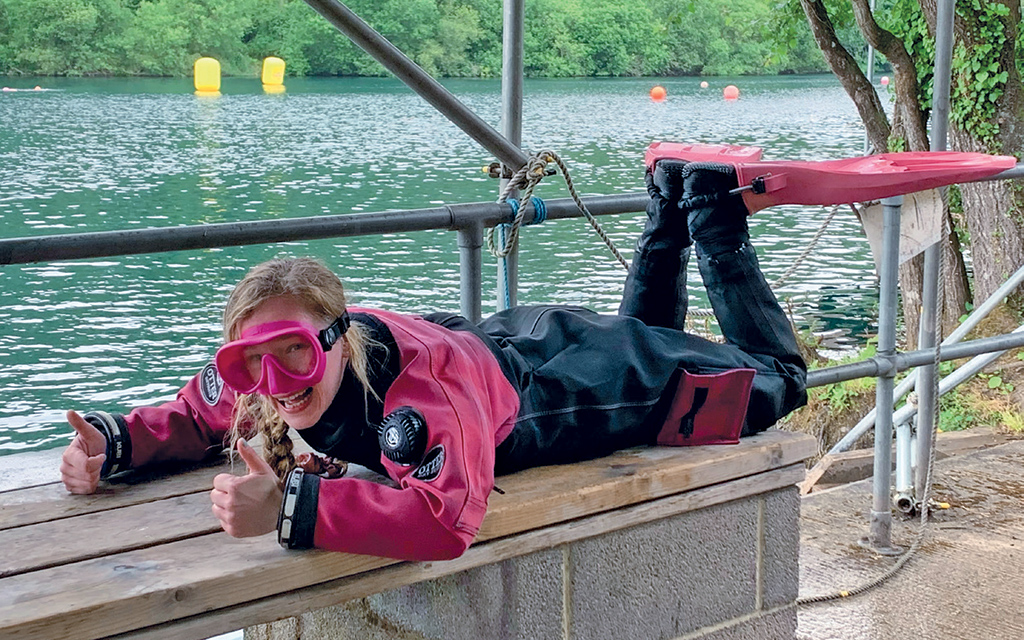 Advanced Diver Tash Scott has just completed BSAC's Combined Sports and Explorer Mixed Gas courses, and recommends them for any committed diver looking to progress.
Why Sports and Explorer Mixed Gas? Well, I am married to a MOD 3 rebreather diver, George. He's been trying to encourage me to join the quiet side, but to be honest, it's never really been for me.
All the same, while I can hardly be described as a depth junkie, I was finding in my day-to-day diving that I was pushing my PO2 (partial pressure) somewhat. So, I wanted to have the mixed gas qualification in the bag, just in case. I asked BSAC's Head of Diving and Training, Dom Robinson, if he knew of anyone running a course.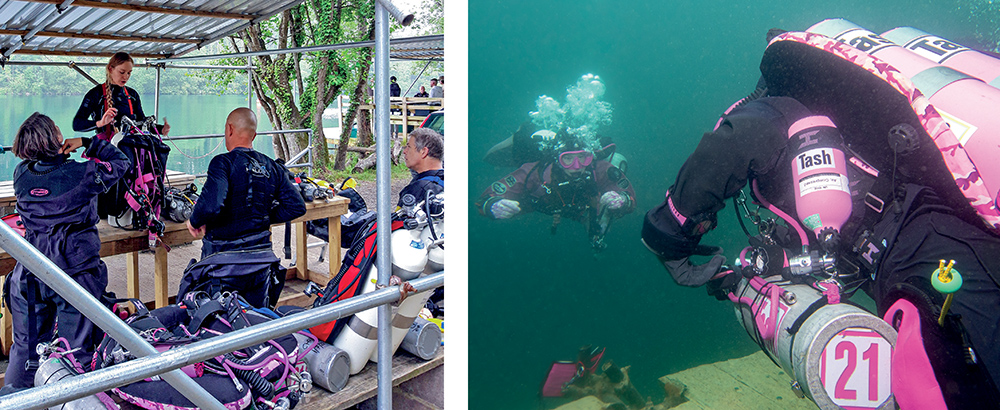 Along came Jacob Broughton-Venner and Aithne Atkinson, from Imperial College London, with a request that I find another diver to join Paul Mann, who had already signed up. Chris Haywood from our club, BALSAC, was quick to join us.
The course involves some confined water sessions; open water sessions to include longer runtimes and a deeper dive (deeper than 50m). There are also some practical sessions looking at kit configurations and some theory lessons to back it all up.
The physical difference between the two courses is whether you use a single stage cylinder, or two. So if you choose the combined course, you operate with two stages from the first day. The other differences are the qualification depth and gases you can use.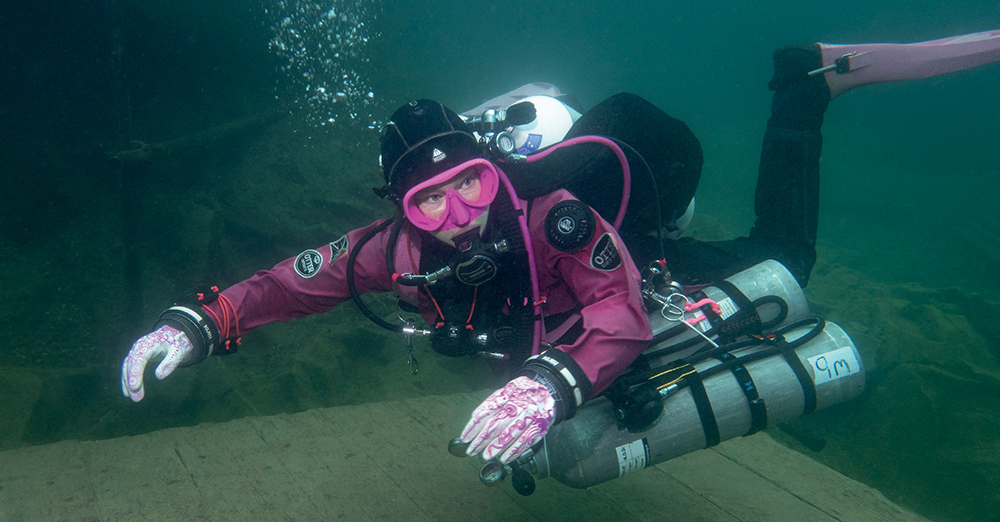 As always, there was some confined water training, with a lot of repetitive drills to get you used to the handling of stage cylinders. This involved not just clipping your own on and off, but also swapping stages with your buddy. All the drills should be done in trim and good buoyancy, none of that crawling around a platform malarkey.
We also performed mask replacements; long hose deployment with Controlled Buoyant Lift (CBL) and shutdowns for those on manifolded twins. It's a really good reminder that we should all keep our drills up-to-date. The session was a bit of fun. The stage handling is really worth the practice; it certainly highlights anything that is not quite right with your kit configurations.
The days were long and exhausting, with a massive amount of diving and theory to cram in. It is really intensive but a really good way to do it. We found the knowledge retention was much better, as everything we learned was backed up by a practice element of some sort.
We had delusions of grandeur about going to the pub and reminiscing about the day's diving. In reality we were knackered and fell asleep! Our final drill was to perfect the 'ring of roses' stage swap, a drill we spectacularly failed the first time, though I'm told everyone does.
For this, we had to be in trim at a depth of 6m to remove a stage, then hand it off to the right while receiving one from the left, remembering not to let go until everyone gave the 'all clear' with a nod of the head; and then clipping the new stage back on. The aim of the game is to end up with your own stage back and not ending up on the surface or on the sea floor. Easier than it sounds for a newbie. We nailed it, and felt pretty pleased with ourselves.
Tash Scott

L-to-R: bumping into Ross Kemp; back-finning dry run; Tash in the pink
Time flies...
Two weeks later we headed to Portland, filled up with some Trimix like proper Gas Monkeys and went for a dive on the Warrior II with Sea Leopard. The Warrior II was a 1904 luxury steam yacht who met her demise in 1940, attacked from the air. We had already submitted our plans in advance and then once we got our gases we came together as a team to make sure our plans aligned. Final kit checks, buddy checks and we were ready to go.
The tide was still running, so it took a bit of effort to get down initially but it meant we had the whole of slack on the bottom. Constant communication between us on the dive made it a comfortable and enjoyable experience. We all knew where we were, and what we were doing. The dive took us past the huge boilers, two engines and the mosaic swimming pool, which was intact in random places. It was dark but warm at 52m, with the torch light revealing parts of the yacht bit by bit, allowing you to build a picture in your mind of its former magnificence.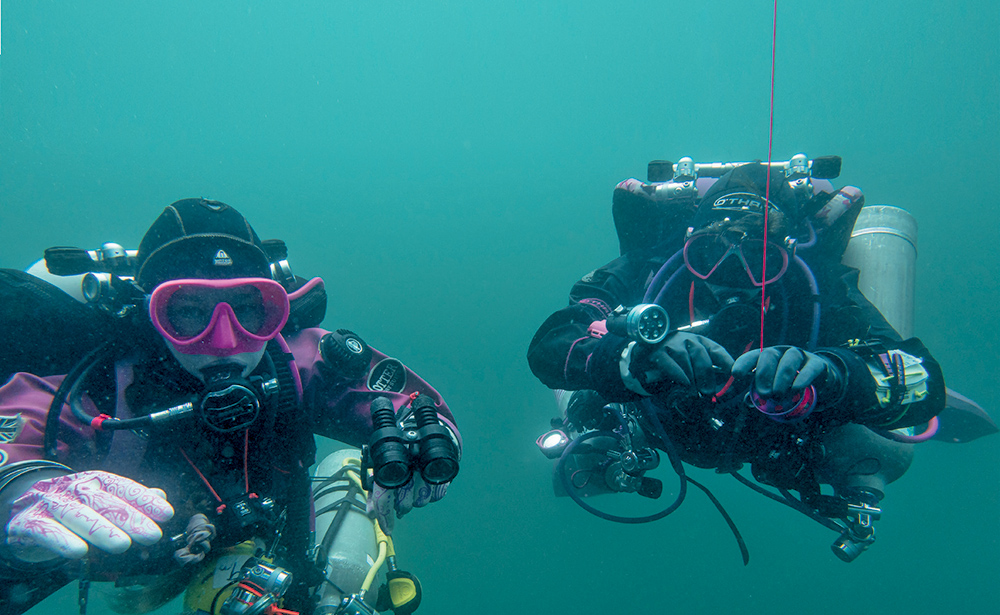 The bottom time ran out super-fast; it seemed my Shearwater computer was on fast-forward. We had enjoyed it so much, but it was time to deploy the surface marker buoys and start our planned accent. We remained in two teams for the ascent, maintaining our communications at all times. We managed our gas-switching and maintained our stops perfectly. Then we were back on the boat for scones (with cream and jam, naturally) and a good chat about the dive.
We'd all like to do this wreck again without the pressure of feeling on trial. Such is the pressure we put on ourselves, and not how the instructors made us feel.
What's next? Well, I'm going to enjoy not pushing my limits quite so much, but still doing the deeper stuff I enjoy. Now, I can join in the dive that was previously out of reach, if I want to. The course transformed my annual trip to Egypt, because I was able to float through the infamous Arch at Elphinstone Reef, in addition to exploring the Numidia at the Brother Islands in the lower cargo holds at 60m. A truly magical experience.
I know a lot of people out there think Trimix for open circuit is dead, but it really isn't. I don't want a rebreather. I am happy doing what I'm doing, just a bit safer. My Trimix bill was not as bad as I thought – you can make open circuit trimix work for you, once you have the skills.
Even if you never use it again, I would recommend the course to any committed diver. You never know quite where it may take you!

Article 'Hanging with the Gas Monkeys' by Tash Scott first published in SCUBA magazine, Issue 131 December 2022.