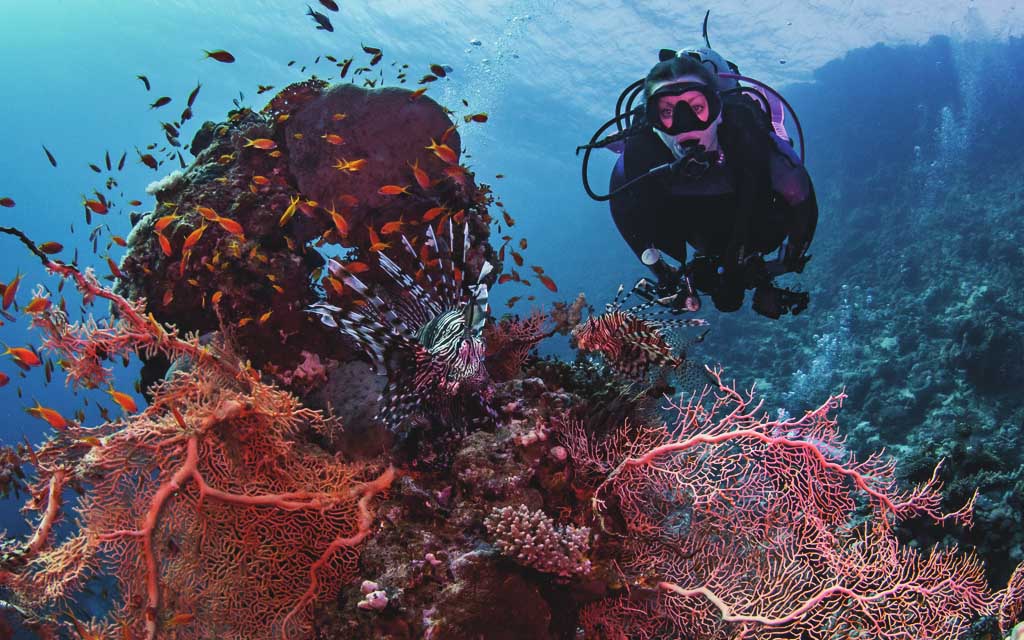 Is it really time to start diving abroad again? Yo-Han Cha is conflicted on the question, but has come to a conclusion.
I've almost always talked about UK diving in this column. It's because the vast majority of my own underwater time has been in the UK, and since the pandemic hit, all of it has been here at home. I don't feel like I'm missing out, I love diving in the UK and I would genuinely choose a week in the Scillies over most diving locations in the world.
That being said, at the time of writing, it's been almost two years since I've set foot on a plane, never mind going abroad. And as the world slowly opens up, my friend Rick and I have booked onto a liveaboard in the Maldives. So hopefully, by the time you're reading this, I'll be packing and trying to figure out how to stay under my baggage allowance.
I feel like I have to repeat that while I adore UK diving, I equally yearn for a bit of variety, which is why, from the Scillies to Shoreham and from Weymouth to Eyemouth, during the summer I could be found diving in any of the four corners of the UK. And before anyone had heard of Wuhan, I could also be found diving abroad - at least once a year.
As even the most die-hard UK diver will have to admit, diving in warm water, in a wetsuit, in clear blue water, has its advantages. And hopefully, by the time you're reading this, I'll have started 2022 by diving in the Maldives. Seeing as I've not dived in a wetsuit for a couple of years, I'll probably descend on my check dive pressing on my chest, looking for a non-existent valve to feed air into my non-existent drysuit. I'll also need to check if I still fit into it... those lockdown pounds are proving hard to shift.
I'm certainly not among the first wave of travellers to have left the UK since lockdown ended, plenty of my friends have been venturing abroad for some sunshine. I'd taken the decision to stay in the UK this year, as I feel that checking my phone multiple times a day to see if I need to re-book my flights to avoid quarantine on my return home is not especially relaxing.
At last, the situation seems to be stabilising. Flights are less likely to be cancelled at the drop of a hat, and our life-preserving vaccinations have allowed us a lot more freedom of movement.
That being said, the vaccine doesn't offer 100 per cent protection, so I won't be going clubbing anytime soon. Or ever again. That'll be my excuse, and certainly not my advancing years!
Back to the point – my decision to go abroad was made after a great deal of thought. For the last two years, I feel like I've been inhabited with two opposing personalities. There's the cautious side of me that doesn't want to catch a respiratory disease that could have long term side effects. Then there's the adventurous side of me that wants to jump on a plane and go diving. Sometimes the cautious side has won, but in this case, 'Indiana' Cha has come out top.


I'm interested in learning to dive, how do I get started?
You can either do a Try Dive taster session (Covid restrictions permitting) with a local BSAC club or a BSAC Diver Training Centre first or get started straight away from the comfort of your own home with BSAC eLearning! If you'd like to talk through your options, call us on 0151 350 6201 (Mon-Fri, 09:00-17:00) for a chat!
This article was originally published in SCUBA magazine, Issue 122, January 2022. For more membership benefits, visit bsac.com/benefits.
Images in this online version may have been substituted from the original images in SCUBA magazine due to usage rights.