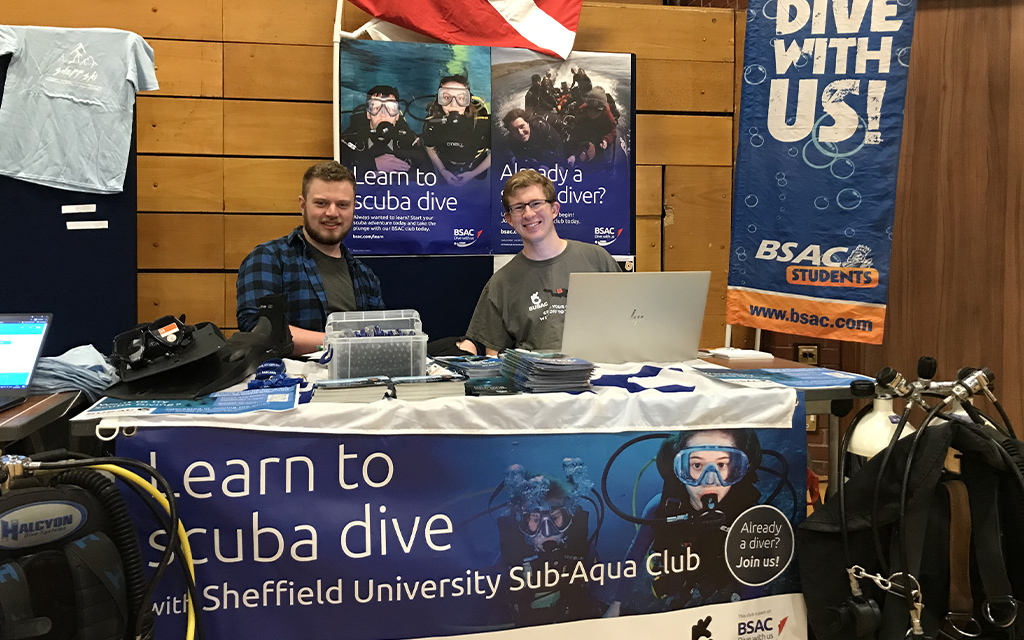 After a year they'd rather not ever repeat, BSAC's university clubs are back in business and off to a flying start with this year's freshers' season.
As with other clubs, the pandemic presented some serious challenges for BSAC's university clubs. The new academic year and the ever-popular Freshers Fairs are a big annual opportunity for uni clubs to recruit new members and last year those events didn't happen. Although many clubs had online freshers' events as a substitute, unsurprisingly, they didn't produce the same results.
Turn the clock forward to autumn 2021 and a very different picture is emerging. BSAC uni clubs up and down the UK are signing up eye-watering numbers of new students wanting to learn to dive and already trained divers wanting to join.
Freshers' events are still taking place but BSAC is receiving some very encouraging feedback on new member numbers from clubs that have already had their fairs.
Bristol University Sub Aqua Club's Diving Officer Ollie Velasco said:
We've been blown away with the interest. We had 243 students sign up to our mailing list wanting to learn more about the club! We're hoping to get back to or increase on our pre-covid levels of taking on about 40 new trainees each autumn, with the help of the eLearning platform and our local BSAC Centre. Plus, we're looking at recruiting around 20 already trained divers.
Southampton University Sub-Aqua Club told us a similar story. James Mudge, the club's Diving Officer told us:
We've had over 120 people wanting to learn to dive with us and 60 qualified divers wanting to join. As a club with the oldest members aged just 25, we've often relied on help from the excellent regional team but this year we've luckily been able to develop our in-house instructor team quite considerably. This, along with the help of Branch+Centre Partnership Scheme and the BSAC eLearning platform, means we're hoping we can qualify more Ocean Divers than ever before!
Another club with impressive numbers is University of Portsmouth Sub Aqua Club. Elliot Murdock, the club's President told us:
This year we have 100 potential new trainees! Pre-covid we'd often get around 50 trainees, we've definitely seen an increase in demand. We're looking to facilitate the training with a combination of both help from regional volunteers and Andark Diving, our local BSAC Training Centre.
Every year BSAC's university clubs receive support to help them recruit new members over the freshers' season. However, this year, in anticipation of training bottlenecks with instructors graduating and other challenges, the support from BSAC headquarters has gone that bit further.
This year there has been additional practical support on offer to help clubs with each stage of Ocean Diver delivery – theory, confined water and open water lessons. This support is being coordinated by HQ but has involved help from BSAC training centres, regional teams and other volunteer instructors.
Well done and best of luck to all of BSAC's university clubs that haven't had their events yet!
Uni club in need of support?
We're here to help! Contact Mandy at mandyr@bsac.com or call her on 0151 350 6256 (Mon-Fri, 09:00-17:00). There is also a wealth of uni club support online.