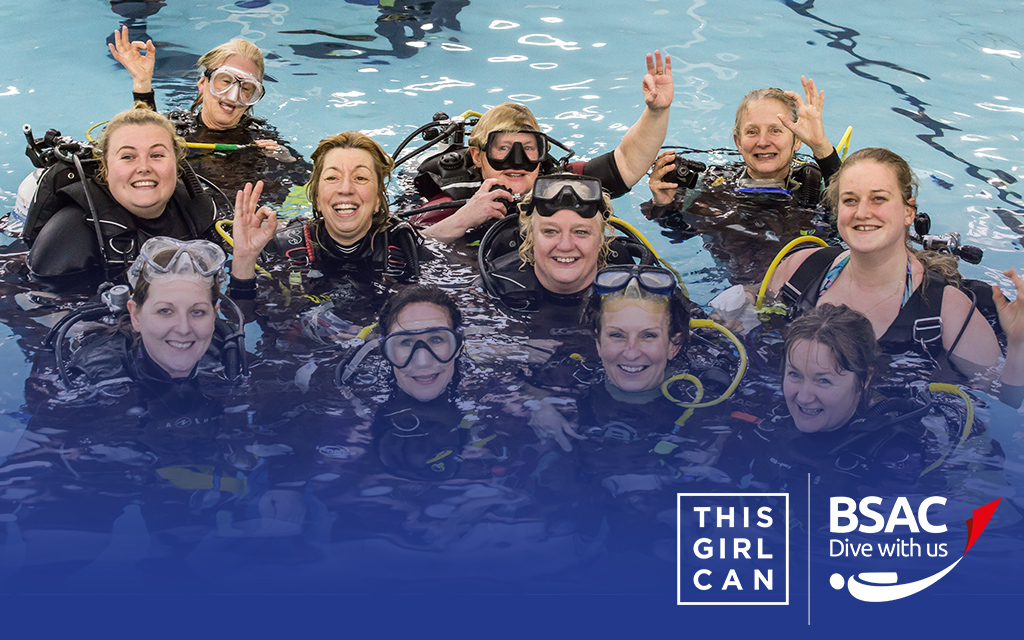 BSAC is working with Sport England to support the new This Girl Can campaign launching this Friday.
This Girl Can will be back with a brand-new TV advert designed to inspire more women and girls to take part in sport and physical activity. The advert shows the raw, unfiltered reality of women exercising in whatever way that works for them.
BSAC Chief Executive Mary Tetley said:
As divers and snorkellers, we can relate to the campaign's message – it's not about how you look but how getting out and active makes you feel… and the fun you have on the way.
Lisa O'Keefe, Sports England's director of insight, hopes the advert will convince women they don't need to be in shape or super confident in their bodies to take part.
"This Girl Can is about helping women feel confident, so they can overcome the fears about being judged that our research showed was stopping many from getting active," she said.
"Since we launched five years ago, we're seeing more relatable images in advertising and social media, but there's a long way to go until women's lives are being shown in a realistic way."
The campaign was based on the insight that 75% of women say they want to do more sporting activities or exercise, but one of the unifying barriers found to be holding them back is a fear of judgement.
The new advert has been created on the back of new research by Sport England that reveals 63% of women who see slim, toned bodies on social media sites say this has a negative impact on them.
Working towards more realistic imagery in diving
BSAC marketing manager Debbie Powell said:
In addition to reaching out to women and girls, the Sport England-driven campaign is calling for influencers, media and brands to feature more realistic and diverse imagery of women. We will continue our efforts with this – we are proud of our women and girls as they are – real divers are our sport's best advert.
Let's make some noise!
Twenty-seven per cent of BSAC members are women. But our female divers are a pretty sassy, sociable and capable bunch who we would like to help us to inspire more women to get active.
Please look out for our This Girl Can Dive campaign launching on Facebook, Twitter and Instagram this Friday. It will be a celebration of our sport and our women and girls doing their scuba (or snorkel) thing.


Attracting and keeping women in our sport
For more advice and support on how to ensure women feel welcome and comfortable in your club, visit the Women in BSAC page.