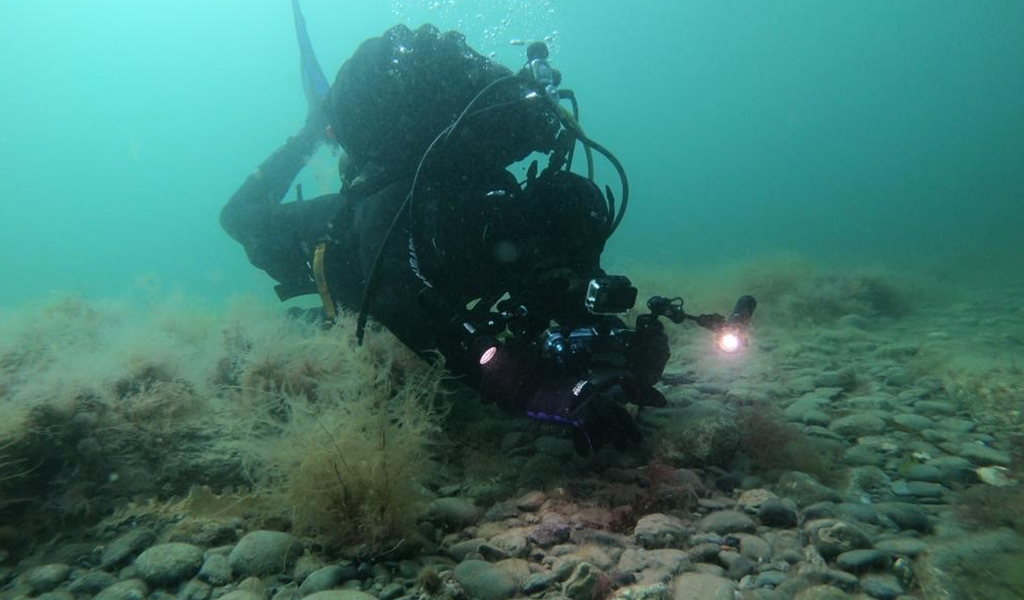 Wildlife photographers across the UK are being challenged to capture underwater images of the rare European native oyster (Ostrea edulis), as international conservation charity ZSL (Zoological Society of London) launches a national native oyster hunt to galvanise support for the species.
Suffering a 95% decline in population over the last 200 years due to historic overfishing, habitat loss, pollution and the introduction of diseases – images of the species in their natural habitat on the seabed are very rare.
Now ZSL, who run the National Native Oyster Network jointly with the University of Portsmouth (UoP), is calling on the British and Irish public to help them gather visuals of the iconic native species.
Project managers hope that images and video generated through the competition will help to answer questions around the oysters' recovery, including revealing if there are indeed any oyster reefs left and whether other endangered species like the spiny seahorse (Hippocampus histrix) or European eel (Anguilla anguilla) are associated with the habitat. The images will also be used by oyster conservationists to promote the importance of the humble mollusc.
Left undisturbed, oysters will settle on top of one another forming a 3-dimensional reef structure. Much like coral reef ecosystems in tropical seas, or trees in a forest, oysters grow a habitat in which other species thrive – creating marine megacities in the form of an oyster reef. However, none are currently known to still exist in the UK and Ireland.
Judged by a panel of professional photographers; Tom Gilks, Picture Editor at BBC Wildlife Magazine, Tom Mason, professional wildlife photographer and Nikon Europe Optics Ambassador and oyster expert Dr Philine zu Ermgassen of the European Native Oyster Restoration Alliance (NORA) – the competition will run from 1 March through to 31 September with the winners announced on 1 December 2020.
BSAC has donated two annual memberships as prizes for both the winner and the runner up. On supporting the project BSAC Chief Exec Mary Tetley said:
We're delighted to support the Zoological Society of London's mission to galvanise support for the species and boost their restoration. The more we can do to help protect the UK's precious waters, the better.
Along with a BSAC membership, the winner will win a one-day advanced photography workshop hosted at ZSL with professional photographer and National Geographic Explorer, Dave Stevenson.
Alison Debney, ZSL's Senior Conservation Programme Manager said:
Throughout our restoration work – one of the barriers we've come up against is not having images of native oysters in the wild. Trying to explain the importance of a species to people when they're only ever framed as a seafood dish can be a struggle.

Oysters provide enormous benefits in the form of ecosystem services; nurseries for wildlife, clean water and in abundance, removal of carbon from our environment into their shell to name a few. Whether you're a diver, photographer, fisher or simply live near a coast – we need your help. The native oyster is a forgotten British treasure that needs the public's support during this long road to recovery.
Marine Biologist and network co-founder Dr Joanne Preston based at UoP's Institute of Marine Sciences said:
We desperately need to revive the lost cultural memory of our native oyster habitat – and what better way to do that then get the nation involved in a quest to find, document and celebrate the remnant oyster reefs in our coastal waters.
The oyster restoration work is part of ZSL's Mother Thames campaign, celebrating the incredible variety of life below the surface of the River Thames – which will culminate in the publication of the first-ever State of the Thames Report this summer.
For more information about the photography competition, how to enter and full terms and conditions, please visit nativeoysternetwork.org/nativeoysterquest.
Not yet a BSAC member? Let us help you find your local BSAC club
Send your postcode to hello@bsac.com and we'll help you find the right scuba club for you. Or if you fancy a chat call us 0151 350 6226 (Mon - Fri, 9 - 5:30).