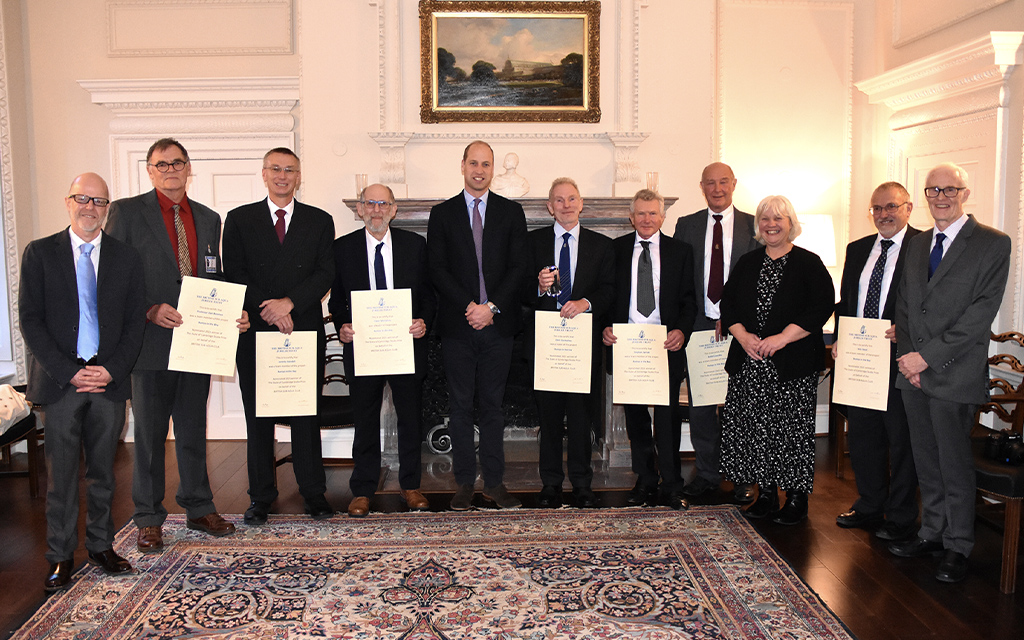 The Duke of Cambridge Scuba Prize is awarded annually to the BSAC member or group of members for outstanding achievements in research in scuba diving.
We are very proud to say that the President of BSAC, HRH Duke of Cambridge, presents the award annually to the winning project team and congratulates the highly commended projects.
2021 Duke of Cambridge Scuba Prize winners
The winning project of The Duke of Cambridge SCUBA Prize 2021 is the 'Bumps in the Bay' project.
Congratulations to the project team leaders, Peter Mensikov and Christopher Dunkerley, and team members Stephan Spiriak, Keith Coombs, Jeremy Goodall, Nick Reed and Dan Bosence who received the Prize today presented by BSAC President HRH the Duke of Cambridge, at a ceremony in Kensington Palace.
The award winners were accompanied by Mary Tetley, BSAC Chief Executive, Gavin Anthony, Chair of British Sub Aqua Trust and BSAC Scientific Advisor, and Dr Oliver Firth, Trustee British Sub Aqua Jubilee Trust.
Summary of the winning Bumps in the Bay project
The project conducted a diving investigation of a geological mystery from the age of the dinosaurs. The diving was conducted by the Isle of Purbeck Sub-Aqua Club in liaison with Royal Holloway University.
Underwater sonar surveys had revealed large circular structures in the Purbeck limestone which have not been seen on land in any of the coastal cliffs or quarries despite over a hundred years of geological research. The structures were 120m in diameter and 4 to 5 miles offshore. An initial analysis generated 7 hypotheses for the formation of these structures but with no way of narrowing the field without diver intervention.
Members of the Isle of Purbeck Sub-Aqua club proposed a Diving Protocol to obtain seabed samples from these structures and obtained funding support from the British Sub-Aqua Jubilee Trust. Diving could only be carried out around Neap tides with a slack tide operational 'window' of only 40 minutes a day.
Planning identified 27 potential dive sites for sampling of which 7 were eventually chosen at depths down to 35 m. The diving team successfully collected 32 fist sized samples from the 7 sites, which were subsequently analysed in a laboratory.
The project was successful in that the 7 initial hypotheses for the formation of the structures has been reduced to 3 and a preferred hypothesis identified (Tufa mounds for the technically inclined).