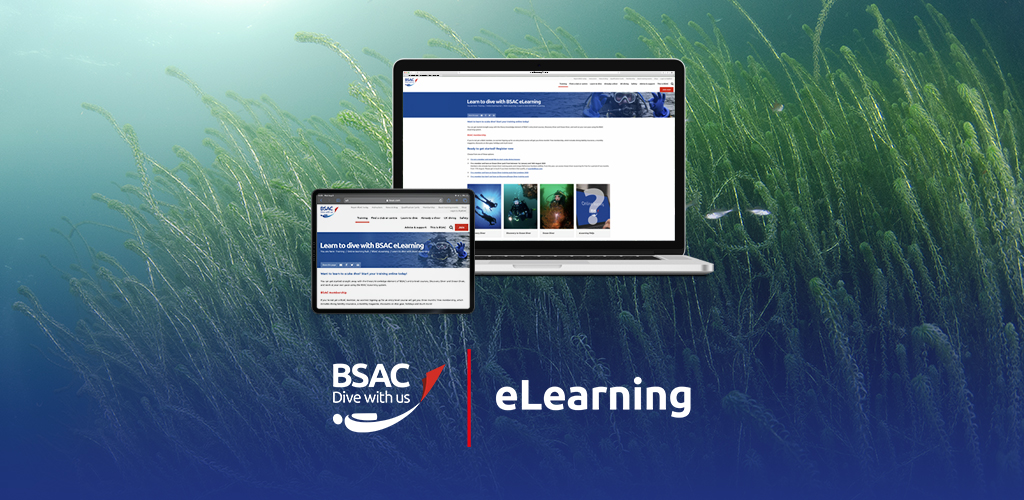 BSAC has launched a new eLearning platform where members can complete Discovery Diver (subset of Ocean Diver) and Ocean Diver theory modules online and in their own time.
The new system, which can be accessed via the Online learning hub and at bsac.com/eLearning, has been created to help clubs, centres and members by making training more flexible in terms of when, where and how members can complete diving theory.
Any member with an Ocean Diver pack from 2020, or who purchases a digital DD or OD pack, can access the eLearning platform. Memberships and training packs can be also be purchased via the new system, meaning the doors are very much open to all.
With a rich mixture of online content – videos, page-turners and quizzes – the new BSAC eLearning system delivers the standard modules from Discovery Diver and Ocean Diver.
National Diving Officer Dai Atkins said:
The beauty of the new system is that it can be used however members like. If members miss a theory lecture at their club, they could use it to catch up or members that are struggling on a particular module or topic could revisit the session online.

We've known for some time there has been demand from members for this type of system. The plan is to enable more BSAC courses to be delivered in this way and the team is already working on the Sports Diver course which is due to be delivered by the end of October.
The new system has gone down very well with testers and early adopters. One of the new-to-diving during lockdown testers, Deborah Crawley from Merseyside SAC, who completed the Ocean Diver eLearning course, said:
I really enjoyed eLearning - it enabled me to work at my own pace and go back and check things. I especially enjoyed the impromptu remarks from the diving instructors and would recommend to anybody if you are looking for something to keep up your diving during the current situation.
Members who already have Ocean Diver training packs purchased between 1 October 2019 and 18 August 2020 can access Ocean Diver eLearning for free for a period of two months from 19 August. Please get in touch if you qualify at qcards@bsac.com.
The BSAC network is working together to keep people connected to the sport. With online training, special interest webinars, competitions, support to clubs and the trade, and much more...we'd love you to join us.