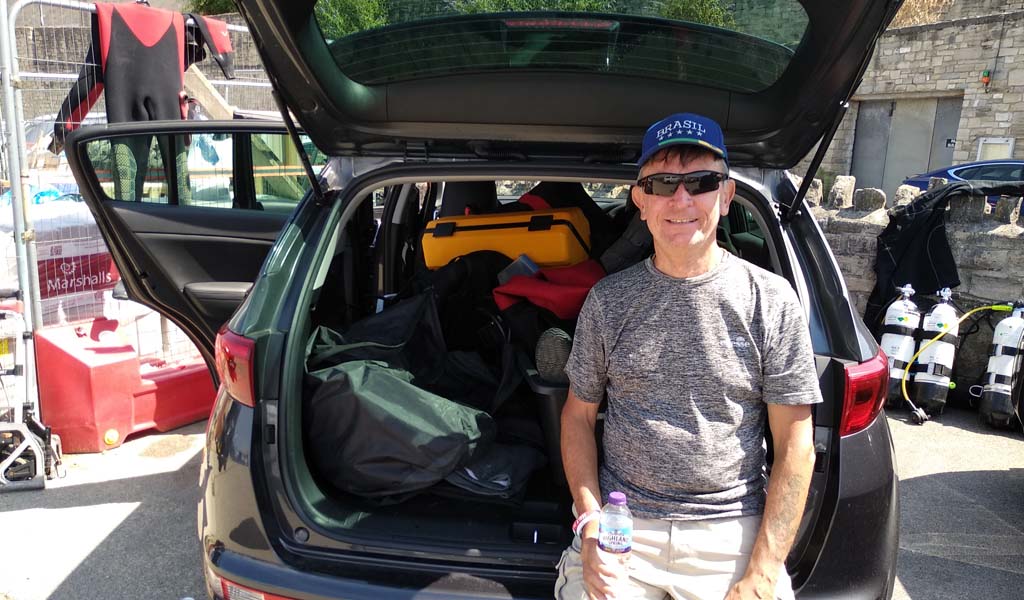 Diving Officer at Bexley BSAC, Advanced Instructor and BSAC Council Member Gerry Anderson shares his thoughts on how we can take advantage of the circumstances presented by lockdown.
It is wonderful to see how BSAC has grasped the nettle with the challenges imposed by Covid-19. All levels at BSAC moved very swiftly. But let's think more deeply on how we can take advantage of the challenges.
People may ask you later in your life, "What did you do during Covid-19?" Some will think back to when they fought over toilet rolls. Others will have risen to the challenge. BSAC has changed my life in incredible ways – let it change yours!
As a result of lockdown, I was recently asked by a member, "What can my club do for me?" A reasonable question, given there is no diving, no practical training, no practical SDCs, etc. However, as President John F Kennedy said at his inaugural address, "Ask not what your country can do for you, ask what you can do for your country." Having seen the innovation BSAC and its members have already shown, let's build on these amazing achievements.
Similarly to other Branches, Bexley BSAC is delivering successful online learning to two branches, but all BSAC members should perhaps reflect on what more they can do to move forward, develop and exploit the opportunities.
To follow are ideas of what we could all consider, both for our own sakes and to contribute to BSAC. We have plenty of talent out there – let's use it! I will cover members first, then instructors.
Ideas for all members
Whether your discipline is scuba diving, snorkelling or both, look at what is out there.
Don't just look at studying for the next grade, refresh your current theory.
Look after your kit so that it's absolutely ready for when we can dive back in.
Keep in touch with your Branch, its members and particularly those who may need a little help. Your Branch is your community and we must be there to help others.
Make a Personal Development Plan of how to progress your diving career and knowledge. Plan this now so you can implement it as soon as we are out of lockdown. Don't just look at diver grades, there is a host of other stuff out there. Check for courses on the BSAC website, such as SDCs and what else is offered both in your Branch and Region. For example, Bexley BSAC Branch recently held a Rescue Training Workshop.
If you have techie knowledge you may be just what your Branch needs to sort out their online training for example.
If you are not an instructor, consider becoming one. The BSAC system results in us teaching our fellow members, which is a huge advantage. The bond we divers have with each other is incredible, it often lasts for years and teaching only strengthens this. I have got an awful lot out of BSAC and I find it incredibly rewarding to help others.
Additionally, being an instructor may well provide a knock-on effect on your career. In my various workplaces, BSAC provided and honed my confidence, public speaking ability, leadership, problem-solving, ability to deal with life and death situations and my skill at interacting with others. All these transferable skills helped me in the workplace. Another bonus is that regular teaching will prevent diving skills decay. Instead, it will improve it immeasurably.
Don't stop there - this list is not exhaustive – think of your own innovative ways of meeting this challenge. Speak to your Committee and ask them to consider any suggestions you may have which could put into practice.
Ideas for instructors
Check out the above list first. Then look to yourself for your own innovation as well as the list below.
Consider how best to deliver online training in your Branch or Region and what you can do to add to that. Think of innovative ways to surmount the challenges imposed by online training.
If you are not currently an active instructor, consider getting back into it. You are qualified and may be able to contribute a great deal. Your fellow instructors can help you if you are a bit rusty. Lockdown gives many of us the opportunity to study.
Help each other out in the Branch. For example, there may be those who require technical help to deliver training.
Suggest training to Branch members who you think are ready and may just need a nudge to take this up. Prepare such members so they can move forward with online training now and complete the course immediately after lockdown is over.
Look at the instructor area on the BSAC website, as to which SDCs or other training you are qualified to teach. Prepare now to be ready to deliver this training.
It is vital you look at your own Personal Development Plan. Just like members, you can start planning right now. Focus on what you want to teach and the needs of the Branch. For example, your Branch may lack members qualified to drive the RIB, so how about Diver Coxswain Award or Approved Boat Handling Instructor or both? What about becoming a First Aid for Divers Instructor? Before you know it you can be the resident expert in the Branch and even more of an asset.
Consider working towards the next instructor grade and/or diving grade.
Consider helping out with Regional Coaching – perfect for meeting other BSAC members and other instructors as well and watching how they teach.
Consider the Instructor Trainer Development Course and moving onto the Instructor Training Scheme. More on Instructor courses.
The list is of what you can do is as big as your imagination!
Memories of Covid-19
Lockdown will leave us all with memories of what happened. People may ask you later in your life, "What did you do during Covid-19?" Some will think back to when they fought over toilet rolls. Others will have risen to the challenge. BSAC has changed my life in incredible ways – let it change yours!
Check out this support section which includes tips to look after ourselves and the new online learning hub.