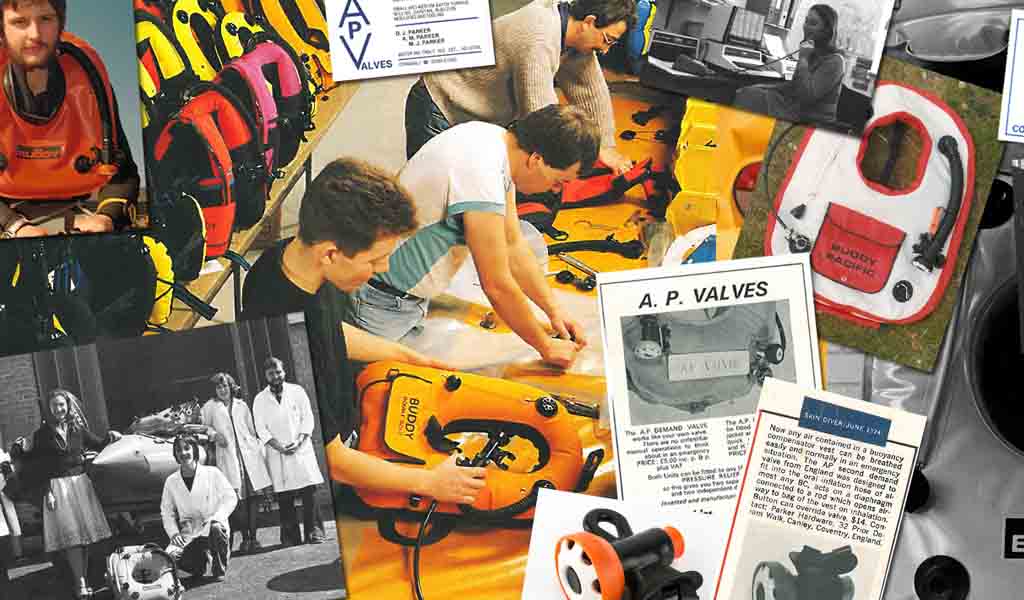 British dive equipment manufacturer AP Diving is inviting divers and their families to sign up to its 50th Challenge initiative, to mark the company's half-century celebrations.
AP will be running three challenges as part of its 50th celebrations – a Dive Adventure Challenge; a Beach Clean Challenge; and a find the Oldest BUDDY BCD Challenge – with the chance for divers and clubs to get involved and win some fantastic AP prizes.
AP Diving 50th celebrations engage UK diving community
Originally known as AP Valves, the Cornwall-based company was set up by David and Angela Parker back in 1969. AP quickly became an established kit favourite among BSAC clubs, with the iconic Buddy Commando BCD range a familiar sight on dive trips and pool nights.
AP Diving's marketing manager Jeff Parker said that with its origins in club diving, it was only natural to have the UK diving community help the company to celebrate its golden milestone.
From the original AP Valve through the 'Commando years' to the current focus on the Inspiration rebreather, the company has come a long way in 50 years. AP Diving grew out of the British dive club scene and we are very proud of the fact that club divers have been our most loyal and best customers down the decades. "We wanted to do something special to celebrate this proud landmark in our history and decided that, whatever it is, it should be as inclusive as possible.

AP is running three 50th challenges for divers and clubs to get involved in during 2019:
50 Dive Adventures – log your best dive adventure of the year and you could win a prize
50 Beach Cleans – commit to a beach clean and submit a post-clean up report
50 Oldest Buddy BCDs – AP is on the hunt for the 50 of the oldest working Commandos!


For full details on AP Diving's 50th Anniversary challenges and how to get involved visit their website.
BSAC members can enjoy up to massive 37% off RRP with AP Diving.
Join BSAC online today to access this and many other member offers and benefits.
Get AP Diving exclusive deals
Not a member? Join today

Or, to join a BSAC club - Send your postcode to hello@bsac.com and we'll help you find the right scuba club for you. Fancy a chat? Call us 0151 350 6226 (Mon - Fri, 9 - 5:30).