Photo from MCS by Natasha Ewins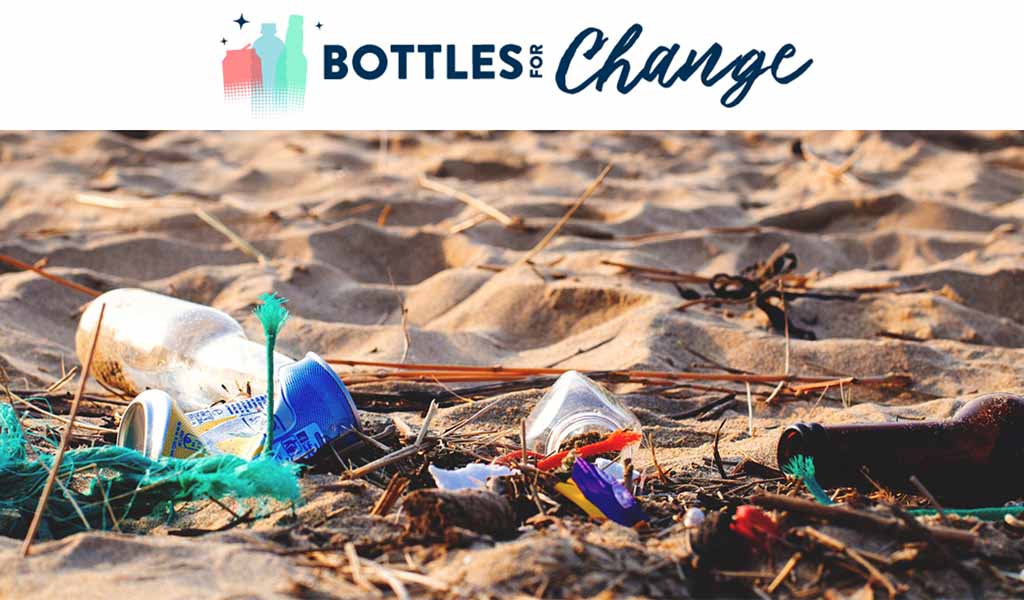 Marine Conservation Society warns behind-the-scenes lobbying could be a death sentence to marine life.
The head of the UK's leading marine charity, the Marine Conservation Society (MCS), has written an open letter to the CEOs of the UKs top ten supermarkets urging them to support a comprehensive 'all in' Deposit Return Scheme (DRS) for drinks bottles and cans by responding to a Defra consultation on the issue.
'all in' Deposit Return Scheme
MCS says retailers must back the introduction of a money-back recycling system for consumers that includes all sizes and materials of containers, that is run as a not-for-profit system and is consistent across all parts of the United Kingdom. The charity says anything less will fail to produce the environmental outcomes we need to see, which is less litter and plastic poisoning marine wildlife and polluting our waterways, seas and oceans.

In her letter, the charity's CEO, Sandy Luk, says some companies and manufacturers seem keen to thwart the introduction of a comprehensive scheme:
It is highly regrettable that some elements in UK industry, with vested interests, seem intent on making up as many excuses as possible to resist a scheme which will remove and recycle the largest numbers of containers. Lobbying behind the scenes must not be allowed to derail the most ambitious and comprehensive scheme from being introduced.
Lobbyists for industry have been working hard behind the scenes to try to put pressure on the Environment Secretary Michael Gove to introduce an "on the go" scheme, which would only include the smallest bottles and containers. In other countries, where this has been tried, retailers and manufacturers simply switched sizes or material to get around the rules.

Luk says she hopes the CEO's of the UK's leading supermarkets - Sainsbury's, Tesco, Aldi, Morrisons, Lidl, Co-op, Asda, Marks & Spencer, Waitrose and Iceland - will condemn those within industry who are lobbying against a comprehensive UK-wide Deposit Return Scheme – and says those engaging in such tactics appear to be putting profits before vital environmental credentials. She adds:
Supermarkets and other retailers do not want, in years to come, to be compared to the tobacco industry which spent millions trying to hide the dangers of cigarettes to our health; or the fossil fuel industry for its continued production of non-sustainable energy sources and advancing climate change.

Delaying the introduction of a comprehensive scheme will place a stranglehold on the environment, and effectively sentence much of our marine wildlife to an early death. Retailers must not shirk their responsibilities to their customers by propagating the plastic tide for their own benefit. Shoppers will never forgive business for doing so.
Supermarkets received the letter as MCS launches its latest campaign #BottlesforChange backed by BBC2's Dragon's Den star and MCS Ocean Ambassador, Deborah Meaden, who says:
Over 20 billion bottles and cans end up buried, burned or in the environment each year in the UK. This has to end. I'm supporting the #BottlesForChange campaign and urge businesses and industry to act now – support a money-back recycling scheme for drinks cans and bottles of all sizes and materials throughout the UK.

There are so many benefits this would bring to businesses large and small – increased footfall, reduction in litter and increased revenue are just a few. Let's get behind the Marine Conservation Society's vision for an all-in deposit return scheme.
The campaign, #BottlesforChange, urges the public to take part in Defra's DRS consultation to get the best possible system for England, Wales and Northern Ireland, compatible with that for Scotland. Scotland has already held a consultation and indications are that the Scottish Government is likely to take the environmentally ambitious option of a comprehensive system.

Deposit return schemes are already working well elsewhere. The UK currently recycles just 57% of drinks containers, whilst other European countries with systems already in place typically have recycling rates over 90%.

During last year's MCS-run Great British Beach Clean, volunteer beach cleaners found an average of 16 littered drinks containers per 100 metres of UK beaches surveyed, and on one beach alone picked up 72 containers along the same length.

MCS says that the reaction from industry to a comprehensive UK-wide DRS is similar to initial reactions from industry to the plastic bag levy. This has since been massively successful in reducing single-use plastic bags usage - since 2011 (when Wales became the first home nation to introduce a 5p charge) MCS beach litter data has revealed a 47% decrease in plastic bags found on our beaches.

The Marine Conservation Society is urging members of the public to take part in the UK Government's consultation before it closes on May 13th, via a pre-filled form on their #BottlesforChange.uk website – it takes just two minutes.

The charity is also encouraging people to visit Paternoster Square, City of London, between 11am - 2pm on Thursday 18th April, where Dragon's Den star, Deborah Meaden, and street magicians Matthew Le Mottée and Megan Swann will demonstrate how easy it is to turn bottles and cans into money with DRS recycling machines.
If you need help finding a club please email hello@bsac.com and we'll send you your three nearest scuba clubs. Or if you fancy a chat call us 0151 350 6226 (Mon - Fri, 9 - 5:30).