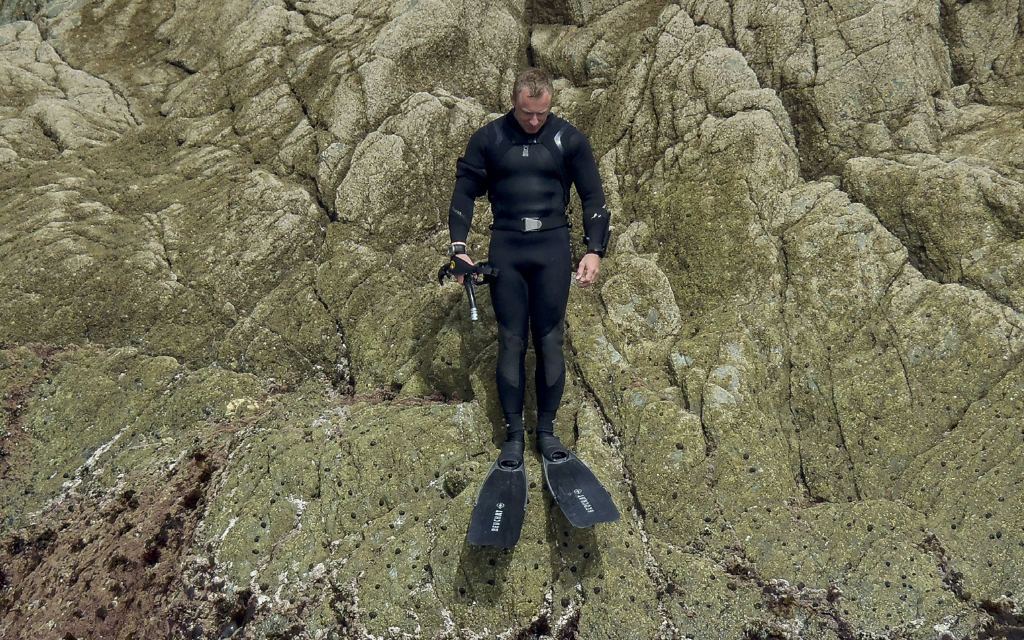 We can all learn from our mistakes, but Andy Torbet has made enough to go around. As we head into the 2021 season, here's what he has learned.
As we get back in the water after an extended dive-furlough, now is the time mistakes are often made. I have made many in my time, but seldom the same one twice.
Wisdom is often a measure of experience, and experience doesn't just come in the good form. I have learned that, usually, more can be learned from mishaps than from everything going according to plan. So, in an attempt for you to learn from my mistakes rather than having to make them yourself here are just a few of the many.
1. Watch out for the tide!
You may have heard of 'tide'. Apparently, the sea goes up and down, sounds like wizardry to me... I once, having walked across a glass and litter-strewn beach with a pair of sandals over my wetsuit socks, left the sandals safely on a rock high above the waterline.
They were not there upon my return. The rock was… but it had by then mysteriously submerged itself. I can only assume the Earth had sunk a bit.
Conversely, I once finned out past the shallow fringes of a Caribbean reef. The depth of water above the shallowest pieces of coral was so slight that only if I timed my movement with the swell, I could swim over the reef without grazing it with my naked chest.
I made it past the coral into the deeper water with myself, and more importantly the reef, intact. However, 30 minutes later those shallow corals were poking above the surface, and I was trapped on the outside.
The lesson
Whether by sorcery or science, the fact remains that seas go up and down.
2. The importance of cutting tools
I've mentioned my belief in always carrying a cutting tool on all dives, from snorkels to deep tech. I have been caught in fishing line a number of times and although none could be considered near-death, all had the potential to be dangerous if not dealt with.
British waters can be especially bad for sub-surface commercial and recreational fishing debris, much of which is invisible until it's wrapped around a wetsuited limb. Whether you choose a line cutter, shears or traditional knife, make sure it works against fishing line and monofilament net.
Some of the more impressively retro knives certainly look cool, and would be my choice if and when I'm fighting pirates, but are next to useless against thin, plastic line.
The lesson
Carrying the right tool for the job will save your life.
3. Carry spares and repairs
One of the great advantages of snorkelling is the simplicity of the equipment. I have rarely lost a snorkelling dive to kit failure. The same cannot be said for those involving scuba regulators, BCDs, drysuits and rebreathers.
It takes a lot for a snorkel to fail its pre-dive checks. However, mask, fin and snorkel straps can snap all too easily. So carrying a spare of each in your dive bag is worth a little investment. I don't carry a spare snorkel strap, as I can stick it up inside my mask strap should it break.
The lesson
A spare mask and fin strap (if your fins have them) should mean you never miss a dive.
4. Beware of the sun
Do not underestimate the power of the sun, even in British waters. It beats down unhindered by trees, buildings or a canopy, and its effects are compounded by its reflection from the surface of the sea. There's good reason many avid snorkellers and freedivers I know have stories of painful sunburn.
As snorkelers, we spend much of our time lying face down, so the backs of our necks, back and legs can be exposed to harsh rays. We're usually in full-body wetsuits, so this is not an issue but if you're bold enough to go in just shorts, slap on some protection and be aware of its limitations.
A friend of mine, a professional freediving and snorkelling instructor, always wears a hood. Although she has a halo of thick, blonde hair, she still gets burned on her crown if she spends the day bobbing about vertically in the water, teaching in the Cornish summers.
The lesson
Don't let tomorrow's dive get cancelled because you didn't protect yourself on today's.
Find out more about snorkel training.

BSAC promote and develop the 'best practice' in snorkelling safety for snorkellers in the UK.
If any of you have any suggestions, I'd love to hear them. Drop a note to me through the editor's email at SCUBA or on my social media below:
Facebook: OfficialAndyTorbet
Instagram: @andy_torbet
Twitter: @andytorbet
Article by Andy Torbet for SCUBA magazine, Issue #114 May 2021. For more membership benefits, visit bsac.com/benefits.
Images in this online version may have been substituted from the original images in SCUBA magazine due to usage rights.

Find out more about learning to snorkel or discover snorkelling in the UK.