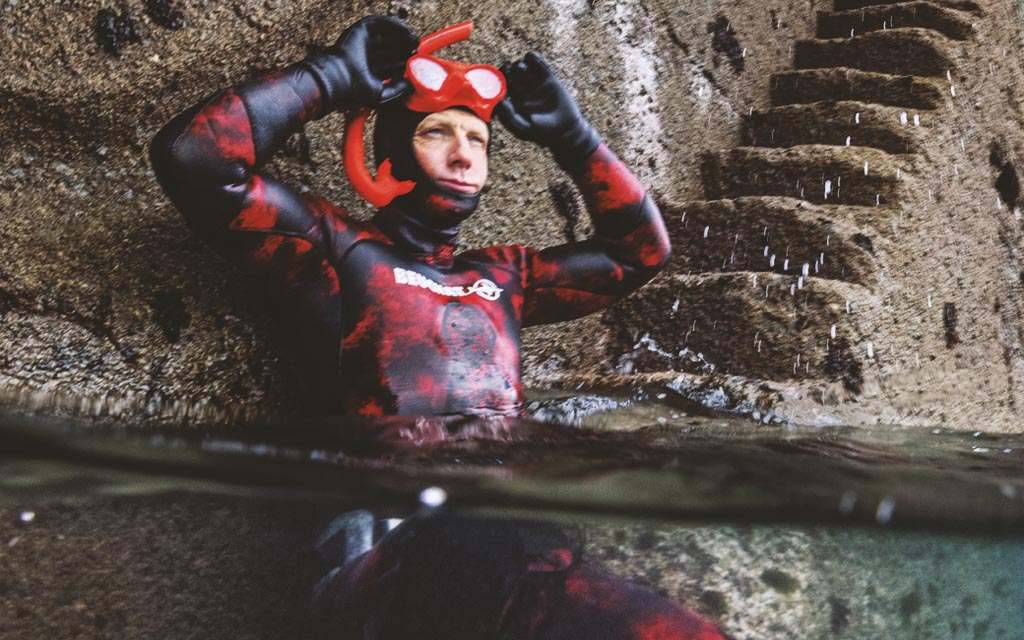 Andy Torbet looks back on a decade of snorkelling columns, and how this simplest form of underwater exploration has been crucial to his own journey.
Ten years? When the editor told me we were approaching SCUBA's 10-year anniversary, I had to pause and check his calculations. But it appears I have indeed been penning this column for a decade. What have I learned along the way?
I've learned a great deal, but since this is a snorkel column I'll try and keep it on-brand. One thing that has surprised me is that for all my technical diving exploits, this, the simplest form of diving, has served me better in terms of column space than all the other forms of diving I employ to get the job done.
I've written more about snorkelling than all the films, articles, book chapters and talk about cave diving, rebreather, deep wrecks, mixed gases, one-atmosphere-diving-suits and submersibles. And this prolific media output is matched by this part of our sport by its mass appeal to us as humans.
This is an activity I have seen undertaken by four-year-olds and octogenarians, and the latter is of significant comfort to me. One day, my poor body, bashed and abused by years in the military, on expeditions and performing stunts, will eventually be unable to cope with the rigors of expeditionary cave diving, deep exploration and 12-hour dives, the majority of which have been spent freezing my backside off in deco. If it all goes to plan, it'll be a long, long time after that before I'm forced to hang up my snorkel.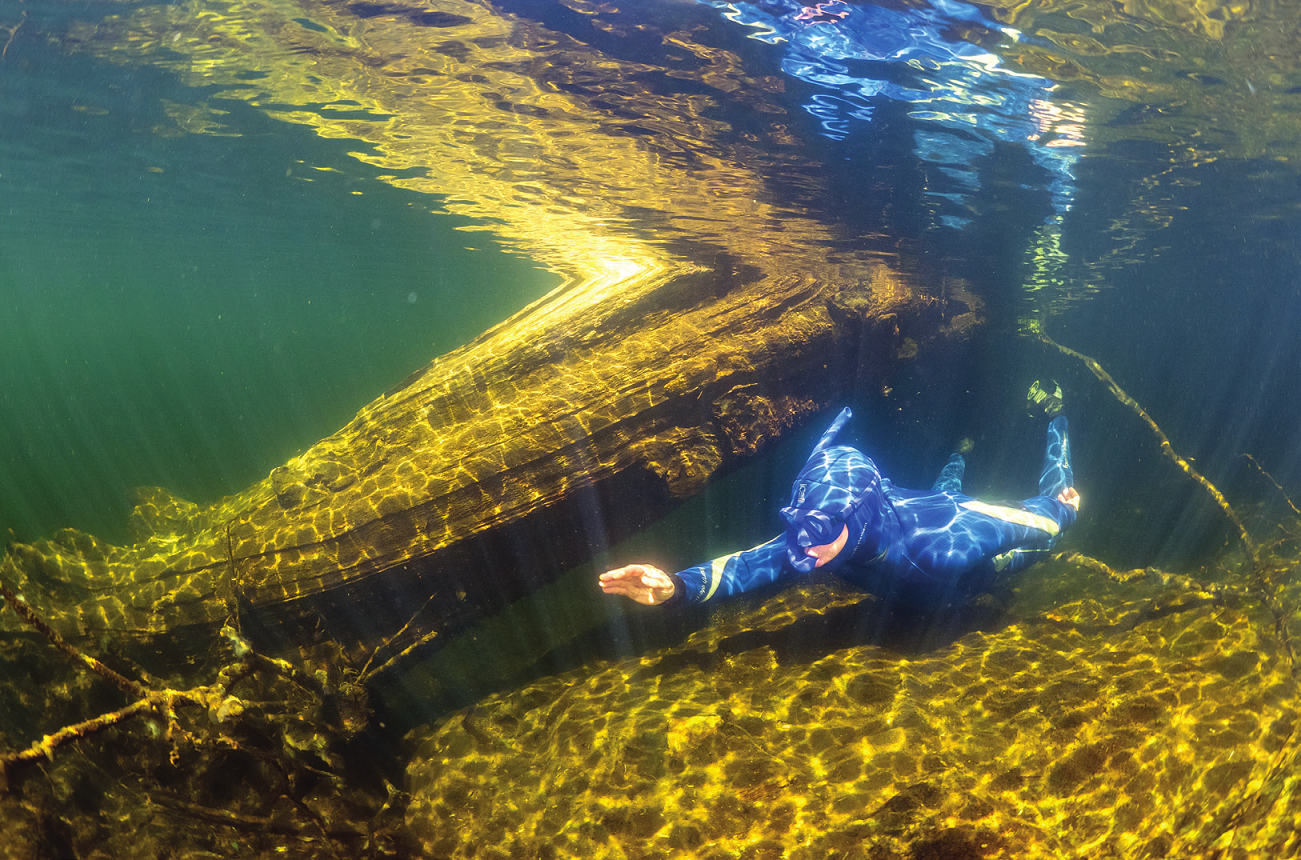 Andy has always advocated adventurous snorkelling.
Snorkeling around Britain has opened my eyes to the variety of underwater worlds we have. This column was initially agreed upon between myself and the editor as a limited run. One hundred and twenty months on and we're still going. This alone is a testament to the places and ways one can snorkel and use snorkelling. I've snorkelled rivers, waterfalls, rapids, mountain pools, ponds, wells, lakes, lochs and llyns. I've snorkelled sea caves and sea lochs, mines, shipwrecks, plane wrecks, submarine wrecks, quarries, beaches and bogs. I've snorkelled with barrel jellyfish, basking sharks, blue sharks and grey seals, on reefs and through seagrass and kelp gardens.
Snorkelling is often the best, if not only, diving option. Lugging my rebreather up the side of the fourth highest mountain in the UK to dive a four-metre-deep mountain pool would not have been a smart move. The lightweight nature of snorkelling makes difficult places that bit easier, and this in turn has meant my snorkel has become just as much a key element of exploration as the more techie (and expensive) pieces of kit.
I have learned that snorkelling is more popular than I ever thought. I initially had some doubts about the viability of a snorkel-based column, perhaps wondering if it would hold the interest of SCUBA's readers. However, the feedback I've had over the years has shown me that the majority of dive public were more open to the idea of snorkelling than I had anticipated.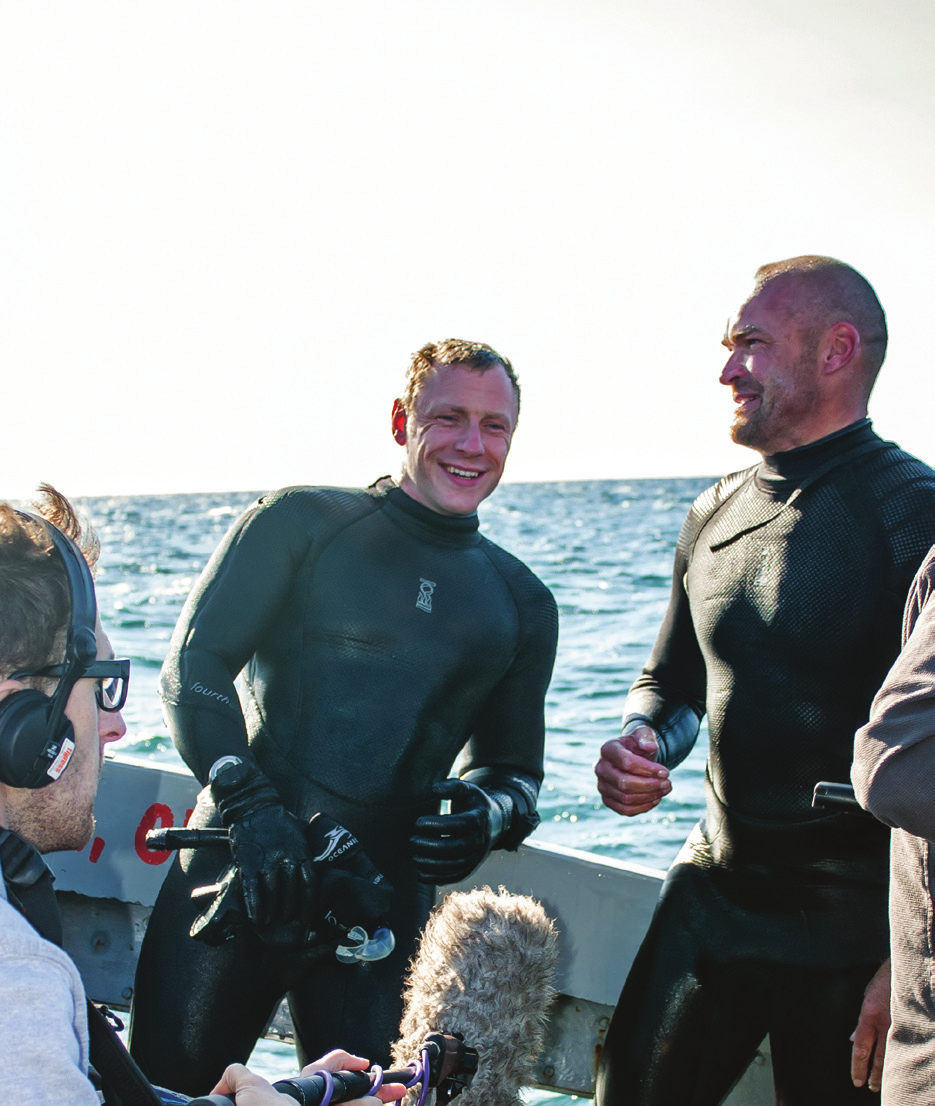 Filming with Monty Halls.
Tales of cave diving are all very well, but the activity doesn't exactly hold universal appeal for most divers. We may as well be talking about forays into outer space! Snorkelling, by contrast, is a gateway to the aquatic realm that anyone can adopt as a first step. I've converted many more to a love of the aquatic life via snorkelling than through technical diving, though that should come as no surprise. After all, I started my three-and-a-half-decade journey in diving, which has touched and influenced every part of my life, as a BSAC Snorkeller.
Find out more about snorkel training.
BSAC promote and develop the 'best practice' in snorkelling safety for snorkellers in the UK.
If any of you have any suggestions, I'd love to hear them. Drop a note to me through the editor's email at SCUBA or on my social media below:
Facebook: OfficialAndyTorbet
Instagram: @andy_torbet
Twitter: @andytorbet
Article by Andy Torbet for SCUBA magazine, Issue 120, November 2021. For more membership benefits, visit bsac.com/benefits.
Images from Dan Bolt

Find out more about learning to snorkel or discover snorkelling in the UK.