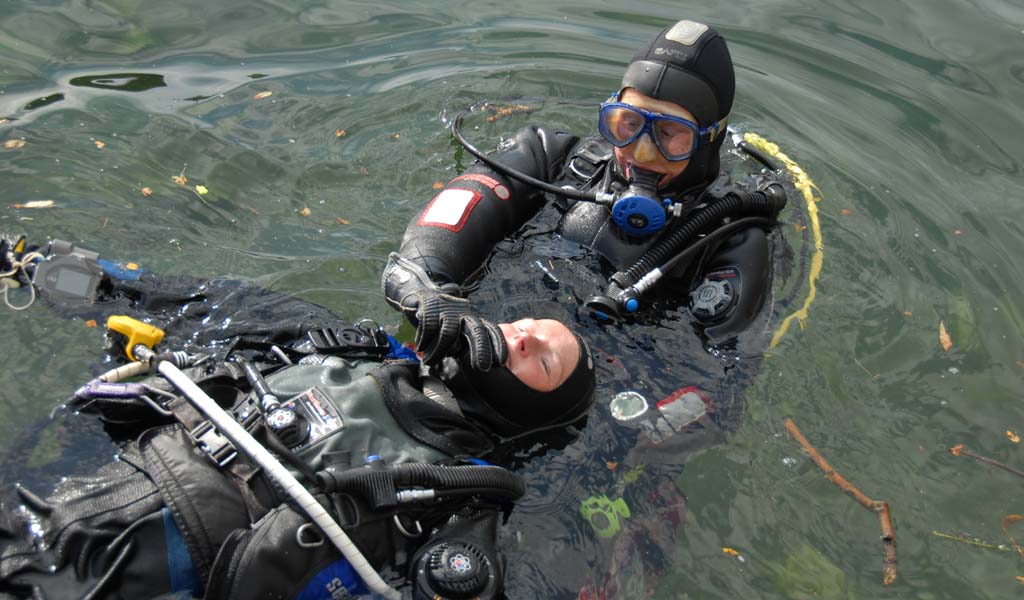 The teaching of in-water Rescue Breaths (RB) is integral to diver training at Sports Diver and above. BSAC advice has been that this is not currently achievable safely whilst following the Covid-19 guidance. However, as the restrictions are slowly being eased and it is understandable that students will once again wish to progress their training.
In order to facilitate training for those who wish to complete diver grades, BSAC has been reviewing its guidance and has now published further recommendations for Instructors and Diving/Training Officers to provide three options that may be utilised whilst maintaining Covid-19 safety measures.
Use of in-water rescue manikins
BSAC has a small number of these manikins that may be available for hire. Those branches who have their own, or access to such manikins can utilise them to practice realistic in-water RB techniques. Manikin lungs must be dedicated to one individual and manikin faces and contact points must be disinfected and allowed to dry thoroughly between different users.
Use of a simulation technique
Instructors and Branch Officers have been provided with detailed guidance on a method by which this can be achieved adequately in the short term whilst maintaining Covid-19 safety procedures (together with extensive shore-based practice with a CPR manikin).
Use of a diver from the same household
Where a person from the same household as the student is available, who is also a trained diver, then there should be less concern of transmission of the virus and the skill can be practised in the usual manner.


Facility rules
Initial diver training takes place in swimming pools and a significant proportion of open water training takes place at managed inland sites. The facility management for pools and inland sites must ensure they are compliant with the respective Government guidance for their facilities, staff and customers. In such circumstances currently a number of managed inland sites are restricting activity to diving and not allowing training. Likewise, although allowed to reopen since 25 July, some swimming pools are restricting the activities they will allow. Instructors and training organisers are therefore being asked to ensure any training location will allow activities, especially involving rescue breaths.
In following the guidance provided to them it is likely that the majority of facility management will take an initially very cautious approach to opening their facilities to different user groups. Scuba diving most likely presents one of the more complex and least understood activities to use their facilities.
Concerns of the facility management might include:
Introduction of substantial amounts of equipment from outside with little knowledge of the state of contamination
Impact of removal of equipment after the session and the potential to spread pool water throughout the facility
Training involves close personal contact (especially with rescue skills)


Clubs can minimise many of these concerns by maintaining open discussion channels with the facility management and remaining sympathetic to any concerns raised. It might be helpful to share relevant guidance documents with the facility management. It should also be noted that a number of managed inland dive sites, who are fully familiar with the activities of divers, initially opened up only for diving and not training activities.