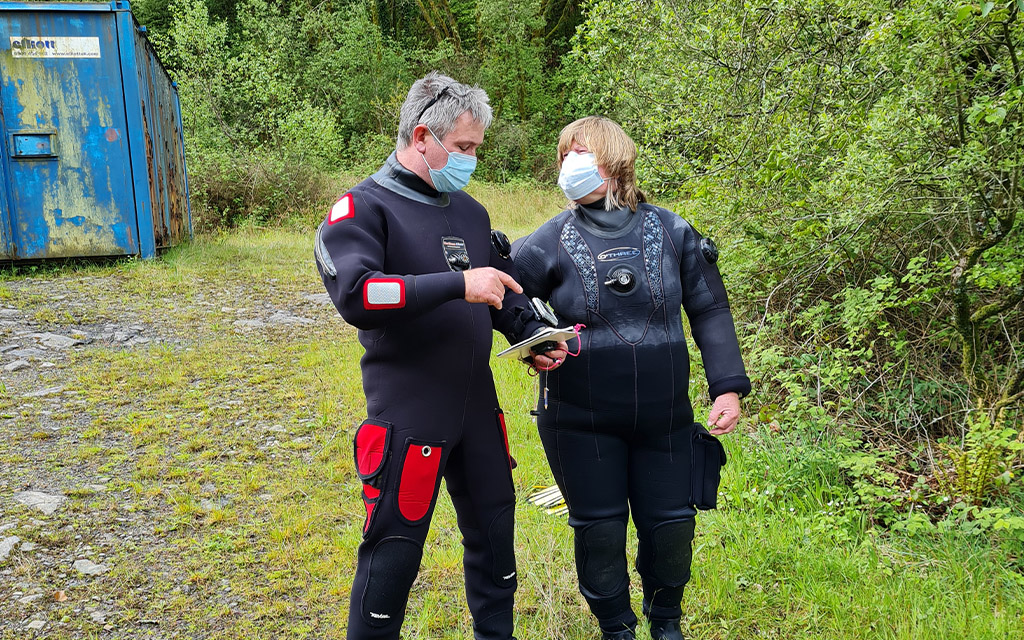 With the rise of Covid-19's Omicron variant, BSAC Safety and Development Manager Jim Watson is here to remember to be safe while diving and snorkelling over the Christmas period.
Actively diving represents one of the safest forms of physical activity as we carry our own self-contained breathing system and are fully surrounded by water. However, it is necessary to interact with others on the surface throughout various associated activities.
Covid risk to divers and snorkellers
Currently, in the UK the threat from the latest Omicron variant of Covid-19 is causing increasing concern from the government and their scientific advisors as well as the general public. The UK government recently announced its 'Plan B' to help reduce the spread and includes wider use of face coverings, working from home and, whilst the requirement for Covid passports for larger events does not directly affect diving, it is an indication of the potential future requirements.
The devolved administrations have also announced similar and sometimes more restrictive guidance. The guidance is evolving and changing as the effects of the latest variant are being evaluated.
Divers are reminded that Covid-19 as a respiratory infection could have significant long-term complications. Any level of infection requires a medical check before returning to activity and could in severe cases lead to long term damage.
Safety during diving, snorkelling and club activities
BSAC advises all members, divers and snorkellers, to continue to take personal protective measures including:
Wearing a face mask wherever appropriate
Keep your distance
Exercise good hygiene
Maintain effective vaccination status
Conduct tests
Follow Covid-safe diving practices


Face masks and social distancing
Wearing a mask indoors when in close proximity to others helps protect yourself and others. Swimming pools are currently an indoor environment where people are exempt from the requirement to wear a mask.
However, during diver training, we would strongly advise that during surface activities such as briefing, kit-up, buddy check and dry runs that face coverings be worn to minimise the risk of transmission as much as possible.
Likewise, although the risk of transmission is much less outdoors, we would recommend wearing a mask or similar covering during group activities or when in close proximity to others on the surface.
Good hygiene
Government advice is to:
Wash your hands with soap and water or use hand sanitiser regularly throughout the day. Regular hand washing is an effective way to reduce your risk of catching illnesses, including Covid-19.
It is particularly important to wash your hands:
after coughing, sneezing and blowing your nose
before you eat or handle food
after coming into contact with surfaces touched by many others, such as handles, handrails and light switches
after coming into contact with shared areas such as kitchens and bathrooms
when you return home


Where possible, avoid touching your eyes, nose and mouth. If you do need to touch your face, for example, to put on or take off your face covering, wash or sanitise your hands before and after.
Vaccination status and testing
The protection afforded by vaccination against Covid-19 has allowed a progressive relaxation of restrictions during 2021. The government are placing great reliance on vaccination status to avoid another lockdown and have recently made booster vaccines available for all over 18s.
BSAC encourages all divers to ensure that their vaccinations are as up to date a possible to help reduce the risks associated with infection and also reduce the risk of overwhelming the NHS.
When organising training and diving activities, organisers should remind participants of the steps they can take to safeguard themselves and others and encourage members to be up to date with their vaccinations. It is not possible to require divers to disclose their personal vaccination status but if they are willing to confirm it this would provide reassurance for all involved.
Likewise encouraging the use of lateral flow testing prior to an event, and not attending if the test is positive, is sensible and responsible behaviour. Using the NHS App to store and show vaccination and testing status is a convenient method of confirming an individual's status.
Stay safe and enjoy the festive season
BSAC wishes all divers the best for the coming festive season and hopefully, we can all get together with family and friends and move forward to safe and adventurous diving next year.
Jim Watson
Safety & Development Manager