The Provence of Murcia is Spain's best-kept secret for scuba diving and all types of watersports such as snorkelling, sailing, kite surfing, stand up paddle boarding, power boating, jet skiing and more...
The Costa Cálida (warm coast)
Located in the south-east peninsular of Spain close to the city of Cartagena and is home to the Islas Hormaigas Marine Reserve . Established in 1995 this 1,900 hectare area consists of a underwater mountain ridge and two small islands, has many dive sites and is a highly protected area which means that diving here is a little like diving in a fish tank as there is a huge population of many Mediterranean species such as groupers, barracuda, octopus Denton, tuna, moray eels, eagle rays, many smaller species and sometimes even sunfish and turtles pass by which is impressive to any experienced diver.
Due to its location this has also been a fatal trap for passing ships due to shallow reefs where many ships have sunk including the "el sirio" a cruise liner which was carrying over 1,000 immigrants from Italy in 1906. During WW1 and WW2 many more ships were sunk by German U boats and now offers some world class shipwreck diving.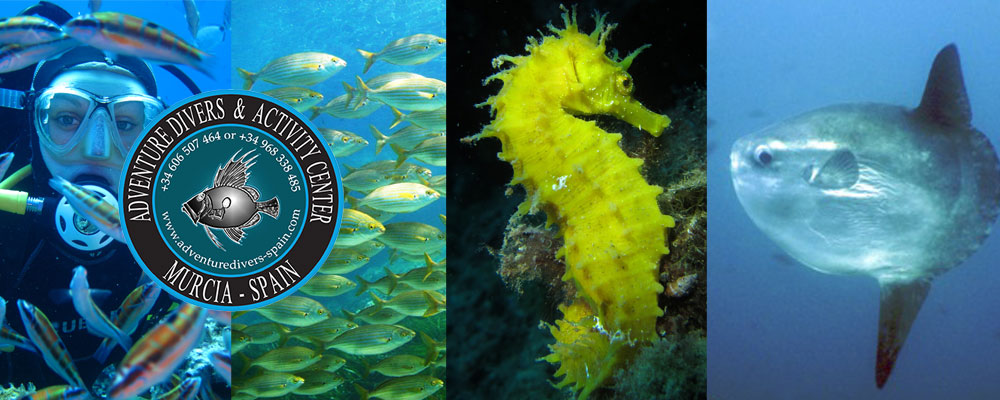 Facilities
Shore dives - The bays are full of Posidonia or Neptune grass which attract a large number of fish and marine creatures that use it to feed or to hide from predators. The average depth is 10 metres with our more advanced shore dives going as deep as 22 metres.
Wreck dives - The area of la Manga and Cartagena date back over 3000 years and many artefacts have been found in the area from ancient shipwrecks. we have one dive from shore where you can see ancient anchors and cannons which is yet to be discovered more and detailed
Marine Reserve - Cabo de Palos, We and many other divers who regularly dive in the Mediterranean believe this to be the best place to dive in Spain for the abundance and variation of marine life.
On site - Reception, retail area, waiting/changing areas, disabled access with toilet. Also, a small kitchen facilities and a full classroom to rent if required
Equipment room - with Scubapro and Cressi equipment for hire
Kit hire - Our equipment can be hired at 25€ for a full set 1 dive (not including tank and weights) or 30€ for the day.
Insurance - We also sell insurance as its mandatory in Spain, 7 € a day, 25€ a week, 35€ a month and 60€ a year through Segur sub, this is the sister company of Divemaster insurance UK.
Gas fills - Fully licensed compressor room with 2 Coltri MCH16 compressors, over 50 tanks to use ranging from 5 litres to 15 litres. Nitrox is not used that much here, however it is 10 € extra a dive if required.


All BSAC clubs are invited to use our facilities if they need to do any branch training on site. Please contact us on availablity on the link below.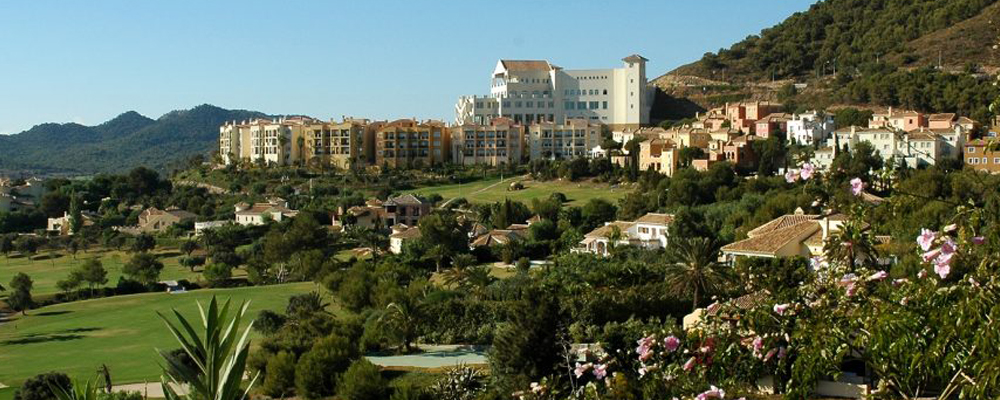 Las Lomas Village
Located within La Manga Resort, the Las Lomas Village offers high standard self catering accommodation.

BSAC Member Exclusive deals
One of our great deals for current BSAC members is a five-night stay at La Manga Resort, Murcia, Spain. We have other package deals with other options all exclusive to BSAC branches or members.
A dive and accommodation package is available for members.
Fantastic deals (for two people) in the beautiful Four-star Las Lomas Resort in the prestigious La Manga Club Resort:
Five nights in a panoramic room with stunning views
Breakfast included
FREE pick up at Murcia international airport (for four or more)
Eight dives package

565 € Taxes included (Available at high season*)
* Prices based on minimum of two people, for FREE pick up we need a minimum of 4 divers. Less will incur pick up charge of 10 € pp.

*Offer ends 30 April 2020.
Full Offer Details Contact Adventure Divers & Activity Centre
Not a member? Join or renew online today to access the benefits.
Alternatively, send your postcode to hello@bsac.com and we'll help you find the right scuba club for you. Or if you fancy a chat call us 0151 350 6226 (Mon-Fri, 9-5:30).