BSAC is partnering with Surfers Against Sewage to bring to you the Million Mile Clean.
After a successful 2021 campaign, the Million Mile Clean is back. Led by Surfers Against Sewage, the aim is to encourage 100,000 volunteers to get outside and explore 10 miles while litter picking throughout the year in 2022.
100,000 volunteers x 10 miles each = 1 million miles cleaned
Created in response to the pandemic, the campaign will connect everyone's collective beach, street, river, mountain - and now underwater - cleaning action. BSAC is working with Surfers Against Sewage so the campaign can extend to underwater litter collection. It will be the biggest and most impactful cleanup event ever!
Research shows [1]:
Over half of Brits (54%) think Covid-19 has led to an increase in plastic pollution
69% of litter collected during beach cleans in 2020 was PPE [2]
Almost two-thirds (59%) have seen more waste in their area over the last 12 months
51% say they see more plastic on UK beaches than wildlife
41% Brits feel their mental health has deteriorated as a result of lockdown
[1] The survey of 2,000 British adults was conducted by Opinium between 9 March – 13 March 2021 and balanced demographically by age, region and gender.
[2] Marine Conservation Society, Source to Sea Litter Quest 2020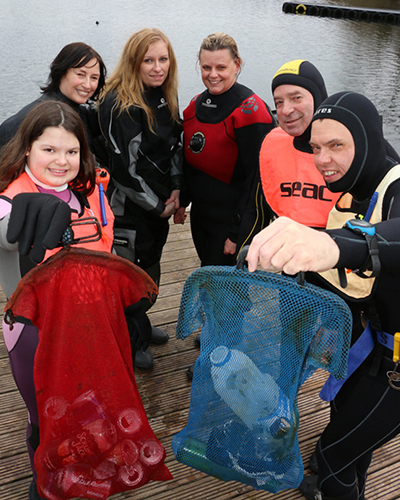 Clubs, Centres and members - get involved!
We are calling on clubs, centres and members to sign up, get involved and organise or take part in underwater and/or beach cleans in 2022.
For those of you unable to return to the water for now, or for non-diving members, the clean-up action doesn't have to take place underwater, you could organise a land-based clean or join a clean-up event near you.
To set up an underwater litter pick or beach clean (or for more info), visit the Surfers Against Sewage website.
If you like, you can track your cleans via the 'Surfers Against Sewage: Million Mile Clean' Strava club.
Registering an underwater litter pick or beach clean
To register an underwater litter pick or beach clean (or for more info), visit the SAS Beach Cleans website.
When you register your littlerpick/clean, make sure you select 'BSAC and underwater cleans' in the 'Volunteer type' dropdown list.
Utilise BSAC guidance on litter pick planning and safety when organising your litter pick.
Keep us posted! Remember to submit your results and use the hashtags #MillionMileClean and #BSACdivers when posting on social media. If you would like to share your pictures, videos or litter picking stories with us directly please email marketing@bsac.com, we'd love to hear from you.


BSAC support
If you have any questions for BSAC on this campaign, please get in touch at maryt@bsac.com. You may find the following resources useful for organising your underwater litter picks.