Every year 1,000s of new BSAC members join us as already qualified divers. BSAC has now launched a new in-pool scuba refresher session aimed at divers that need to brush up their skills.
Most already trained divers join us at PADI Open Water or PADI Advanced level, and the session reflects that as it covers Ocean Diver level skills).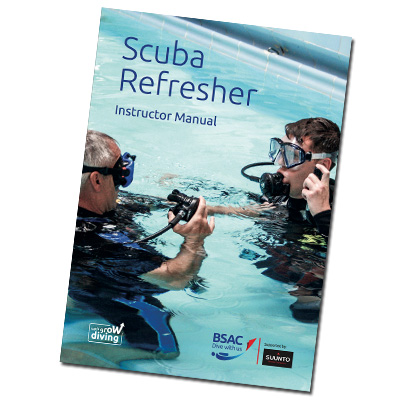 Many clubs will have been doing their own version of this of course, which is great. BSAC has now launched a structured session for clubs to follow if they wish.

Download DRAFT Scuba Refresher Session Instructor Manual


Useful links related to the Scuba Refresher session…
Free Scuba Refresher participant packs - coming soon


Frequently asked questions…
What if the student does not achieve the required skill performance standards in the session?
This could be a good opportunity for the club to invite the diver back for another session. This could increase the chances of the diver joining your club. The student can't be signed off until they achieve the required skill performance standards.
What about refreshing their diver training theory?
Currently, the Scuba Refresher Session just covers sheltered water skills.
Can we continue to do our own version of a refresher session?
For divers to qualify for the Scuba Refresher qualification card the Scuba Refresher Instructor Manual needs to be followed so the required skill performance standards are covered.
What does the student get when they complete the session?
The participant receives a Scuba Refresher pack which the club will order in advance. They receive an A5 certificate as part of this pack and can apply for a QCard.
What does the BSAC Scuba Refresher certificate and QCard actually mean?


The diver will have been refreshed to the level of Ocean Diver in terms of their practical skills (less Nitrox).

If you have any questions or feedback for the Scuba Refresher Session please email adrianc@bsac.com or call 0151 350 6206.
Find out more about the Scuba Refresher Leads scheme and discover how your club can sign up.