Want to grow your club but not sure how or where to start? Sign up to a new 'Know and Grow' workshop to get the skills and knowledge you need to grow your club.
BSAC's number one priority is to support clubs with their recruitment and retention of members.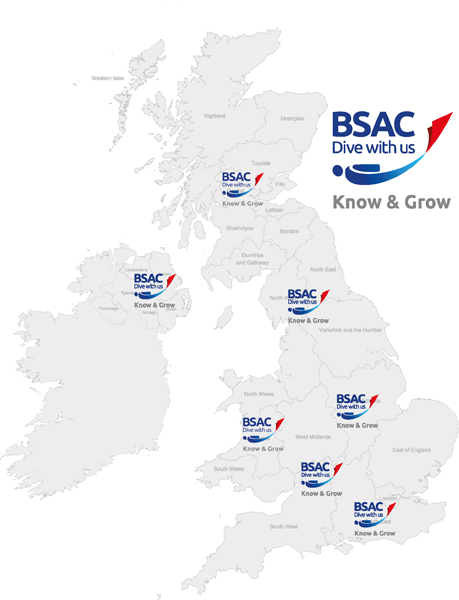 These free workshops are designed for any member wanting to take an active role in growing their club's membership. The aim is to give you the insights and teach you the practical skills and techniques to turn your branch into an active growing buzzing dive club.

Scheduled:
10:30-15:00, Saturday 7th September 2019 - Nottingham, East Midlands

Book your place
10:30-15:00, Saturday 5th October 2019 - Swindon, Southern England

Book your place
10:30-15:00, Saturday 19th October 2019 - Cardiff, Wales

Book your place

10:30-15:00, Saturday 16th November 2019 - Portsmouth, Southern England

Book your place
10:30-15:00, Saturday 23rd November 2019 - Romford, Eastern England

Book your place
Due to be scheduled:

West Scotland
East Scotland
North Wales



If you have any questions on these events email Adrian Collier or call 0151 350 6206.
Workshops that have already taken place:
Saturday 28 April - Loughborough
Saturday 5 May - South London
Tuesday 15 May - Northern Ireland
Monday 9 July - Wales
Tuesday 16 October - Mansfield

Monday 12 November - North West (Chorley)

Wednesday 14 November - Worcestershire

Thursday 22 November - Yorkshire (Pontefract)

Tuesday 4 December - Eastern Region (Bury St Edmunds, Suffolk)

Wednesday 16 January 2019 - North West Region (Wigton, Cumbria)
Wednesday 20 February 2019 - Eastern Region (St Albans, Hertfordshire)
Sunday 7 April 2019 - South West Region ( Exeter, Devon)


BSAC's North West Region pilot event, Chorley SAC's Jan Glenn said:
there were some brilliant ideas on digital marketing that we need to take on board

The workshop will take you on a journey from where you are now to where you want to be; sharing tips, tricks and teaching real practical skills and techniques so you can get the results you want for your club.

Where are you now?
How will we get there…
Make digital your best friend
Converting leads…
Keeping members…
Getting help

All the events are FREE.